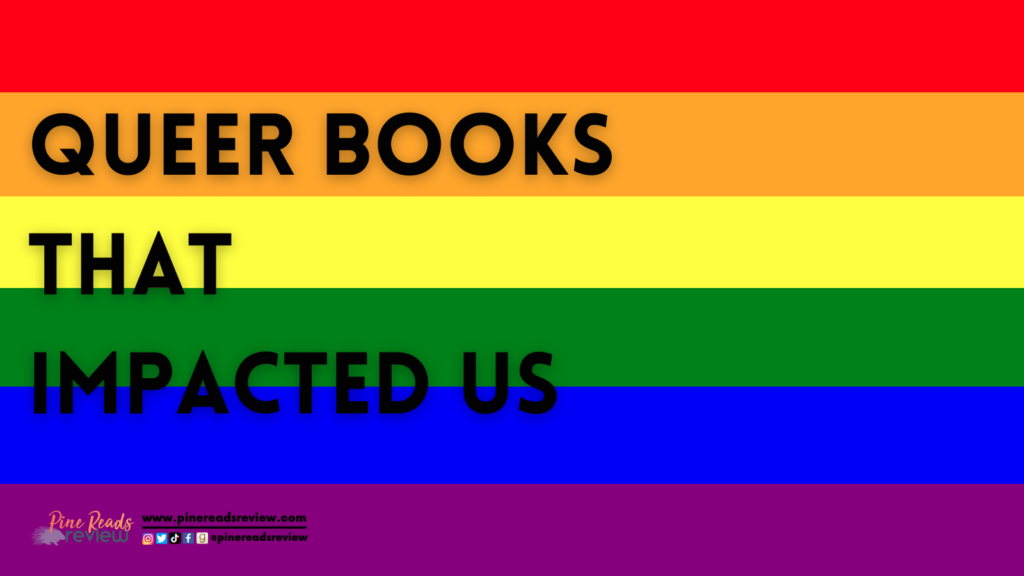 For every reader, there are particular stories that will stay with them for a long time. The books listed below have queerness central to the storyline or characters. These books made an impression on the Pine Reads Staff for the way they made us cry, gasp, or simply brought joy to our TBRs. We personally recommend these books to anyone looking to diversify their book lists, and the genres range from Middle Grade to Young Adult fantasy to queered historical fiction.
You can pick up your copies from the link of any title, and we hope you enjoy these queer stories as much as we did!
---
"Miss Meteor by Tehlor Kay Mejia and Anna-Marie McLemore is about two girls in Meteor, New Mexico who set out to win the Miss Meteor Beauty Pageant and show everyone that self-love and acceptance are the truest forms of triumph. It impacted me because it was one of the first books I read where I saw so many different identities reflected in the pages. Each character proves that they are all valid no matter who they are or who they love, and it's just such a heartwarming and powerful story." — PRR Assistant Director, Wendy Waltrip
Don't miss out on our review!
---
"Only Mostly Devastated by Sophie Gonzales! Ollie and Will were the perfect summer fling. But when a family emergency keeps Ollie in town for the new school year, it turns out that Will is a popular, very-much-closeted jock. As the year goes on, Ollie has to learn what is most important in life and that love has to come at its own pace. This book has always stuck with me because it really stresses the idea that love is the most important part of life and that everyone needs and shows love in a different way. This story is funny, heartbreaking, and hopeful all wrapped up under one beautiful cover." — PRR Writer, Sam Key
Don't miss out on our review! 
---
"My number one OTP will forever be Magnus and Alec from The Shadowhunter Chronicles by Cassandra Clare. When holey-sweater Alec shares glances with the High Warlock in City of Bones, Alec could no longer ignore the part of himself he desperately had been trying to hide for eighteen years. His relationship with Magnus not only makes him feel more confident in who he is but also helps him learn how to stand up for himself, even if that means confronting Magnus about not answering his calls in the middle of a demon war in City of Glass. Alec isn't the only one who changes for the better, because for the first time in his hundred years of life, Magnus realizes that he wants to have a real relationship, unlike the flings that he had had in the past. Even though he knows that he will outlive Alec, he knows that the love that they will share in this life is greater than any pain he will experience one day. Their love story is far from perfect, but no one can deny that they are perfect for each other. Though they had their ups and downs (and I will personally never forgive Cassie for page 511 of City of Lost Souls!), their relationship is real, strong, beautiful, and balanced. I love witnessing them raise their little boys and can't wait to see what adventures they go on next!" — PRR Writer and Editor, Taylor Quinn
---
"The Never-Tilting World by Rin Chupeco is a YA fantasy that follows two sisters who live in two worlds separated by day and night. Their goal is to reunite and save their worlds. The story is told from four different perspectives and has romance, magic, and sisterhood. This book stood out to me because it was the first YA fantasy book I read that had a queer character who wasn't weak or in the background. Odessa was a really strong and compelling main character." — PRR Writer and Editor, Frances Drye
---
"I really liked Hani and Ishu's Guide to Fake Dating by Adiba Jaigirdar. This one really stuck with me because it's a contemporary romance that I read at a time where I really needed some joy. The story was so impactful because it was not only relatable, but it discusses some larger issues about acceptance and family all while detailing a cute exploration of young love." — PRR Assistant Director, Mikayla Kaber 
Don't miss out on our review!
---
"Cinderella Is Dead by Kalynn Bayron will forever be a favorite of mine, because I read it at an integral point in my own sapphic journey which helped me further accept my own queerness. I didn't realize until I was about halfway through the book that reading it was the first time I had seen lesbianism so casually integrated into both a Young Adult and fantasy story, and that marked the book for me as a necessary read for any reader. It is a fun, gripping continuation of the Cinderella story where all young women are required to attend the Annual Ball where the country's men choose brides. However, Sophia has always been in love with her best friend Erin, and after a desperate attempt to flee, we follow along on an adventure of love mixed with dismantling a patriarchal society. This is a beautiful sequel to a classic fairytale that at its core features a genuinely wholesome sapphic romance." — PRR Writer and Editor, Kayla Chandler 
Check out our interview with author Kalynn Bayron!
---
"Music from Another World by Robin Talley is a story set in the summer of 1977 about two closeted queer girls, Tammy and Sharon. Tammy feels trapped by her conservative family and Catholic school, so she writes secret letters addressed to activist Harvey Milk as an outlet. That all changes when she becomes a school-sponsored pen pal of Sharon, and the two bond over punk music, loneliness, and how they can truly be themselves in a hateful world. This book touched me in a way that not a lot of books have. I felt fully immersed in both the orange county punk scene and the queer uprising of the time period. This captivating book left me feeling equal parts heartbroken, proud, and hopeful for the future." — PRR Assistant Director, Grace Kennedy
Don't miss out on our review!
---
"The Insiders by Mark Oshiro. At twelve-year-old Héctor Muñoz's new school, he not only has a hard time finding his place among his classmates, but he also gets singled out by the school bullies for being gay. While trying to escape from the bullies, Héctor finds himself inside of a magic closet, with two other kids from different states. Together, they help each other learn just how important it is to be unapologetically themselves. This is one of my favorite books of 2021. I love how real and raw Héctor's character is. As a reader, you can feel both his pain and his joy. I also love how poignant the novel's message is: even if you feel like you don't fit in or you don't belong, you'll be able to find your place in the world and the people who love you." — PRR Writer and Editor, Sadie Cruz
Don't miss out on our review!
PRR Writer and Editor, Kayla Chandler