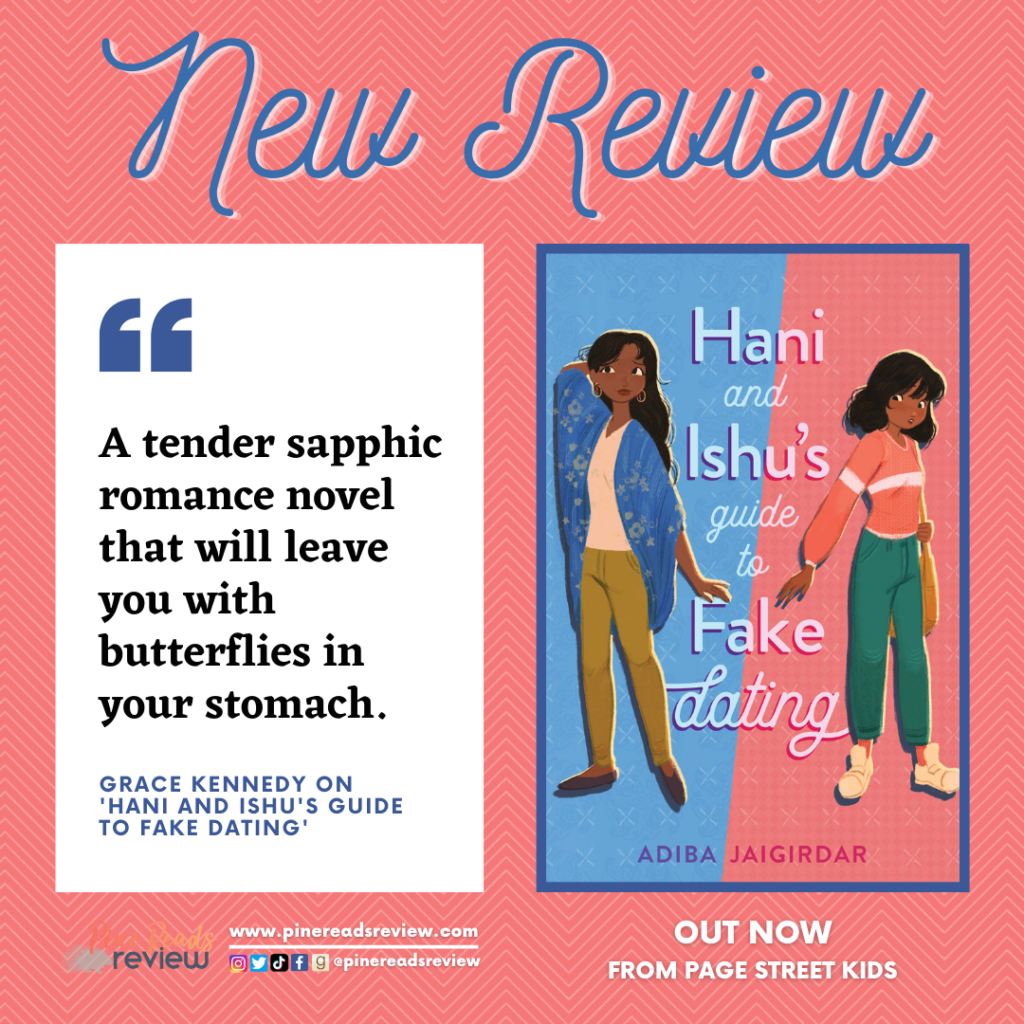 Hani and Ishu's Guide to Fake Dating by Adiba Jaigirdar
Out now from Page Street Kids; 352 pages
Content Warnings: discussions of biphobia, homophobia, racism, Islamophobia, unsupportive parents, gaslighting, unsupportive friends, brief mentions of colonization
About the Author: "Adiba Jaigirdar is the author of The Henna Wars and Hani & Ishu's Guide to Fake Dating. A Bangladeshi/Irish writer and teacher, she has an MA in Postcolonial Studies from the University of Kent, England and a BA in English and History from UCD, Ireland. All of her writing is aided by tea, and a healthy dose of Janelle Monáe and Hayley Kiyoko. When not writing, she is probably ranting about the ills of colonialism, playing video games, or expanding her overflowing lipstick collection." (Bio taken from author website)
Find Adiba Jaigirdar on the following platforms:
---
"Having a crush—and I've decided that is unfortunately what I'm afflicted with—is the worst thing that's ever happened to me."
Humaira "Hani" Khan is kind, friendly, and well-liked at school—a stark contrast to the not-so-warm-and-fuzzy Ishita "Ishu" Dey. Though many of their Irish classmates once assumed the two girls were friends because they're both Bengali, Hani and Ishu have hardly ever exchanged more than a glance. That is, until Hani's plan to come out to her best friends as bisexual is met with the familiarly biphobic question of: "how do you know you like girls if you've never been with one?" Hani's panicked response is that she's definitely dating a girl—Ishu. Ishu agrees to Hani's fake dating scheme if in exchange she gets to use Hani's popularity to help her win the election for Head Girl. But as Hani and Ishu spend more time together, it seems like those fake feelings might not be so fake after all. And when Hani's jealous friends start to dislike her spending more time with Ishu, Hani must decide which feelings are most important. 
After having reviewed Adiba Jaigirdar's dazzling debut, The Henna Wars, last summer, I ran as fast as I could to pick up a copy of her newest queer brown girl masterpiece—and for a good reason! The trope of fake-dating-turned-real has always been a guilty pleasure of mine to read, but my expectations were blown away by Jaigirdar's funny and endearing rendition of the idea. There isn't anywhere near enough representation for queer BIPOC in media in general, but queer stories about South Asian and Muslim girls are even rarer. I loved the heartfelt way Jaigirdar writes Bengali and Muslim culture into her characters and how their personalities made them seem so different, yet those differences made them so compatible. Strong-willed Ishu becomes a little softer with Hani, and Hani learns how to better stand up for herself in the process. If you're looking for a tender sapphic romance novel that will leave you with butterflies in your stomach, pick up a copy of Hani and Ishu's Guide to Fake Dating. 
PRR Lead Editor, Grace Kennedy