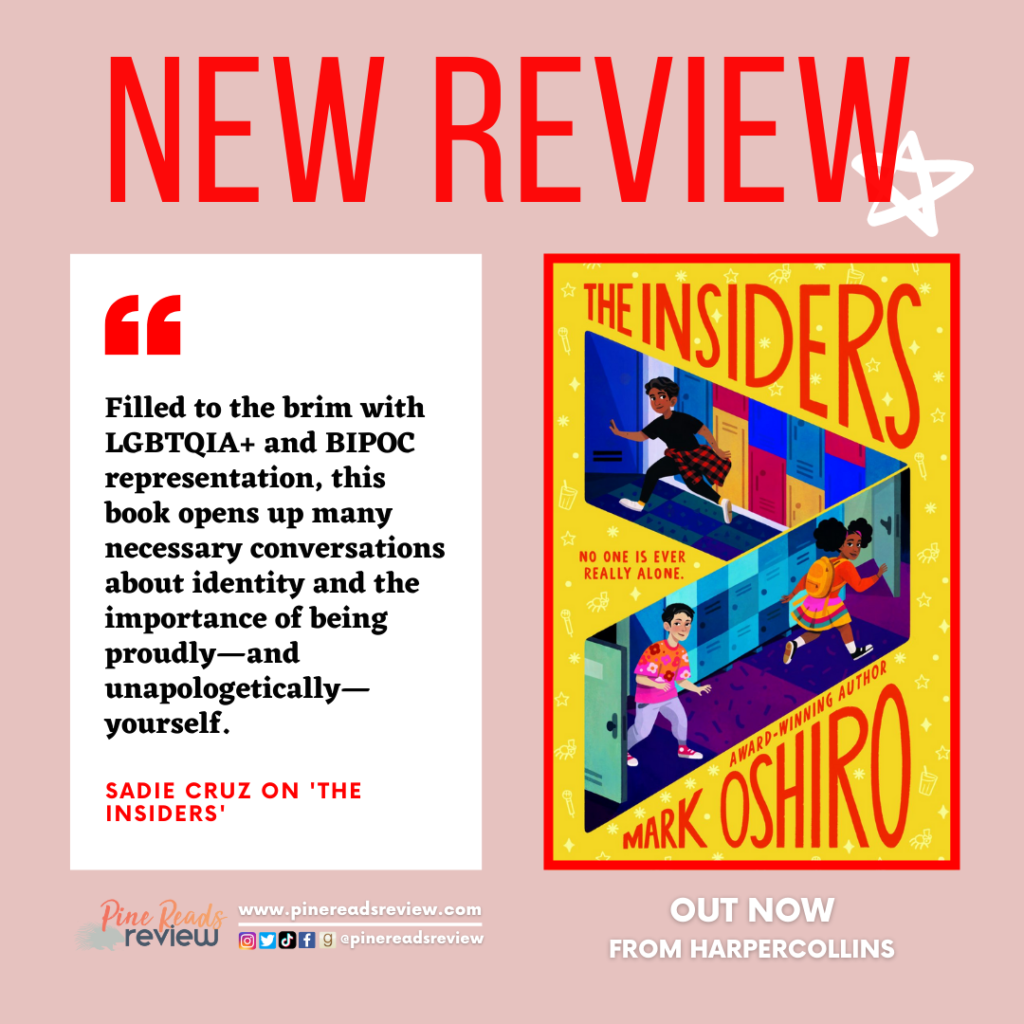 The Insiders by Mark Oshiro
Out Now from HarperCollins; 384 pages
Content Warnings: Bullying, homophobia, mentions of transphobia, racism, hospitals, injuries, mentions of drunk driving & death, anxiety attacks & overstimulation
About the Author: "Mark Oshiro is the award-winning author of the young adult books ANGER IS A GIFT (2019 Schneider Family Book Award) and EACH OF US A DESERT, both with Tor Teen, as well as their middle grade debut, THE INSIDERS, out in 2021 with Harper Collins. When not writing, they are trying to pet every dog in the world." (Bio taken from author's website.)
Find Mark Oshiro on the following platforms:
---
"The hallway was lined with doors on either side, all of them the same. Except one."
Twelve-year-old Héctor Muñoz's whole world is turned upside down by his family's move from San Francisco to the small town of Orangevale, California. Back home in San Francisco, Héctor didn't have to worry about fitting in or being bullied just because he was gay. But things are very, very different in Orangevale. When he's singled out by the school bully, Héctor can't shake just how alone he feels. All Héctor wants to do is get away, so he finds solace inside the janitor's closet. But one day, Héctor enters the closet to hide from his bullies, and instead finds a place—and people—that shouldn't be there. With a magical room and two new friends from different states, Héctor slowly realizes that he's not as alone as he thought he was.
Mark Oshiro's middle-grade debut is all at once hilarious, heartwarming, and heartbreaking. Héctor is such a richly complex character. He is chock-full of personality, humor, and wit, but he also feels his emotions deeply and shows that even the most confident of people can be weighed down by their struggles. Héctor's growth over the course of the novel is a rocky road, but I was rooting for him through it all. I also adored the two friends Héctor makes in the magical janitor's closet. Both kids face their own struggles, but they are always there for Héctor when he needs them, just like he is for them. The support system the three of them create with each other is beautiful to witness. Filled to the brim with LGBTQIA+ and BIPOC representation, this book opens up many necessary conversations about identity and the importance of being proudly—and unapologetically—yourself. The Insiders is filled with heart and hope and is a book I think everyone should read. It's definitely one I will never forget.
(Pine Reads Review would like to thank NetGalley and the publisher for sending us an ARC in exchange for an honest review. Any quotes are taken from an advanced copy and may be subject to change upon final publication.)
PRR Writer, Sadie Cruz