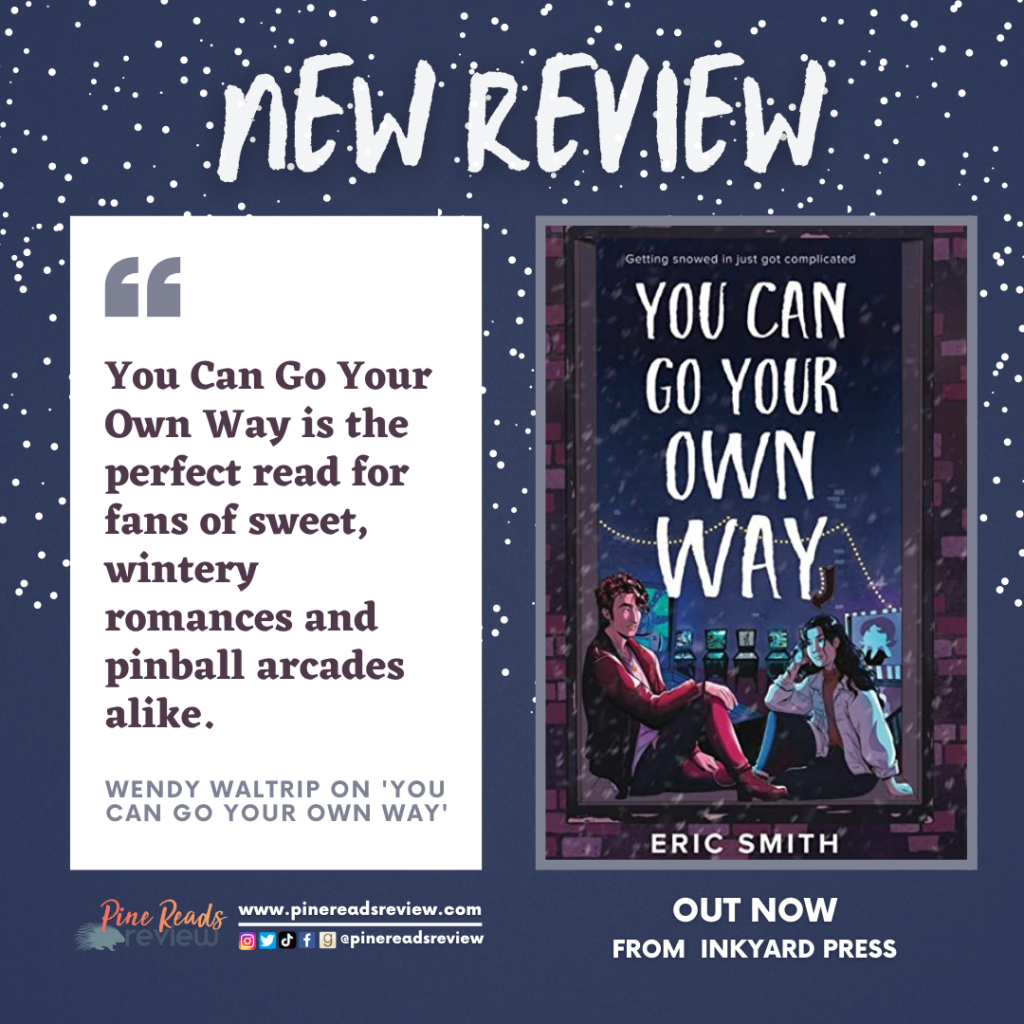 You Can Go Your Own Way by Eric Smith
Out Now from Inkyard Press; 336 pages
Content Warnings: Strong language, divorce, teen partying, death of a parent
About the Author: "Eric Smith is a literary agent and Young Adult author from Elizabeth, New Jersey. As an agent with P.S. Literary, he's worked on New York Times bestselling and award-winning books. His recent novels include the YALSA Best Books for Young Readers selection Don't Read the Comments (Inkyard Press, 2020), You Can Go Your Own Way (Inkyard Press, 2021), and the anthology Battle of the Bands (Candlewick, 2021), co-edited with award-winning author Lauren Gibaldi. His other books include the IndieBound bestseller The Geek's Guide to Dating (Quirk), the Inked duology (Bloomsbury), and The Girl and the Grove (Flux). His writing has sold into eight languages. A lifelong lover of writing and books, he holds a Bachelor of Arts from Kean University in English, and a Master's in English from Arcadia University, where he currently mentors MFA students. He lives in Philadelphia with his wife and son, and enjoys video games, pop punk, and crying over every movie." (Bio taken from author's website)
Find Eric Smith on the following platforms:
---
"So much about pinball is about letting go. Pulling the plunger and taking the journey. And there's a lot I need to let go of. But it's so much easier playing a game, than living a life."
Adam Stillwater and Whitney Mitchell used to be close friends. But then high school happened, and everything changed. Now it's their senior year, but Whitney is too busy running the social media accounts for her dad's chain of successful gaming cafés to do much of anything with her remaining friends and Adam is in over his head trying to keep his late father's pinball arcade afloat and out of Whitney's father's hands. When a giant snowstorm hits and traps Whitney and Adam in the arcade and cut off from everyone else, they must face each other and find some common ground. Will their hearts melt as easily as the snow outside?
Eric Smith's latest novel is an honest exploration of grief that's simultaneously full of cute, wintery vibes. All the characters are so developed, and the setting sparkles with charming descriptions. Adam and Whitney are both excellent characters with very real flaws and insecurities, but who also bring out the best in each other. I loved watching their relationship grow and change over the course of the book. I also enjoyed visiting Philadelphia's Old Town and meeting the eclectic cast of shop owners and employees. Readers can identify with so many fantastic themes in this novel: losing a loved one, growing apart from friends, accepting change, and more. You Can Go Your Own Way is the perfect read for fans of sweet, wintery romances and pinball arcades alike.
(Pine Reads Review would like to thank NetGalley and the publisher for providing us with an ARC in exchange for an honest review. Any quotes are taken from an advanced copy and may be subject to change upon final publication.)
PRR Assistant Director, Wendy Waltrip