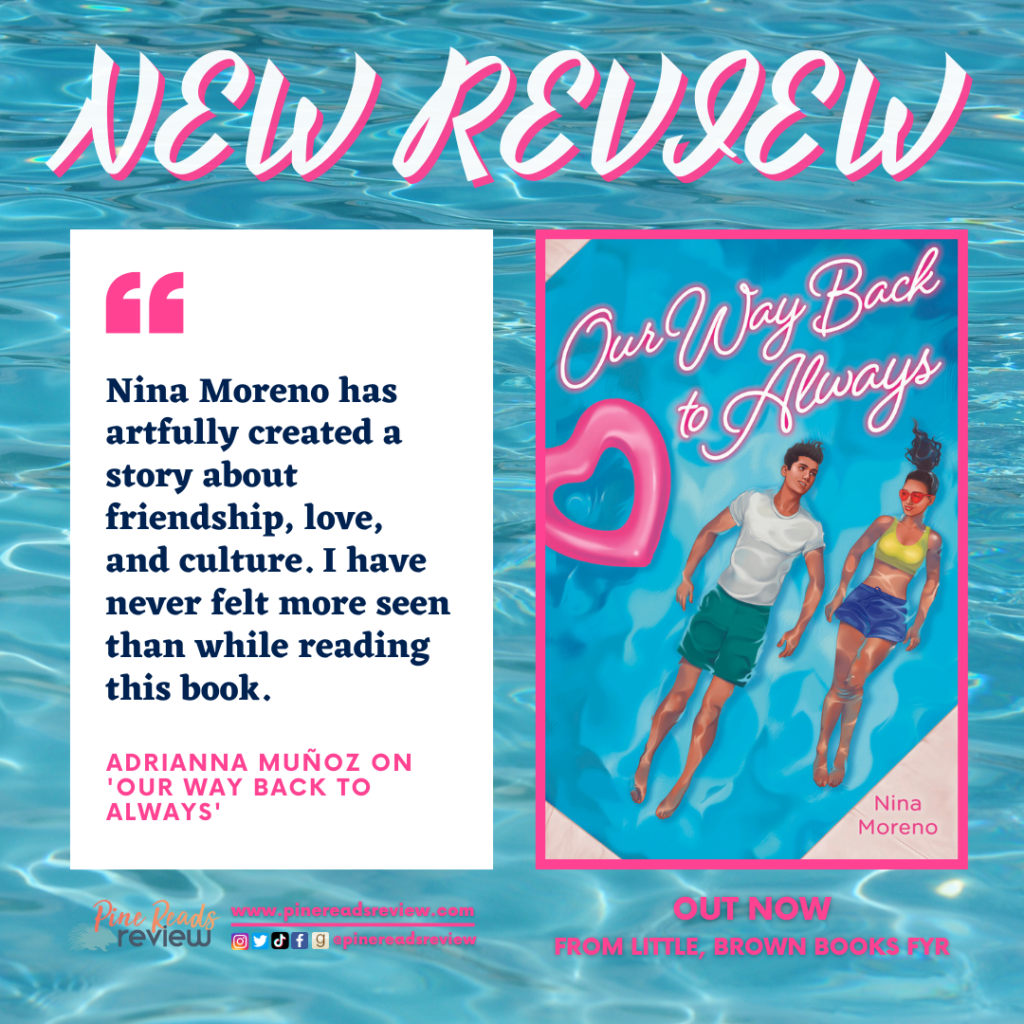 Our Way Back to Always by Nina Moreno 
Out Now from Little Brown Books for Young Readers; 368 pages
Content Warnings: Death of a parent, cancer, car hit a teenager with resulting injuries
About the Author: "Nina Moreno was born and raised in Miami until a hurricane sent her family toward the pines of Georgia where she picked up an accent. She's a proud University of Florida Gator who once had her dream job of shelving books at the library. Inspired by the folklore and stories passed down to her from her Cuban and Colombian family, she now writes about disaster Latinx teens & tweens chasing their dreams, falling in love, and navigating life in the hyphen. Her first novel, Don't Date Rosa Santos, is available now from Little Brown for Young Readers and was a Junior Library Guild Selection, Indie Next Pick for teen readers, and SIBA Okra Pick. Her upcoming novel, Our Way Back to Always, will be out from LBYR in Fall 2021. " (Bio taken from author website.)
Find Nina Moreno on the following platforms:
---
"'Some doors aren't ours to open, but every single one of those rejections and struggles are steps to something more. Something that is yours and deserving of you.'"
Neighbors Louisa (Lou) and Sam have been best friends for what seems like their whole life. That is until an incident in middle school caused them to part ways. Lou has grown into a computer gaming, fanfiction-loving introvert in her time away from Sam, while Sam has blossomed into the Port Coral's well-loved, drum-playing band boy. While trying to enjoy the summer before senior year, Lou finds the bucket list that she and Sam made together, vowing to herself that she will finish it before she graduates. When her pregnant older sister leaves her stranded without the car, she runs across the street and orders Sam to give her a ride. After all, they are going to the same place: Senior Beach Day. Sam finds the list and commits to completing it with her. But with college applications due and graduation approaching, can they complete the list in time while staying on good terms?
Nina Moreno has artfully created a story about friendship, love, and culture. I have never felt more seen than while reading this book. Both Lou and Sam are half Latino and half white, and so am I. They deal with things like living in a Spanish-speaking community, but hardly speaking Spanish, and eating ethnic food mixed with American cuisine. Moreno describes the difficulties and nuances of being a mixed kid perfectly. She also did a really great job of describing grief and how each person deals with it differently. The friendships that Lou and Sam make in this book are so fun and lively that it makes me nostalgic for my high school days. They are great examples of teenagers coming into their own and discovering their paths in life. Pick up Our Way Back to Always if you want a friends-to-strangers-to-friends-to-lovers book full of culture and family.
​​(Pine Reads Review would like to thank Netgalley and the publisher for providing us with an ARC in exchange for an honest review. Any quotes are taken from an advanced copy and may be subject to change upon final publication.)
PRR Writer, Adrianna Muñoz