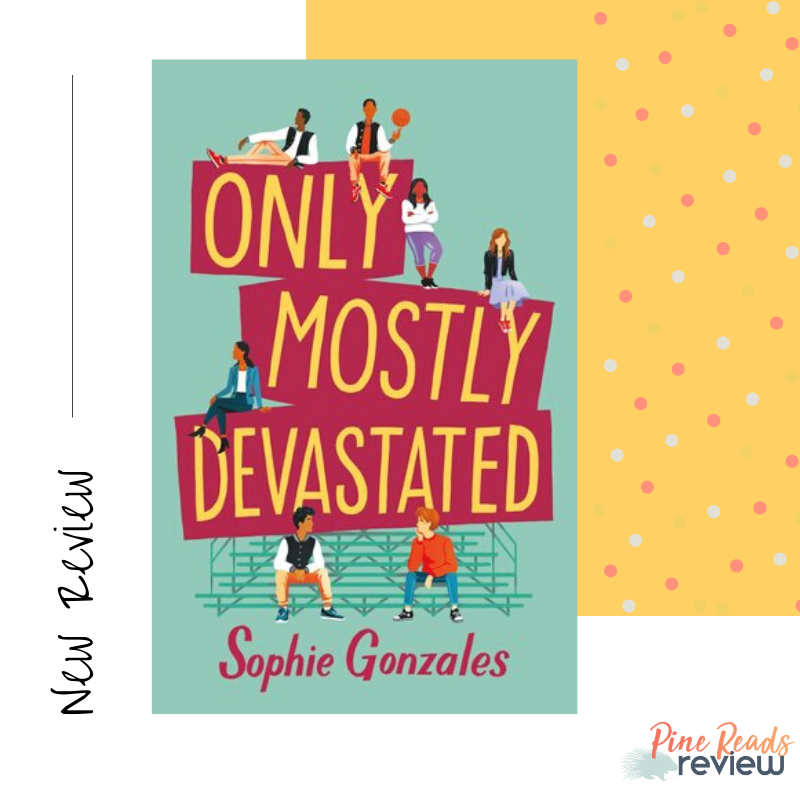 Only Mostly Devastated by Sophie Gonzales
Wednesday Books, 2020, 288 pages
Trigger warnings: character with terminal illness, death of a loved one, underage drinking
About the Author: "Sophie Gonzales writes Young Adult queer rom-coms with memorable characters, biting wit and endless heart. She is the author of The Law of Inertia, which was released in 2018 with Amberjack Publishing. Her debut YA rom-com, Only Mostly Devastated, is slated for Winter 2020 through Wednesday Books / Macmillan. When she isn't writing, Sophie can be found ice skating, performing in musical theatre, and practicing the piano. She currently lives in Melbourne, Australia where she works as a psychologist. She is represented by Moe Ferrara of Bookends Literary Agency." (Bio taken from the author's Goodreads profile.)
Website: https://www.sophiegonzalesbooks.com/
Instagram: @sgonzalesauthor 
Twitter: @sgonzalesauthor
"It's funny how you can spend weeks, or months, or sometimes even years preparing yourself for a nightmare that's more 'when' than 'if.' Then just when you're fooling yourself that you've accepted the world's end, and you'll roll with the impact when it hits… suddenly, it might be hitting, and you're not rolling. You're collapsing, sitting where you stood, totally overwhelmed by a loss you were never really ready for."
Spending the summer at the wistful North Carolina lake house Ollie's family rented out for a family vacation was supposed to be just that—a summer vacation. So when his parents sit Ollie down to tell him he would be ripped away from his friends and hometown so that his parents could help his aunt and uncle out while his aunt Linda undergoes chemotherapy, it feels like his world has been turned upside down. Even worse, Ollie runs into Will, the boy he'd had a romantic summer tryst with, on his first day at his new high school. And, on top of that, Will is apparently not out to anyone else. During his senior year, Ollie must grapple with his feelings for Will, growing distant from his old California friends, his aunt Linda's health, and ultimately figure out how he fits into his new life on the other side of the country.
Only Mostly Devastated is an emotional rollercoaster, but in the good, enjoyable kind of way. It offers a comfortable balance between comedy, romance, and drama. Ollie is such a likeable and well-fleshed out protagonist, reading about his life and problems felt like I was right there with him as a friend. His love interest, Will, is also a complex and amiable character. Together, their chemistry is believable and something I was definitely rooting for. On the other hand, Sophie Gonzales handled the topic of Linda's cancer and all that comes with it with nuance, grace, and a level of believability that had me teary-eyed on the train while I devoured this book in one sitting. Readers who enjoy books with sweet queer romances, explorations of grief and family life, and casts of believable characters will adore this book.
PRR Writer, Caroline Ross
Pick up your own copy here!