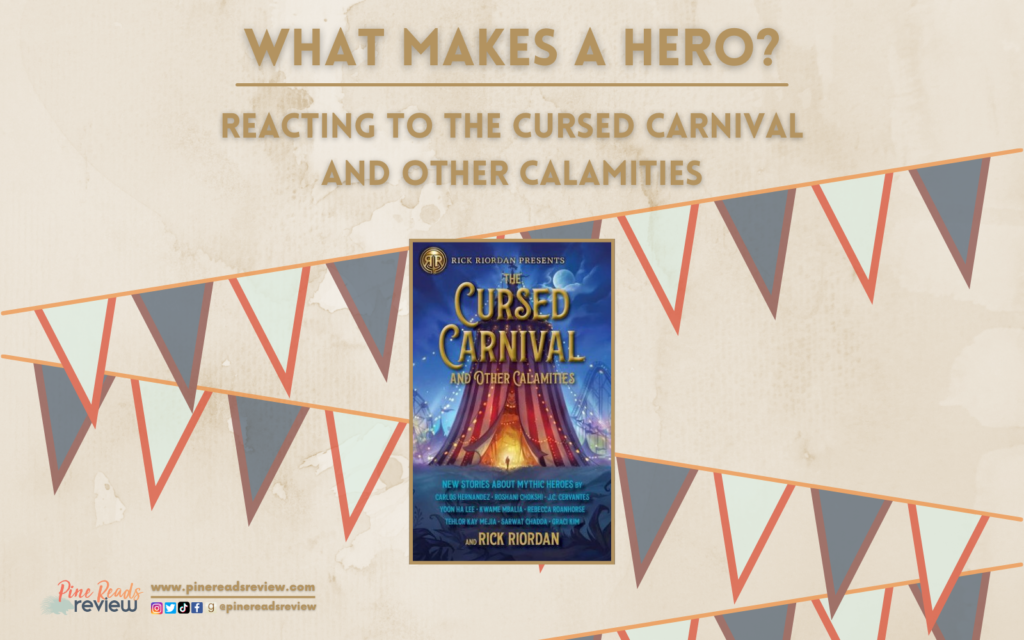 WARNING: Spoilers ahead for Paola Santiago and the River of Tears by Tehlor Kay Mejia and City of the Plague God by Sarwat Chadda!
"Imagine a multiverse mansion in which all the heroes of Rick Riordan Presents exist together."
It's no secret that I am a huge fan of the Rick Riordan Presents imprint. Learning about different cultures' mythologies and folk tales while joining kids and teens on kick-butt adventures? Yes please! So when I heard that the fabulous authors of this imprint—including Rick Riordan himself—would each be contributing a short story to an anthology celebrating their novels, I'm not lying when I say I did a little dance for joy. And when Pine Reads Review received an ARC of this one-of-a-kind anthology? Yeah, my dance may have gotten just a tad more enthusiastic.
Because these stories kick butt!
The Cursed Carnival and Other Calamities includes stories from Carlos Hernandez (Sal and Gabi Break the Universe), Roshani Chokshi (Aru Shah and the End of Time), Jennifer Cervantes (The Storm Runner), Yoon Ha Lee (Dragon Pearl), Kwame Mbalia (Tristan Strong Punches a Hole in the Sky), Rebecca Roanhorse (Race to the Sun), Tehlor Kay Mejia (Paola Santiago and the River of Tears), Sarwat Chadda (City of the Plague God), Graci Kim (The Last Fallen Star), and Rick Riordan (Percy Jackson and the Olympians).
Each book in the RRP imprint—and each story in this anthology—examines what it really means to be a hero, especially when you're thrown into that role with no warning. Being a hero may sound fun, but as Percy Jackson and Annabeth Chase would tell you, it's not all it's chalked up to be.
Most of the stories in The Cursed Carnival take place after the events of their books (fair warning if you haven't had a chance to read their books yet that some spoilers are included!). As I was happily turning the (electronic) pages, I kept noticing the characters pushing back against their new role as a hero or wondering what makes them so special. Unfortunately, I can't cover all ten stories in this blog (just know that they are all absolutely amazing!), but I did pick out a few of the ones that really stood out to me. Let's dive in, shall we?
---
"Paola Santiago, traverser of haunted cactus fields, destroyer of legendary ghosts, and brief onetime possessor of supernatural-void power, was bored. Like, really bored." –"Bruto and the Freaky Flower" by Tehlor Kay Mejia
Paola Santiago is a brilliant protagonist. She's brave, loyal, and terrifyingly smart. I've read both of the released books about her adventures, and I was so excited to join her for another one in this story!
Tehlor Kay Mejia's story in The Cursed Carnival entitled "Bruto and the Freaky Flower" takes place after Pao's adventures in Paola Santiago and the River of Tears. Pao has returned home from battling the legendary La Llorona, hoping life will be different. Except, her mom won't let her leave the apartment and nothing exciting is happening. Like, at all. When Pao's chupacabra puppy Bruto starts acting strange and Pao discovers that the only way to save him is to find a really weird flower that smells like raw meat, part of her is happy to finally have something to do again (the other part is very, very scared). So with the help of her best friend Dante, Pao ventures back to the Gila River for another chance to be the hero.
In both of her novels about Paola Santiago as well as in this story, Tehlor Kay Mejia does a fantastic job examining what really makes a hero. Is it a fancy weapon, like Dante's chancla? Or is it simply the courage to keep fighting for someone you love, even if the odds are long? And what happens once your adventure is over, especially if things can't go back to the way they were before? Is being a hero worth it?
You'll have to decide for yourself, maybe as you read the recently released sequel, Paola Santiago and the Forest of Nightmares. Because one thing's for certain in this story: chupacabra puppies are really, really cute!
---
"So that's how one Muslim kid and one demon went off to save all existence, armed with only a shovel." –"The Loneliest Demon" by Sarwat Chadda
In Sarwat Chadda's story "The Loneliest Demon," it's been several months since the ancient Mesopotamian god of plagues, Nergal, invaded Manhattan. After Sikander Aziz and his friend Belet defeated him, they thought all of his demons went with him back to Kurnugi. But when the lonely demon Rabisu appears at Sik's family's deli challenging him to a duel to the death, Sik does what any normal thirteen-year-old would: he agrees to help her get back home. Except evil forces block the portal, and when the hero Gilgamesh's ring is accidentally used to let them out, Sik and Rabisu decide to join forces to save Manhattan and the world…again.
Just as in City of the Plague God, spending time with Sikander Aziz is an absolute blast. After coming back alive from his first adventure, Sik would be happy just working in the family deli and FaceTiming Belet every now and then. But having to be a hero again? Uh, not so much. Sarwat Chadda expertly examines what one must do when they're thrust back into the spotlight with the responsibility of the world resting on their shoulders. Plus, the growing friendship between Sik and Rabisu is just *chef's kiss*!
---
"Breaking the rules and risking getting caught is so far out of my comfort zone, I don't even know who I am anymore." –"My Night at the Gifted Carnival" by Graci Kim
Graci Kim's story "My Night at the Gifted Carnival" is the only story that takes place before the events of the novel—for very obvious reasons, if you've read The Last Fallen Star. In this story, we visit the Gifted Carnival with our protagonist Riley Oh and her sister Hattie about a year before The Last Fallen Star begins, and let me just say that this carnival is out-of-this-world incredible. Without spoiling anything from the story for you, just picture a corn-dog that makes your favorite K-drama star appear as a life-size apparition in front of your eyes. Awesome, right?
Anyway, Riley is determined not to enjoy the carnival because, unlike her adopted sister, she will never have magic. But when the sisters discover a heinous plot in the making right under the noses of all the carnival-goers, they enlist the help of a troupe of performers to help set things right before it's too late.
Although Riley has yet to go on any adventures, she is absolutely a reluctant hero in this story. Even though she doesn't like to break the rules or leave her comfort zone, Riley has a strong moral compass that will always lead her in the right direction. So when she sees some kids in trouble, she knows she'll do anything to help them. Her heroic actions at the end of this story are all instinct, proving that she has what it takes to be a hero.
"I've always avoided magic because of the fear of wanting something I could never have," Riley explains as the story comes to a close. "But perhaps there could be another way. Maybe there is a future in which I could earn my gift—a different path I could take to acquire magic and dedicate myself to helping others." And all I can say to that is just you wait, Riley Oh.
---
"Apparently, I was special. Then again, I suspected most eight-year-olds didn't grow up in a tent in the wilderness, hiding from assassins, so maybe being special was overrated." –"My Life as a Child Outlaw" by Rick Riordan
All the kids in these stories are special in one way or another, and all of them become heroes by the end of their adventures. That includes Rick Riordan's newest hero, Finn, in his brand-new story about Celtic mythology. In "My Life as a Child Outlaw," we join Finn for two years of his life as he discovers things about himself and the ancient Irish wilderness that will change everything. As of now, Riordan has not announced if he'll be continuing with Finn's story in novel format, but it's definitely a possibility—one I'm truly excited about.
Finn, Riley, Sik, Pao, and all the rest of the heroes from these stories know that a hero doesn't have to be strong to do what's right. They only have to be brave enough to forge ahead, even when the path is terrifying. The Cursed Carnival and Other Calamities' dedication even states that this book is "to reluctant, undiscovered, and unsung heroes everywhere."
So with that in mind, why couldn't the next hero to grace the pages of the Rick Riordan Presents imprint be you? And when your story is sent out into the world to fly with its own wings as all these stories have done before you, just know that I will be the first in line to buy it. Because I firmly believe that the world could always use just a little more magic…and heroes to save the day.
---
For more on some of the amazing books in the Rick Riordan Presents imprint, check out Pine Reads' reviews of Tristan Strong Punches a Hole in the Sky by Kwame Mbalia, Paola Santiago and the River of Tears by Tehlor Kay Mejia, City of the Plague God by Sarwat Chadda, The Last Fallen Star by Graci Kim, Paola Santiago and the Forest of Nightmares by Tehlor Kay Mejia, and Pahua and the Soul Stealer by Lori M. Lee!
(Pine Reads Review would like to thank NetGalley and the publisher for providing us with an ARC in exchange for an honest review. Any quotes are taken from an advanced copy and may be subject to change upon final publication.)
PRR Assistant Director, Wendy Waltrip