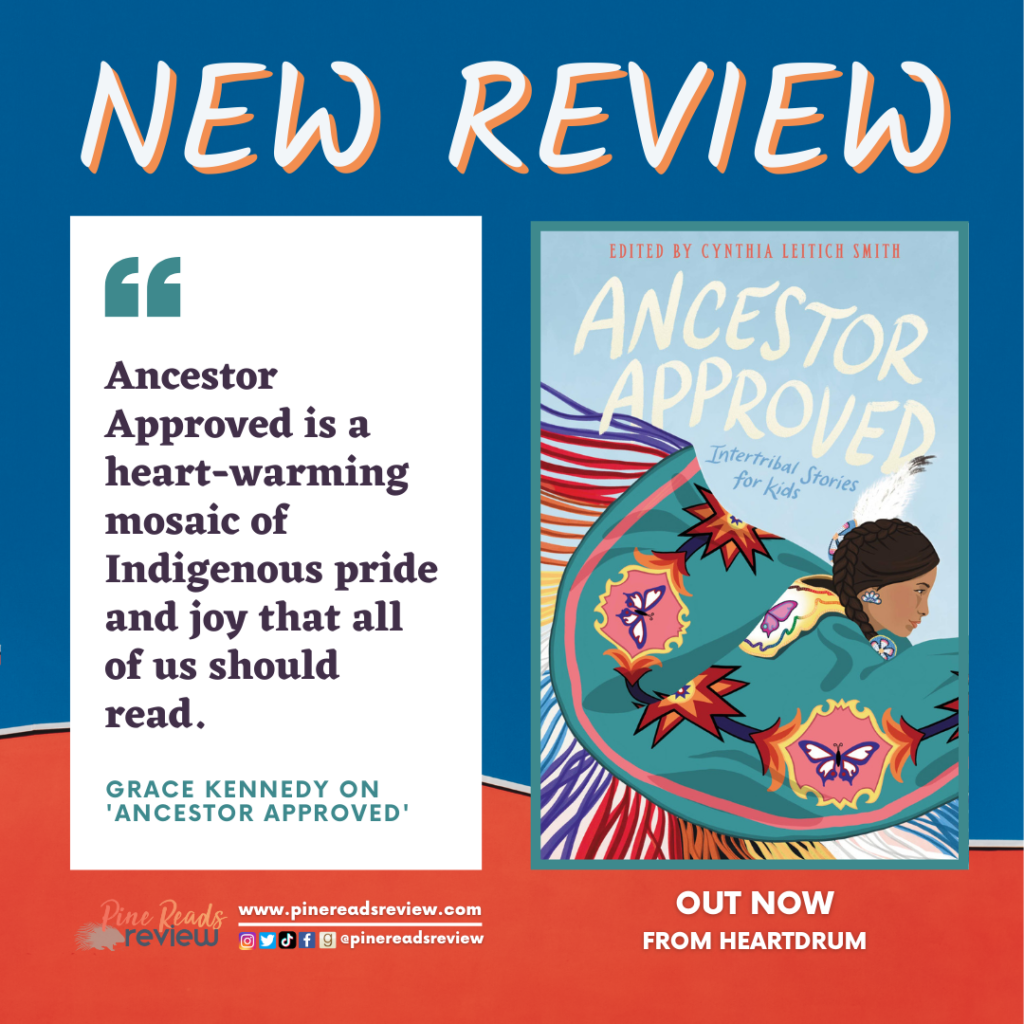 Ancestor Approved: Intertribal Stories for Kids edited by Cynthia Leitich Smith
Out Now from Heartdrum; 320 pages
Content Warnings: Abusive parenting, mentions of domestic violence, racism, mention of residential schools
About the Editor: "Cynthia Leitich Smith is the 2021 NSK Neustadt Laureate and a New York Times bestselling author of books for young readers, including HEARTS UNBROKEN, which won the American Indian Library Association's Youth Literature Award. Her 2021 releases are the middle grade anthology ANCESTOR APPROVED: INTERTRIBAL STORIES FOR KIDS and novel SISTERS OF THE NEVERSEA. She is also the author-curator of Heartdrum, a Native-focused imprint at HarperCollins Children's Books, and serves as the Katherine Paterson Inaugural Endowed Chair on the faculty of the MFA program in Writing for Children and Young Adults at Vermont College of Fine Arts. Cynthia is a citizen of the Muscogee Nation and lives in Austin, Texas." (Bio taken from editor's website)
Find Cynthia Leitich Smith on the following platforms:
---
"A powwow is / prizes and recognition. / But community / is the best prize of all."
Indigenous people and their families of all nations are headed towards one special place: Ann Arbor, Michigan, to the Dance for Mother Earth Powwow. A series of short stories shows the interconnectedness of the attendees as they bond over beadwork, fry bread, and beautiful dance regalia, to name a few wonderful things you'll find at a powwow. Joined together by Native pride, Ancestor Approved highlights a group of people finding their voices both individually and together.
Ancestor Approved is one of the most fantastic anthologies I've gotten to read. I will admit that as someone who reads mostly YA, I was slightly skeptical at how profound a middle-grade anthology could be, but boy were my expectations blown away. I loved that the stories were drawn together with a central location and overlapping themes, but they were still individual and memorable on their own accord. What made them especially poignant is how they are focused on Indigenous joy above all else. These stories certainly talk about pain and intergenerational trauma, but their focus always comes back to the sense of friendship, family, and community that comes fiercely alive when Native peoples get the chance to gather.
One of my favorite stories in the book is the tear-jerking "Fancy Dancer" by Monique Gray Smith which focuses on a Cree boy named Rory working on his dancing with his stepdad, Paul. Rory's toxic biological dad had never supported Rory's mom teaching him about their culture, so with Paul's help, he learns about fancy dancing and reconnects to roots he didn't know he had. "Rez Dog Rules" by Rebecca Roanhorse is probably the funniest story in the book, following the perspective of the scruffy New Mexican Rez dog, Ozzie, and his affections for freedom, fried chicken, and sweet, old Mrs. Cruz. Having laughed, beamed, and even teared up through this vibrant story collection, I can only describe Ancestor Approved as a heart-warming mosaic of Indigenous pride and joy that all of us should read.
PRR Assistant Director, Grace Kennedy