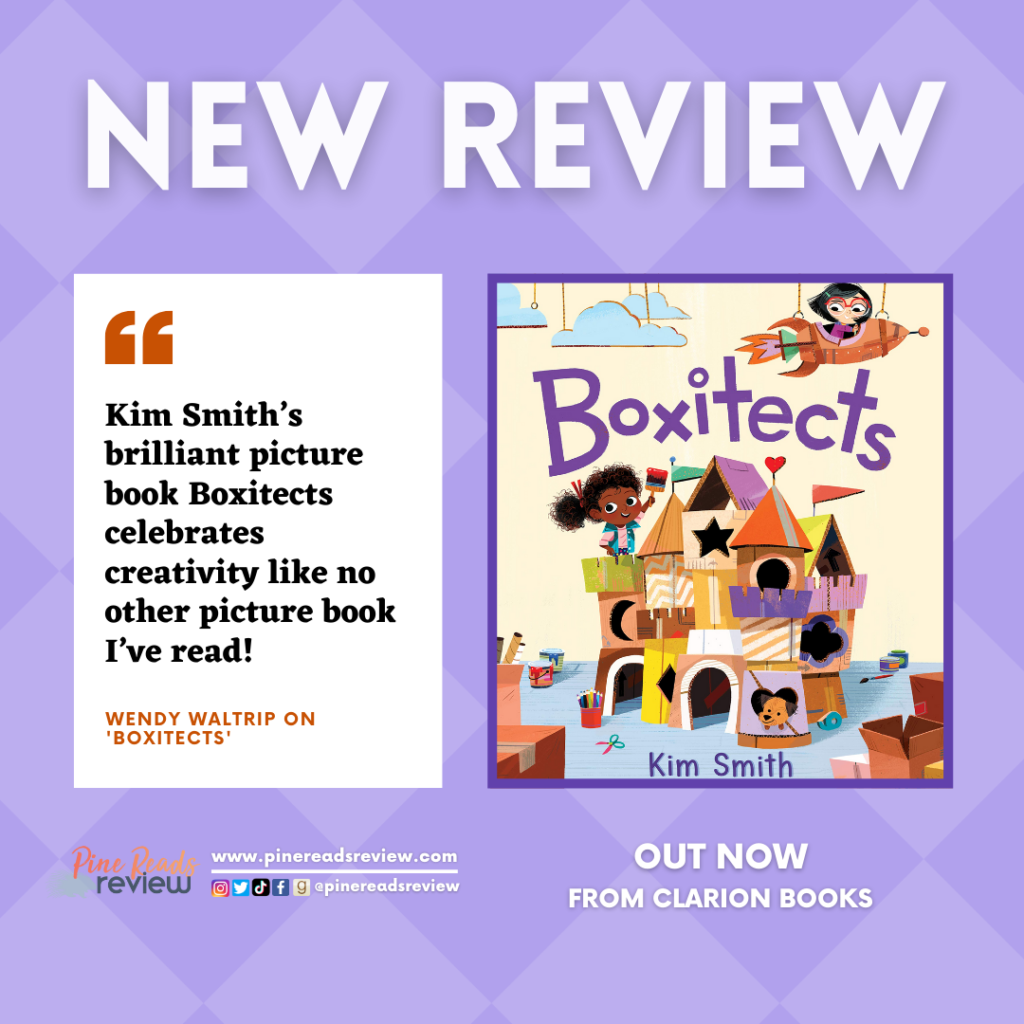 Out Now from Clarion Books; 32 pages
About the Author/Illustrator: "Kim Smith is the New York Times best-selling illustrator of over 30 picture books, including Boxitects (Houghton Mifflin Harcourt/Harper Collins), the Builder Brothers picture book series (HarperCollins); the PopClassics picture book adaptations of popular films including Back to the Future, Home Alone, and E.T. (Quirk Books); and the Ice Chips chapter book series (HarperCollins Canada). In addition to illustrating picture books, Kim has also worked on children's video games, puzzles, animation, 3D displays, posters, and magazines." (Bio taken from author's website.)
Find Kim Smith on the following platforms:
---
"At Maker School there were blanketeers, spaghetti-tects, tin-foilers, and egg-cartoneers. There was almost any kind of maker you could imagine! But Meg was the class's first boxitect, and that made her feel special."
Meg is a boxitect who can make boxes into anything. When her mom sends her to Maker School, Meg is thrilled to find a place she can fit in—but also be one-of-a-kind. Until Simone shows up. Simone is another boxitect, but she has very different ideas than Meg. When the annual Maker Match is held to see who can make the most amazing thing, Meg and Simone will do anything to win—except work together. But when disaster strikes, they must find a way to join creative forces if they want to complete the contest in time.
Kim Smith's brilliant picture book Boxitects celebrates creativity like no other picture book I've read! Children are famous for seeing potential in the most mundane things, and this story explores that concept in such an imaginative way. I wish I'd had the chance to be a boxitect or a blanketeer when I was little! The detailed and colorful illustrations truly bring the world of the story to life, and I especially love the inclusion of instructions for how to build a boxitect tunnel and castle in the back of the book. With such a fun story and magnificent illustrations, this is a book that kids will beg to read again and again!
PRR Assistant Director, Wendy Waltrip