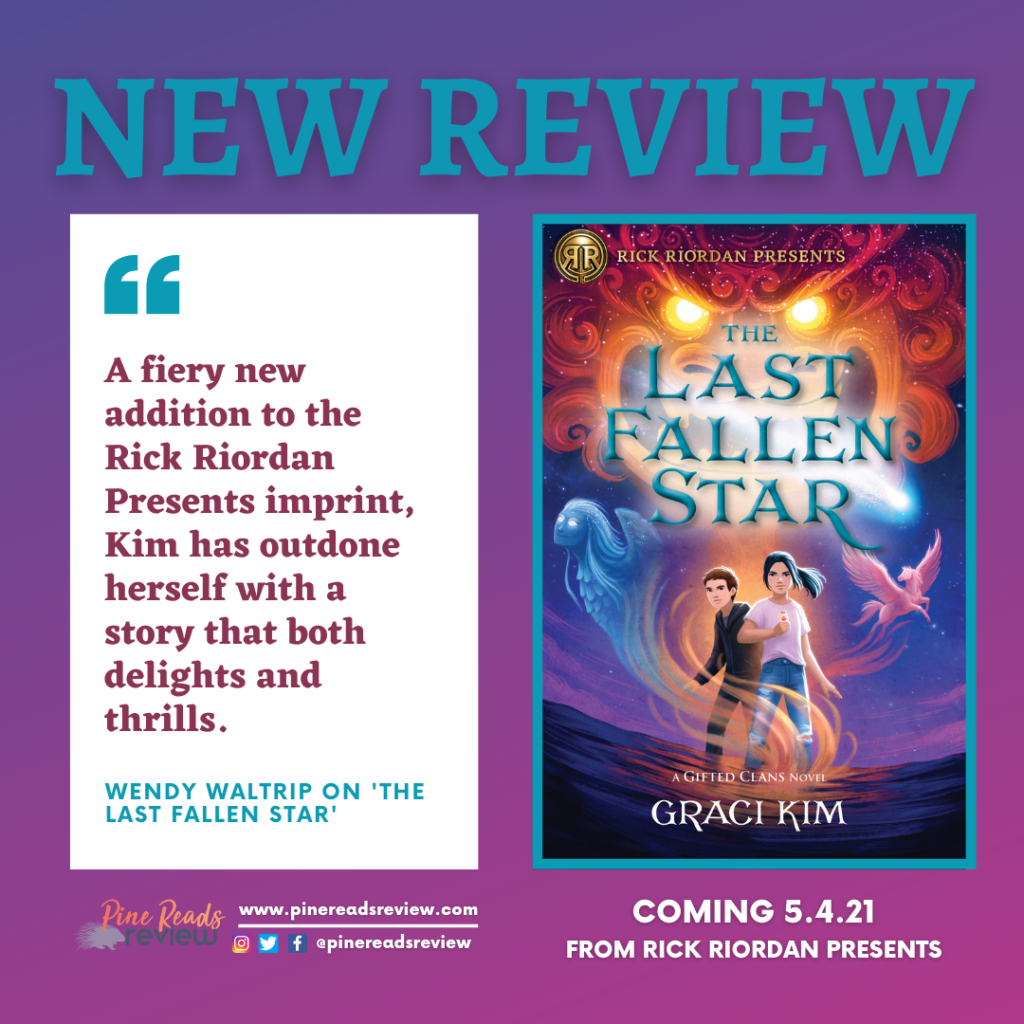 The Last Fallen Star by Graci Kim
Coming May 4, 2021 from Rick Riordan Presents; 336 pages
Content Warnings: Death of a loved one, memory loss, blood, some intense action scenes, mentions of violence, bullying

About the Author: "Graci Kim is a Korean-Kiwi diplomat turned author who writes magic-infused books for magic-infused readers. She grew up not seeing herself in her most treasured books, and has since committed herself to writing about Korean diaspora kids who achieve all their hopes and dreams. Her mythology-inspired debut MG novel, The Last Fallen Star, about Korean witches in LA, unbreakable sisters, forbidden spells, and one girl's search for belonging will be published with Rick Riordan Presents, Disney Hyperion, on May 4 2021. In a previous life, Graci was a diplomat for the NZ foreign service, a cooking show host, and once ran a business that turned children's drawings into cuddly toys. If not lost in her imagination, you'll find Graci drinking flat whites, eating ramyeon, and most likely hugging a dog (or ideally, many). She lives in New Zealand with her husband and daughter." (Bio taken from the author's website.)
Find Graci Kim on the following platforms:
---
"I am strong. And I am brave. My name is Riley Oh, and I was born to shine."
All twelve-year-old Riley Oh has ever wanted is to have her own magic and become a true healing witch recognized by everyone in her adopted family's powerful lineage of Korean witches. Except, she's a saram—a person without magic—so the best she can hope for in that regard is to watch proudly as her sister, Hattie, is initiated into the Gom clan, one of the six gifted clans. Her adoption and lack of magic often leave Riley feeling left out in her family and the gifted community. But then Hattie comes up with the brilliant idea to cast a spell at her initiation ceremony so that Riley can temporarily share Hattie's magic. No one will ever treat Riley like an outsider again. Only everything goes wrong, and suddenly Hattie's life is hanging in the balance. To rescue her sister, Riley will have to team up with her best friend Emmett and complete an impossible quest: find and retrieve the last fallen star. With a ticking clock and more questions than answers that lead to startling discoveries, Riley and Emmett must use all their wits and figure out who they can trust if they want to save Hattie—and the world—in time.
Graci Kim's debut is at once magical and daring, as well as heart-warming and satisfying. A fiery new addition to the Rick Riordan Presents imprint, Kim has outdone herself with a story that both delights and thrills. I absolutely loved diving into the gifted world, which is described so well that I found myself effortlessly understanding even the most minute details about this extraordinary world within our own. Riley's journey of self-discovery is so real and heart-wrenching that it even brought me to the verge of tears, especially as she is forced to make agonizing sacrifices. I thoroughly enjoyed her voice throughout, but the other characters also shine on the page. Emmett, Hattie, and Riley's other friends are brought to life beautifully. I want to join this friend group! As Riley struggles with making selfless choices and uncovering hard-to-hear secrets, readers will be able to recognize and identify with themes of fighting for what's right, the love between family and friends, and discovering the power that one holds. The Korean representation is superb—even if the descriptions of that delicious-sounding food made me ravenous—and although the glossary in the back was helpful, I enjoyed using context clues to inherently understand what the Korean terms meant. Fans of races against the clock and magic will love this fast-paced middle-grade adventure.
The Last Fallen Star releases on May 4, 2021.
(Pine Reads Review would like to thank NetGalley and the publisher for sending us an ARC in exchange for an honest review. Any quotes are taken from an advanced copy and may be subject to change upon final publication.)
PRR Assistant Director, Wendy Waltrip