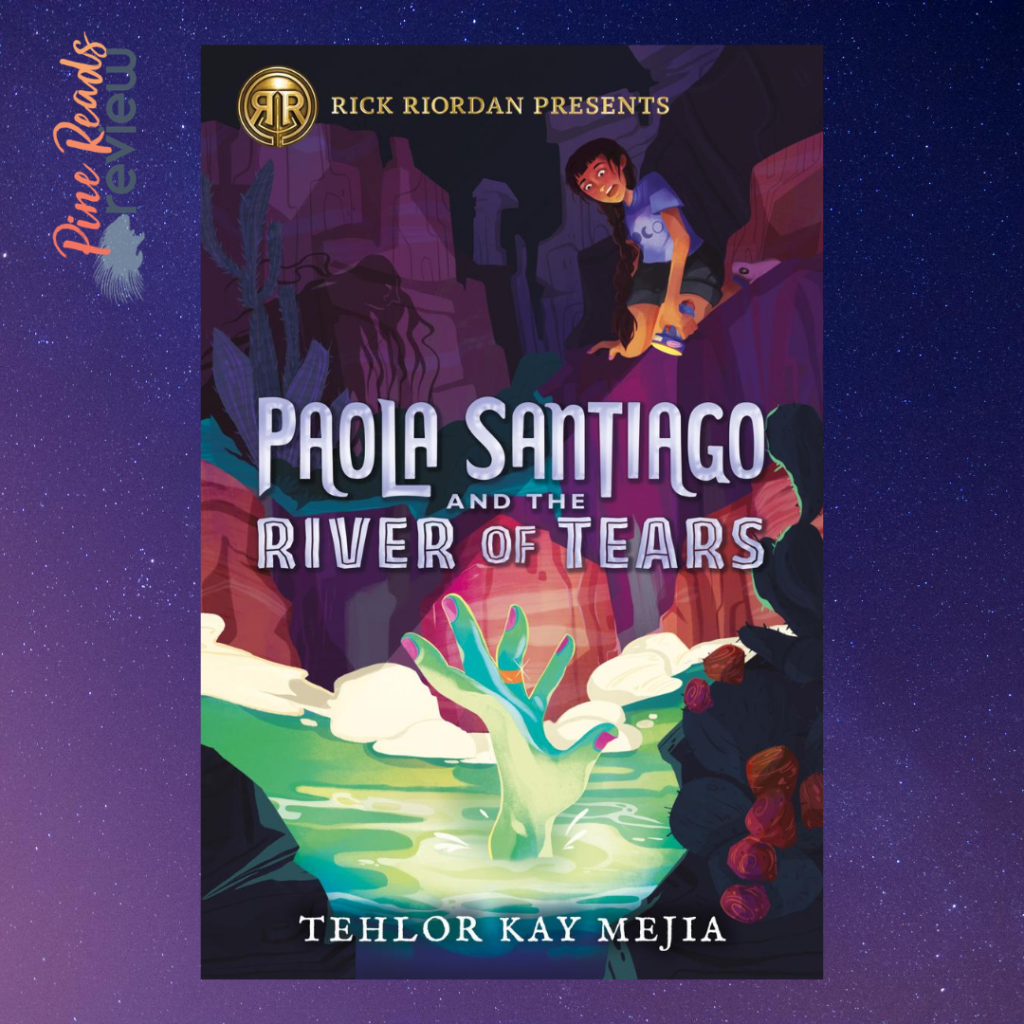 Paola Santiago and the River of Tears by Tehlor Kay Mejia
Rick Riordan Presents, Releases on August 4th 2020, 349 pages
Trigger Warnings: Violence, racism, kidnapping
About the Author: "Tehlor Kay Mejia is the author of the critically acclaimed young adult fantasy novel We Set the Dark on Fire, as well as several forthcoming young adult and middle grade novels. Her debut novel received six starred reviews, and was chosen as an Indie's Next Pick and a Junior Library Guild selection, as well as being an Indiebound bestseller in the Pacific Northwest region. It was featured in Seventeen, Cosmopolitan, and O by Oprah Magazine's best books of 2019 lists, as well as being a book of the year selection by Kirkus and School Library Journal. Tehlor lives in Oregon with her daughter, two very small dogs, and several rescued houseplants." (Bio taken from the author's website.) 
Instagram: @tehlorkay
Twitter: @tehlorkay
Website: https://www.tehlorkaymejia.com
Hashtags: #PaolaSantiagoandtheRiverofTears #RickRiordanPresents 
"The world seemed suddenly too big and too small at once. They were just two kids with a shape-shifting house shoe and an empty crocheted shopping bag, and the world was full of kidnappers, and police who didn't believe you, and, apparently, sinister magical forces."
Super scientific 12-year-old Paola Santiago has always been told to stay away from the Gila River and warned by her superstitious mother about the legend of La Llorona (the wailing ghost woman who searches the banks of the river for children to drown). But Pao is a scientist through and through and knows there are quite reasonable explanations for the many drownings that have taken place in the Gila over the years. Disgusted with her mother's humiliating superstitions, Pao and her two best friends, Emma and Dante, decide to hang out near the river one night since it's the best stargazing spot. But Emma never shows up. When the police refuse to listen to Pao and Dante, the two kids are thrust into the middle of a mystery that will overturn everything Pao has ever believed to be true. To save Emma, Pao must enter the world of her nightmares and face both the monsters that threaten her life and the monsters within herself.
Tehlor Kay Mejia has crafted a simultaneously chilling and heartwarming story that fits perfectly into the Rick Riordan Presents universe. Pao is a wonderful heroine: feisty, brave, and immensely loyal. She is aware of her faults and is constantly trying to become a better person. The friendships and relationships between the characters are strong, and the depictions of tensions that can arise between friends in that terrifying time known as middle school are spot on. The Mexican and Mexican-American mythology was so much fun to learn about through Pao's eyes, and when things started getting magical, I enjoyed the descriptions and dialogue that kept me from becoming lost or confused. As Pao struggles to understand her worth, readers will be able to identify and sympathize with themes of family hardship, forgiveness, and what being a hero truly means. Fans of ghost stories, fantasy, and magic will love this middle-grade adventure.
Paola Santiago and the River of Tears releases on August 4th, 2020.
(Pine Reads Review would like to thank NetGalley and the publisher for providing us with an ARC in exchange for an honest review. Any quotes are taken from an advanced copy and may be subject to change upon final publication.)
PRR Writer, Wendy Waltrip
Pick up your own copy today!