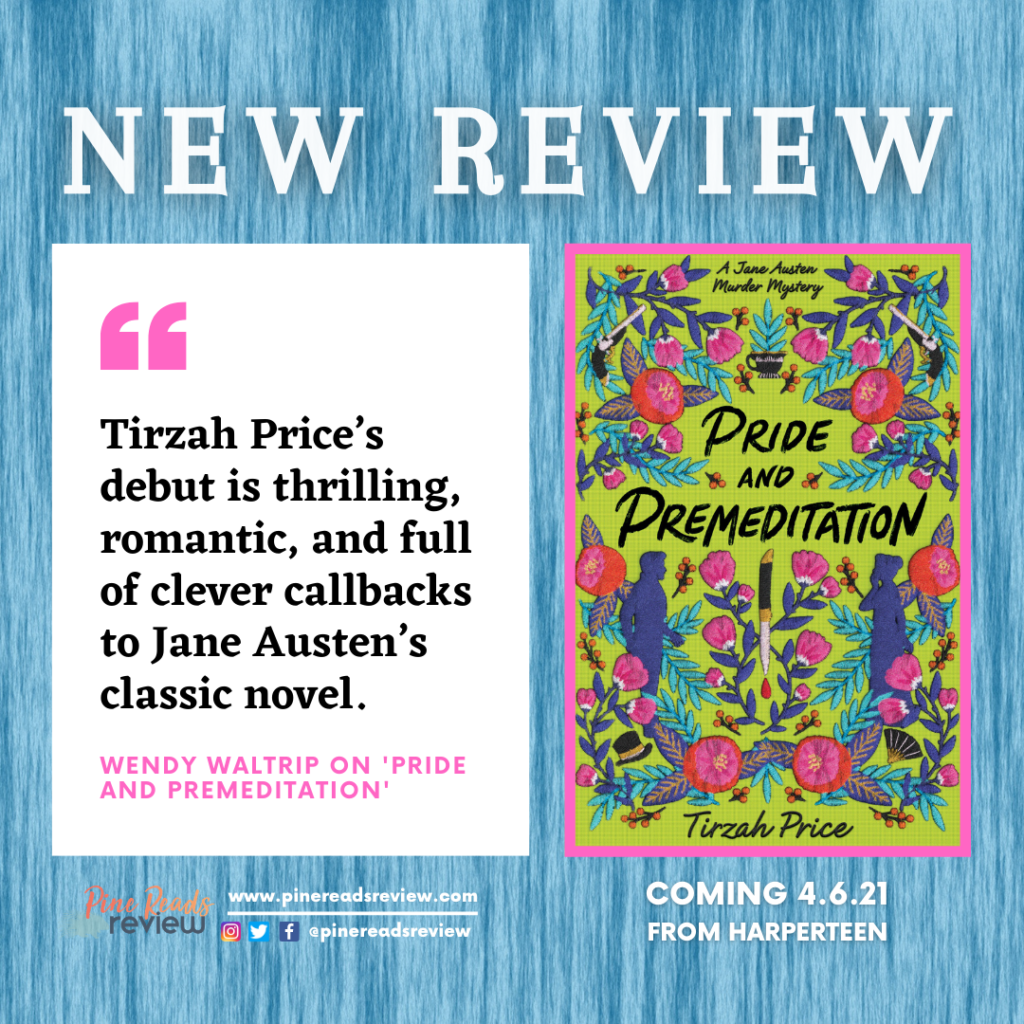 Pride and Premeditation by Tirzah Price
HarperCollins Children's Books; Releasing April 6, 2021; 368 pages
Content Warnings: Murder, blood, firearms, sexism, misogyny, kidnapping, racism
About the Author: "Tirzah Price is the author of the Jane Austen Murder Mysteries. She grew up on a farm in Michigan, where she read every book she could get her hands on and never outgrew her love for YA fiction. She holds an MFA in Writing for Children & Young Adults from Vermont College of Fine Arts, and is a former bookseller and librarian. Now, she's a contributing editor at Book Riot. When she's not writing, reading, or thinking about YA books, she splits her time between experimenting in the kitchen and knitting enough socks to last the fierce Michigan winters. Tirzah is pronounced TEER-zuh. Pronouns are she/her." (Bio taken from the author's website.)
Website: https://tirzahprice.com
Twitter: @tirzahprice
Instagram: @tirzah.price
---
"Where men fail to see the truth, a woman may uncover many secrets before tea."
Seventeen year-old Lizzie Bennet would make the perfect lawyer…except for the fact that she's a woman in an era where female lawyers are practically unheard of. Stubborn and inquisitive Lizzie refuses to let this setback stop her, so when a scandalous murder shocks London society, she sees it as the perfect opportunity to prove her worth as a lawyer—and save a man she's convinced is innocent while she's at it. Unfortunately for her, with rival aspiring lawyer Darcy blocking her every move and the true murderer still on the loose, Lizzie finds that solving a case completely on her own may not be as simple as she first believed. With every clue, she slips more and more into danger until her very life is on the line. Can Lizzie solve the mystery, face her complicated feelings for Darcy, and successfully demonstrate her skills as a lawyer? Or will her pursuit of the truth silence her once and for all?
I can't stop thinking about this amazing book. Tirzah Price's debut is thrilling, romantic, and full of clever callbacks to Jane Austen's classic novel. Just as Elizabeth Bennet is courageous, intelligent, and quick-witted in the original, Price's Lizzie is all that and more. The scintillating banter between Lizzie and Darcy is brilliant and quite possibly one of my favorite features of this book. All the characters are very well-developed, and the setting is delightful. Solving the mystery at Lizzie's side is an unforgettable and thoroughly enjoyable experience. I was not expecting the more perilous elements, but as a lover of action/adventure stories, I was pleasantly surprised at how well the danger is woven into the romance and societal standards of the time. This fantastic retelling of Pride and Prejudice is perfect for fans of Jane Austen and murder mysteries and has become one of my favorite reads of the year.
Pride and Premeditation releases April 6, 2021.
(Pine Reads Review would like to thank NetGalley and the publisher for sending us an ARC in exchange for an honest review. Any quotes are taken from an advanced copy and may be subject to change upon final publication.)
PRR Assistant Director, Wendy Waltrip