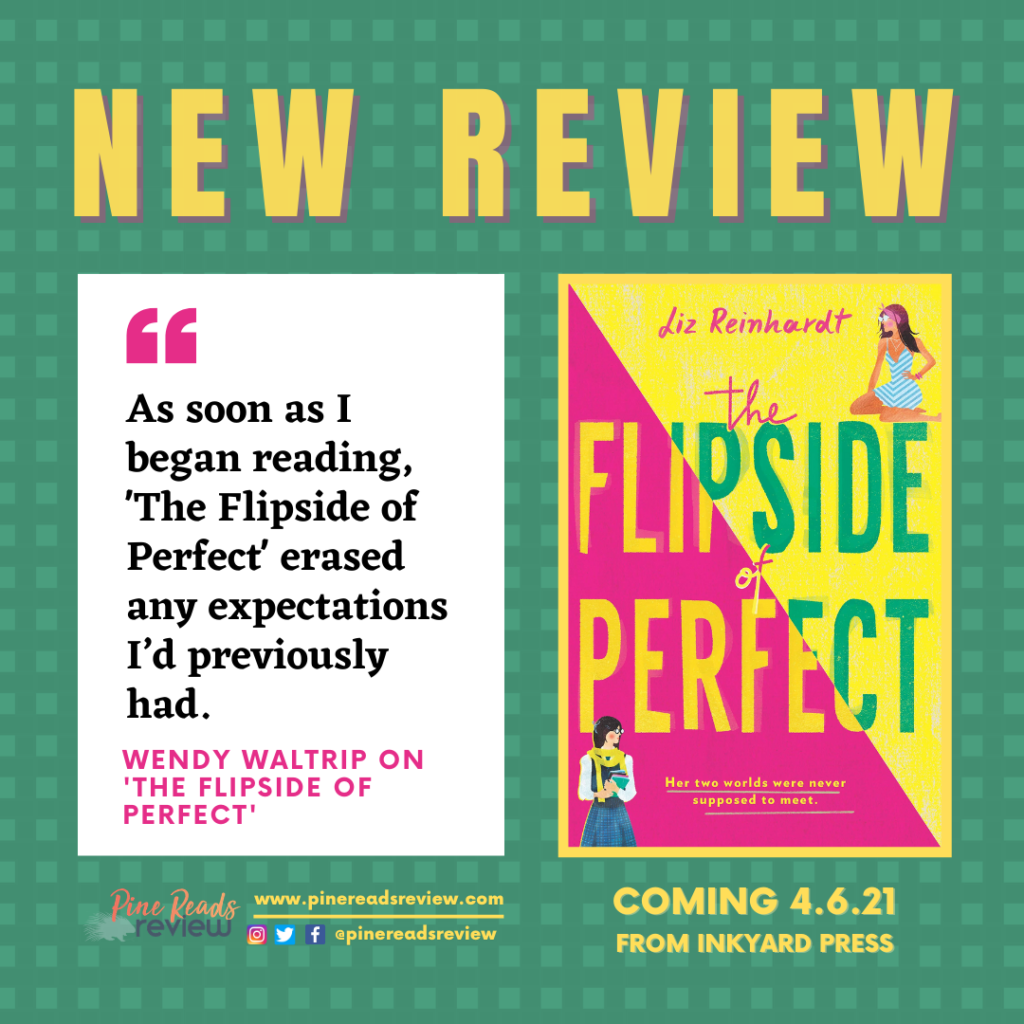 The Flipside of Perfect by Liz Reinhardt
Inkyard Press; Releases April 6, 2021; 432 pages
Content Warnings: Strong language, unplanned pregnancy, intimate scenes, anxiety, depression, alcoholism, mentions of the death of a loved one, divorce, emotional manipulation, sexual harassment, underage drinking
About the Author: "Liz Reinhardt is a perpetually homesick NJ native who migrated to the deep South a decade ago with her funny kid, motor-head husband, and growing pack of mutts. She's a fanatical book lover with no reading prejudices and a wide range of genre loves, but her heart will always skip a beat for YA. In her spare time she likes to listen to corny jokes her kid reads to her from ice-pop sticks, watch her husband get dirty working on cars, travel whenever she can scrape together a few bucks, and gab on the phone incessantly with her bestie, writer Steph Campbell. She likes Raisinets even if they aren't real candy, the Oxford comma even though it's nerdy, and airports even when her plane is delayed. When she isn't writing, Liz Reinhardt teaches a fantastic group of diverse 8th graders in Savannah, GA.​ Rebels Like Us, her latest YA novel, is full of hot kisses, angst, homesickness, and laughs that are almost as good as the ones that come from the stick of a melty ice-pop." (Bio taken from the author's Goodreads profile.)
---
"Now that I've seen the flip side of perfect, I don't think I could ever go back."
AJ Jepsen is the picture of perfection at her elite school in Michigan. An overachiever, she strives to solve any problems her two younger sisters bring her way. Della Beloise is the complete opposite. Carefree and radiant, she spends as much time as she can on the beach in Florida when she visits her dad and older siblings during the summer. The catch? AJ and Della are the same person, specifically Adelaide Beloise Jepsen. Adelaide has the art of splitting herself into two people down to a science. She's kept her Florida family a secret from her friends in Michigan for many long years. But during the summer between junior and senior year, her middle sister messes up. Big-time. When she's sent to join Adelaide in Florida, Adelaide's plans for a carefree summer evaporate. With a blossoming romance, family financial problems, and long-buried secrets of her past emerging, Adelaide will have to figure out a way to combine her two halves if she wants to save her summer…and stay true to herself.
As soon as I began reading, The Flipside of Perfect erased any expectations I'd previously had. What seems to begin as a light and fluffy beach read soon ventures into deeper and darker territory as Adelaide is forced to confront her life's imperfections. I really enjoyed the romantic elements, but after Adelaide made some questionable choices in her reactions to difficult situations, I found myself not really connecting to her. Additionally, some of the characters feel a bit one-dimensional, even though Adelaide, her romantic interest Jude, and her middle sister Marnie shine with wonderful depth. And speaking of Marnie, her character growth arc is fantastic. By the end of the novel, I found myself cheering for her as she faced her problems head-on. Still, the story lacks some emotional connection, and it all wrapped up a bit too, well, perfectly. Yet, the story may satisfy fans of sweet romances, complicated family relationships, and fighting to find the truest part of oneself.
The Flipside of Perfect releases April 6, 2021.
(Pine Reads Review would like to thank NetGalley and the publisher for sending us an ARC in exchange for an honest review. Any quotes are taken from an advanced copy and may be subject to change upon final publication.)
PRR Assistant Director, Wendy Waltrip