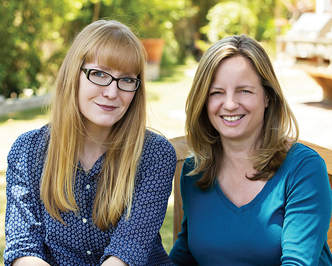 [Image taken from the Inner Flower Child Books website]
About the Author: Susan Schaefer Bernardo is a poet and storyteller since childhood. She holds a B.A. in English (UCLA), M.A. in English Literature (Yale) and elementary/secondary teaching credentials (Pepperdine). She is a huge believer in keeping her "inner flower child" happy by partaking in any facet of the arts and spending plenty of time outdoors and surrounded by nature and any other type of beauty. Along with her professional endeavors, Bernardo finds huge importance in giving back to the community and creating content that is intended to help hurting children.  
Twitter: @susanbernardo
About the Illustrator: Courtenay Fletcher is a proud fifth generation Californian and self-proclaimed lover of the outdoors. She attended UC Berkeley and obtained her BFA from Art Center College of Design in Pasadena. Fletcher has a background in advertising as an Art Director that led her to believe she needed to follow her creative heart and explore the worlds of photography and illustration.
Instagram: @courtenayfletcher
Twitter: @monkeedoodle
Website: http://www.courtenayfletcherstudio.com/
Through their friendship and partnership thanks to Inner Flower Child Books, their self-started indie publishing source for their joint-created picture books, both Bernardo and Fletcher have created content that is both heartwarming and healing. As they state on their website, "Our books make lovely bedtime stories, but also have a bigger purpose: to comfort children going through difficult times. Many therapists, child life specialists, and trauma organizations use our books to gently help children connect with their feelings in a positive way and let them know that they are not alone on their journey. We couldn't be more grateful that the books are finding their way into the hands of those who need them."
Machaela Raney: What sorts of things were necessary to consider in the process of realizing that you wanted to work as an 'indie' author/illustrator duo?
Susan Bernardo: The decision to indie publish our first book, Sun Kisses, Moon Hugs, came about very organically in 2012. We had been friends for a few years already, since meeting in a Mommy and Me class when our kids were little. When I went through a painful divorce, and Courtenay lost a dear friend to breast cancer, we came up with this idea for a book to help kids coping with loss and separation.
Courtenay Fletcher: We really wanted to get the book into the world as soon as possible, and after doing some research we learned that it could take years to get the book published if we went the conventional route. We realized that between us, we had a very strong skill set – I worked in advertising and graphic design for years and was comfortable dealing with the printing process.
SB: And I had worked in education, public relations and fundraising in the past, and felt like we could raise the money we needed for an initial print run through crowdfunding. So, we got the book prepped and launched a Kickstarter drive.
MR: What led you to veer away from traditional publishing houses and go in the direction of self-publishing?
CF: We really believed the book could do a lot of good for families, and we just didn't want to let the book languish in TBR piles while we waited for a lot of gatekeepers to decide if we were worthy. Plus, we thrived on the challenge of putting the book out, learning something new and being in charge of our own journey.
SB: Courtenay and I were both 4-H'ers as kids, and we really ascribe to the motto of "Learn by Doing."
MR: What were some positive effects of having complete control over the production and distribution of your releases?
SB: Having control over the production and distribution of our books really shortened the timeline to get that first book completed: from conception to printing took nine months. Once we had books in hand, we were able to start getting traction with readers and reviewers – and that put us in the right place at the right time for an incredible opportunity to collaborate with LeVar Burton on The Rhino Who Swallowed a Storm, a book to help kids coping with trauma.
CF: I think that really gave us confidence to continue on our path of indie publishing and keep publishing books!
MR: On a similar note, did you run into any difficulties?
SB: It's a continuous learning curve. We had to learn not just the craft of creating picture books, but the nuts and bolts of being publishers and how to market and sell our books. Distributing the book initially was tough. Our first Amazon orders were so small we spent more on shipping books to Amazon than we made in profit! It also took a couple of years just to start relationships with wholesalers like Baker & Taylor and Follett School Solutions.
CF: There are so many challenges — and they really never stop! As we grow, it becomes more difficult to balance the business and creative aspects of our work. Today we had a three-hour meeting researching new fulfillment warehouses and learning terms like "shopping cart integration" and "EDI" – when we'd much rather be focusing our attention on developing the next book in the pipeline.
SB: Joining IBPA (Independent Book Publishers Association) really helped us – we attended their annual conference in 2018 and learned a ton. And in 2019, we were on the program as speakers on the topics of Crowdfunding and Children's Books – which shows you how far we've come.
MR: I have noticed that your company participates in a great deal of philanthropic work. Does being self-published allow you more freedom with these activities because you are the primary proprietors of expenses?
CF: Absolutely. Doing good in the world has been part of our business model since the beginning. Our mission is to create books to heal and inspire children – and that means we get to interact with a lot of wonderful organizations. We also build a charitable component right into our crowdfunding campaigns – so our backers also get to be part of giving back to the community. It's a win-win! With The Artist Who Loved Cats, for example, we had crowdfunding reward levels where we donated books to "Book Buddy" programs that have kids reading to shelter cats.
SB: Often in conventional publishing, if books don't succeed right out of the gate in that first release – the publisher stops putting marketing effort behind them and might even pull a book out of distribution — the author and illustrator have no control. One of the best things about being indie published is that we can have a slow fuse and keep building up the market for our books over a long period of time. Sun Kisses, Moon Hugs is doing better now than ever – and a lot of that has to with word-of-mouth recommendations, strategic donations to charities and getting out there to speak to schools and at charitable events. Last year, we found out that the book is even being included on some university teacher-training curriculums. We launched a bilingual Spanish-English edition, Besos de sol, abrazos de luna in December to reach more families coping with loss and separation.
MR: Your work appears to be focused on meaningful content written with the intent of having an impact on children/young people who have suffered trauma resulting in grief and other struggles with identity. Has being self-published affected the topics that you choose to write about?
CF: Indie publishing means we avoid the gatekeepers and have full control over our content – yet we also strive to produce books that are as high quality as anything you would see on a bookstore shelf. It might sound cliché, but each book we publish comes from our hearts and is something we are willing to stand behind…forever.
SB: And the more books we get our books into the hands of these organizations, the more we build a reputation for producing books that are valuable resources for families and professionals in the fields of children's therapy, hospice, Child Life Specialists, etc.
MR: How have Amazon and other online retailers affected the process and distribution of self-published books in your experience?
SB: Working with Amazon is a double-edged sword. It allows us to distribute our books to a wider audience, but Amazon gobbles up a huge percentage of the profits. In order to be "discoverable" on Amazon, we must spend a lot of money on keyword advertising. Right now, we are feeling too dependent on Amazon and actively exploring ways to diversify our sales. For instance, with The Artist Who Loved Cats, we reached out directly to art museum gift shops. We also do direct sales through school assemblies, and we plan to do a direct mailing campaign to libraries and non-profit organizations we think could use our books.
MR: I have heard that in the realm of self-publishing, it is difficult to understand the intricacies of the process until they have personally experienced it. Did you experience this? If so, in what ways?
SB: Definitely we have learned more about the business by publishing books than we ever could have just by reading a book about it! Each obstacle inspires us to dive deeper, consult experts, and learn more. Where there's a will, there's a way.
CF: We've also considered pitching one of our upcoming titles to agents and seeing if there might be benefits to having some of our catalog published the traditional way. It might be fun to put some of our eggs in a different basket!
SB: We feel our greatest strength is our willingness and ability to stay open to new ideas – not just for books, but for opportunities to get those books into the hands of readers.
Check out our review of The Artist Who Loved Cats, written by Susan S. Bernardo and illustrated by Courtenay Fletcher, here!
And don't miss our blog on indie publishing here!
PRR Writer, Machaela Raney