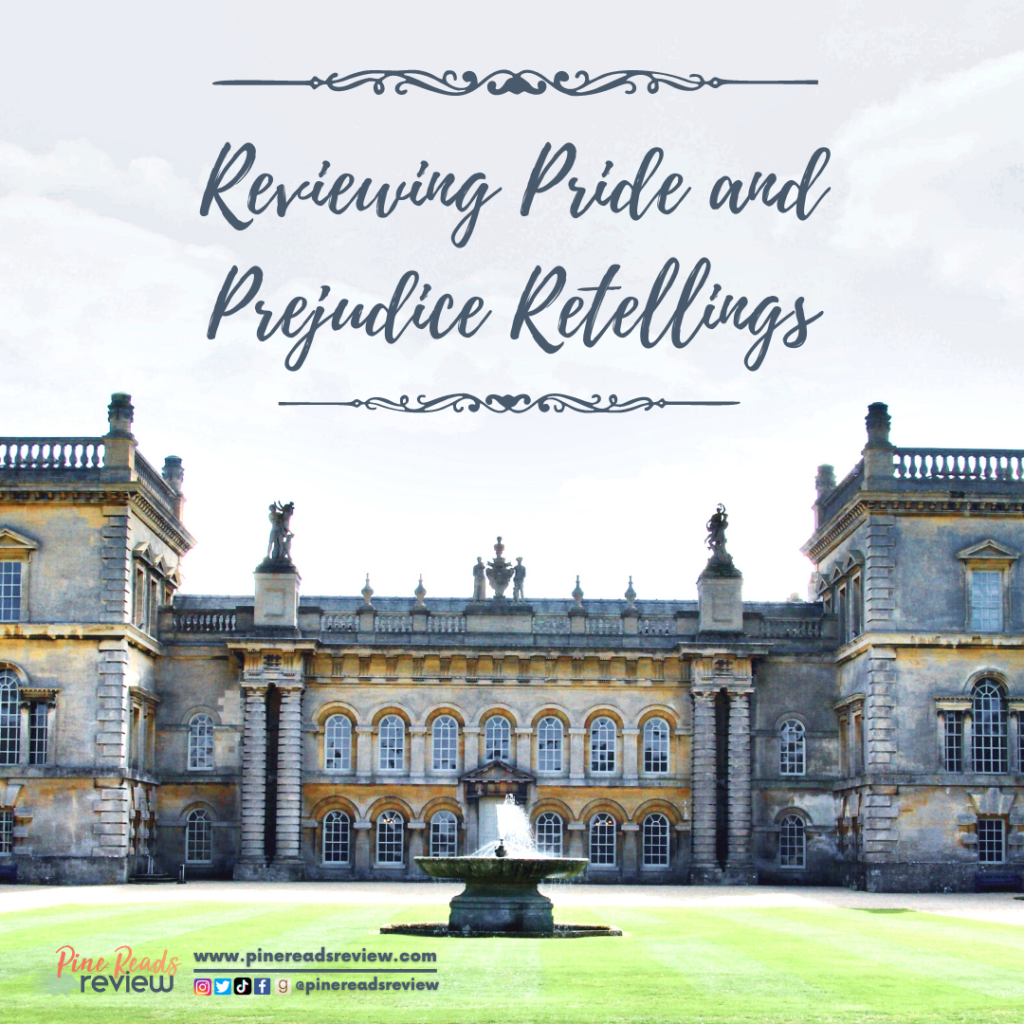 "It is a truth universally acknowledged that a single man in possession of a good fortune must be in want of a wife."
I am a diehard Pride and Prejudice fan. I have numerous editions, multiple posters, and a car named Mr. Darcy. I find it interesting whenever I see a book that is advertised as a retelling of Pride and Prejudice, and I tend to overlook them because I figure they could never compare to the original. However, after reading Pride and Prejudice for the 100th time, I decided that I should try a modern version of Jane Austen's story. So, for all the other Mr. Darcy superfans out there, I decided to write about the books that I've read.
---
Pride and Prejudice and Zombies by Seth Grahame-Smith
"It is a truth universally acknowledged that a zombie in possession of brains must be in want of more brains."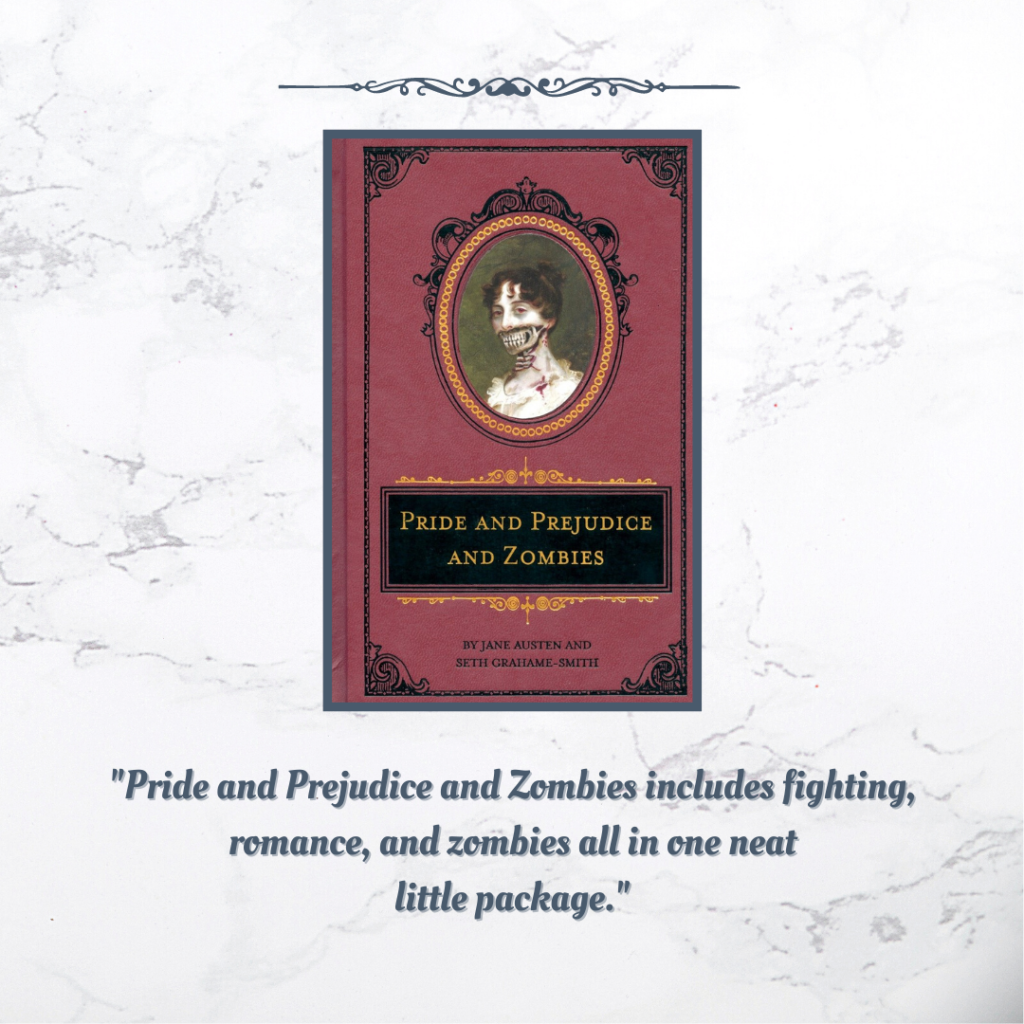 Pride and Prejudice and Zombies takes Jane Austen's beloved novel and injects it with zombies, ninjas, and innuendo. The story follows Elizabeth Bennet, who encounters the arrogant Mr. Darcy, while trying to rid England of zombies. The plot then proceeds exactly as the original does, mainly because it uses Austen's writing, only adding in some zombie attacks and sparring sessions on corpse-ridden battlefields. Pride and Prejudice and Zombies includes fighting, romance, and zombies all in one neat little package.
It's hard to put into words what I felt after reading Pride and Prejudice and Zombies. What I loved about Austen's novel was effectively lost in this version of the book. Though it takes place in the same setting and even uses Jane Austen's original words, Pride and Prejudice and Zombies was completely alien. Austen explored themes such as gender, class, love, and reputation, but the seriousness and importance of those ideas are completely absent in this adaptation and replaced by crude humor and the undead. In Pride and Prejudice, the Bennet sisters' quest for marriage was so important, but in Seth Grahame-Smith's new version, survival did not mean marrying a rich husband —it meant killing the undead. I found this book to be a cheap replica that was not worth my time.
For me, this book was doomed to fail. Pride and Prejudice is too well-loved for Pride and Prejudice and Zombies to take Austen's story and add a gimmick to it and be considered worth my time. However, if you have never heard of Jane Austen, this might just be the perfect book for you!
---
Ayesha at Last by Uzma Jalaluddin
"Because while it is a truth universally acknowledged that a single Muslim man must be in want of a wife, there's an even greater truth: To his Indian mother, his own inclinations are of secondary importance."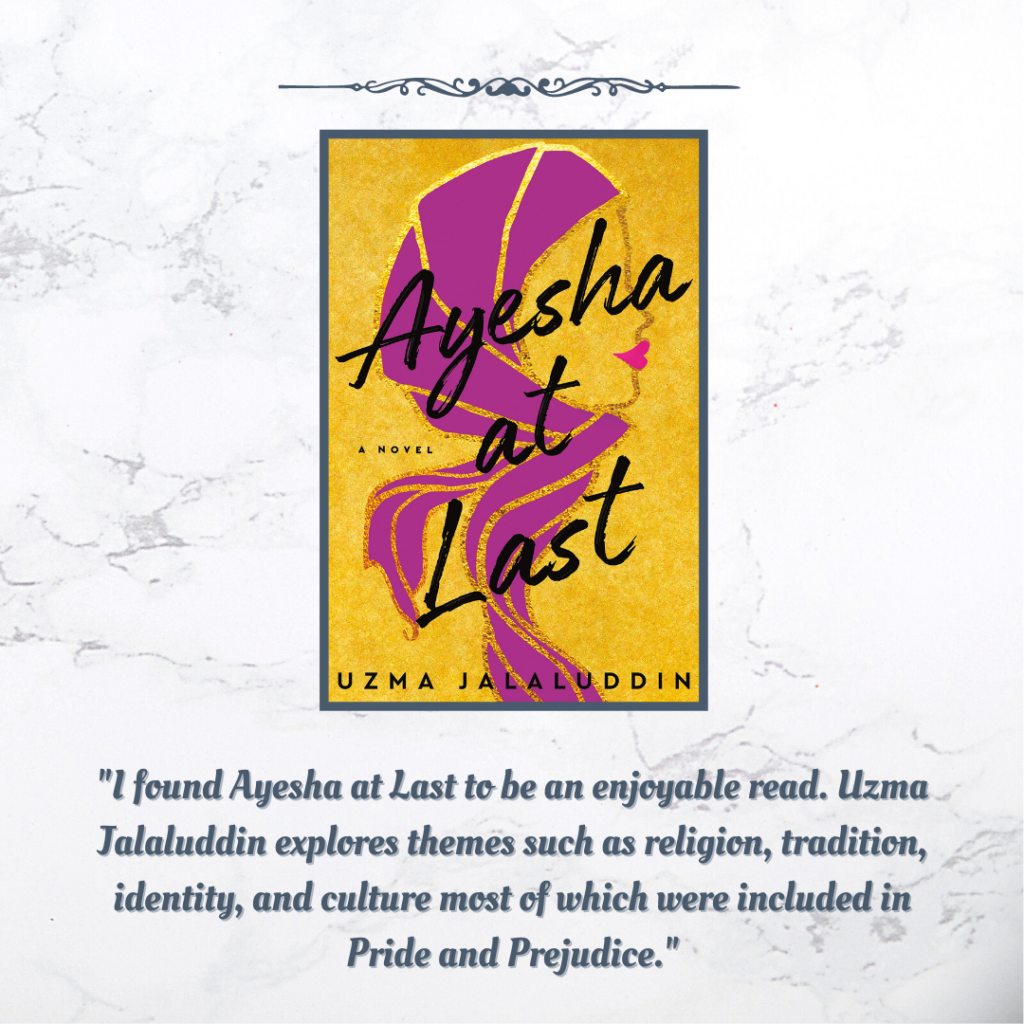 Ayesha dreams of one day being a poet, but her goals are put on hold while she works as a teacher to pay off her debts. Ayesha lives with her Muslim family, including her cousin Hafsa, who has had numerous marraige proposals. Ayesha does not want an arranged marriage, but when Hafsa gets engaged to Khalid, Ayesha is confused. Though Khalid is critical and old-fashioned, he is also handsome, intelligent, and surprisingly irresistible. Ayesha can't stop thinking about him. Ayesha at Last follows Ayesha as she explores her feelings for Khalid and tries to discover where she belongs.
I found Ayesha at Last to be an enjoyable read. Uzma Jalaluddin explores themes such as religion, tradition, identity, and culture, most of which were included in Pride and Prejudice. Ayesha and Khalid were unique and entertaining characters specifically due to their Muslim faith. I really enjoyed reading about their culture and how their values differed and complimented my own. Ayesha definitely reminded me of Elizabeth Bennet because she was witty, independent, and courageous. Khalid was a very fitting Mr. Darcy, even though I didn't find him as charmingly awkward. Traditional and intelligent, Khalid cares greatly about his family duties and fights to protect his family. I liked reading their romance and waiting to see if they ended up in love. Overall, I liked this book, but I had some issues with the plot because it was a bit convoluted and had too many issues going at once. Though Ayesha at Last was intriguing, it was ultimately disappointing as the overwhelming amount of plot took away Ayesha and Khalid's character development.
---
Pride and Premeditation by Tirzah Price
"It is a truth universally acknowledged that a brilliant idea, conceived and executed by a clever young woman, must be claimed by a man."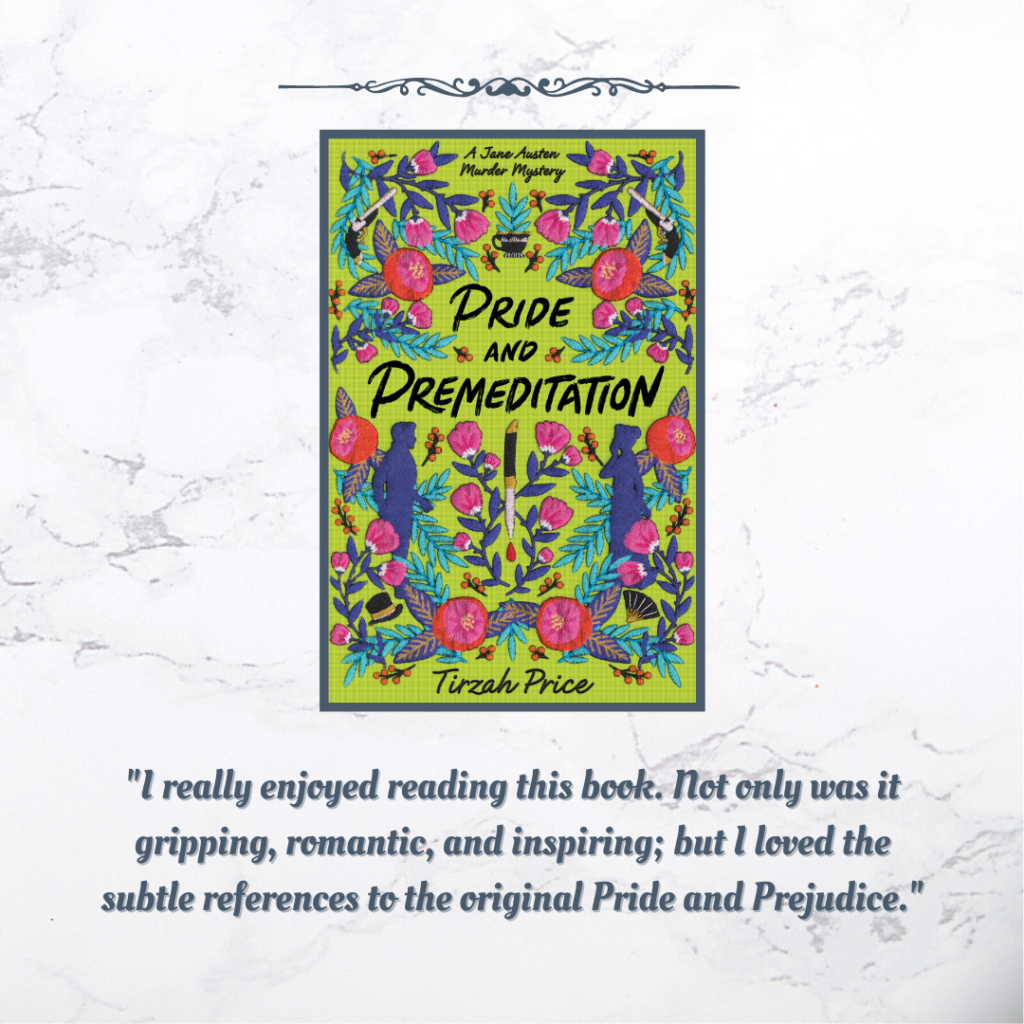 Lizzie Bennet dreams of being a lawyer, but she lives in a time where female lawyers are practically non-existent. Lizzie does not let this stop her from pursuing her dreams, especially when a murder shocks London to the core. The mystery finally gives Lizzie the opportunity to prove herself and save a man, who she believes is innocent. One major hurdle still stands in her way: the up and coming lawyer Mr. Darcy. As Lizzie digs deeper and deeper in her search for the truth, she finds that not only are her dreams, but her survival, is on the line. Lizzie Bennet must prove her skills as a lawyer, sort out her complex feelings for Mr. Darcy, and solve the murder.
I really enjoyed reading this book. Not only was it gripping, romantic, and inspiring, but I loved the subtle references to the original Pride and Prejudice. Lizzie perfectly embodied the original Elizabeth Bennet with her values, wit, and fearlessness. The mystery of the novel also added an interesting twist to the original Pride and Prejudice—especially by giving Lizzie the opportunity to pursue a career. Price's Mr. Darcy was a wonderful representation of the original, with all of his brutal honesty and moodiness. The couple's relationship compelled the plot, allowed for romance, and added some of Jane Austen's signature banter into the story. This retelling was great for fans of mystery and classic literature, as well as anyone who loves Jane Austen. And don't forget to check out our interview with author Tirzah Price here!
---
Pride by Ibi Zoboi
"It's a truth universally acknowledged that when rich people move into the hood, where it's a little bit broken and a little bit forgotten, the first thing they want to do is clean it up."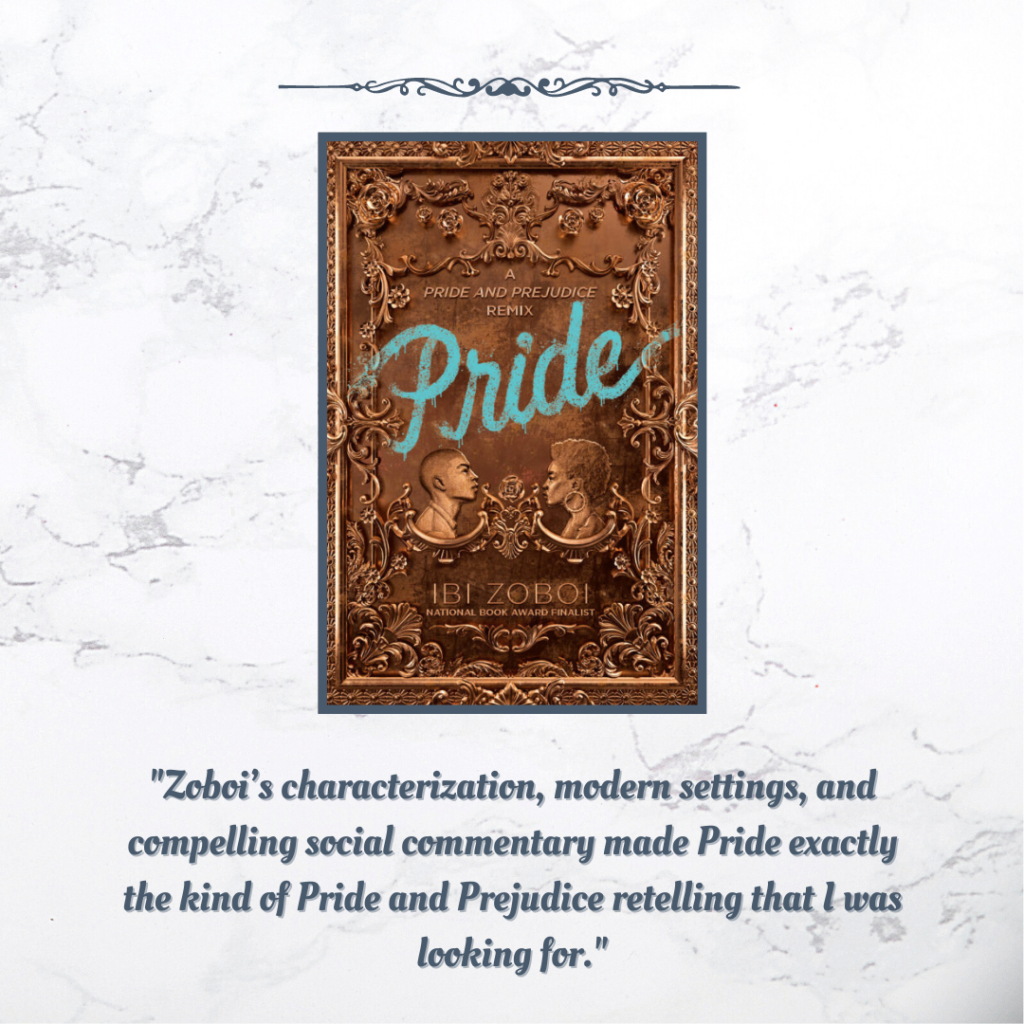 Pride by Ibi Zoboi follows Haitian-Dominican Zuri Benitez, a teenage girl living in a Brooklyn neighborhood that is suffering from gentrification. The book opens on the day that the fabulously wealthy Darcy family moves in across the street from the Benitez family. In defiance of the rapid transformation her home is going through, Zuri decides to avoid the Darcy family, specifically the handsome sons. Things get complicated when she finds herself drawn to the unpleasantly proud Darius, especially when she realizes he may be more than she originally thought.
I loved this retelling. Zoboi added her own signature culture and witticisms that even Austen would enjoy. Zuri and Darius were a wonderful, modern Elizabeth and Darcy. I thoroughly enjoyed reading how they challenged each other and grew as a result of their relationship. Of all the characters, I connected with Zuri the most. Her goals of being a poet and going to Harvard are such a prominent part of her personality. Zuri's character was also fiercely loyal: she defended her family, lifestyle, and home ceaselessly. Her whole family was charming and fun to read, similar to the original Bennet family. I loved the way they interacted with each other.
Most of all, I enjoyed the culture that played such an important role in the book. Zoboi's examination of race and culture among black women living in America was extremely powerful and made for a meaningful reading experience. Ibi Zoboi's commentary and exploration of these contemporary issues that she sees in her world were exactly what Austen did with the original Pride and Prejudice novel. While I greatly enjoyed reading Pride and Premeditation, I thought Pride was the best of the four adaptations I read. Zoboi's characterization, modern setting, and compelling social commentary made Pride exactly the kind of Pride and Prejudice retelling that I was looking for.
PRR Writer, Frances Drye