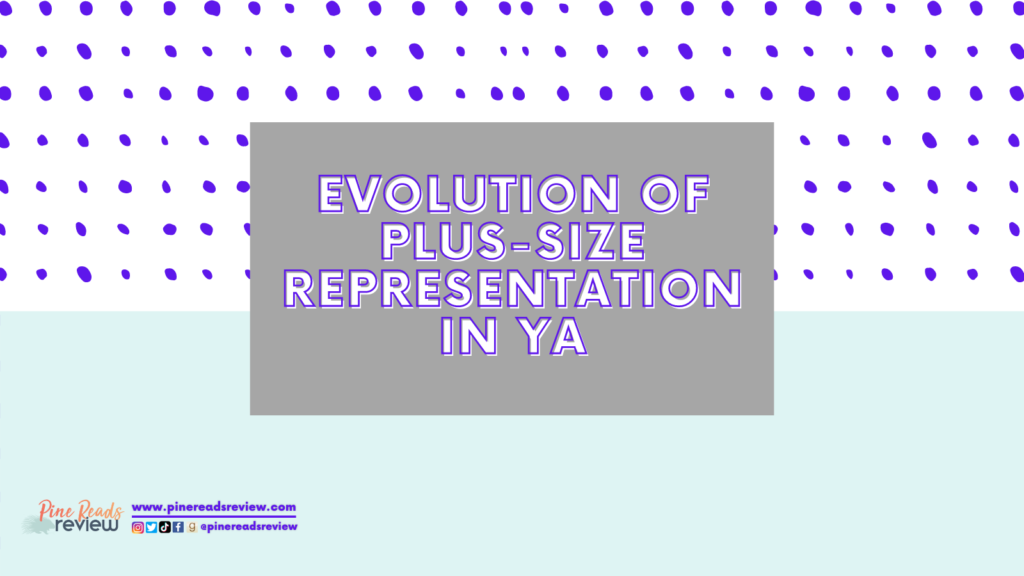 Content Warnings: Mentions of fatphobia, diet culture, food and eating
When I first thought of this post topic, I hoped that I could discuss Young Adult books from the past five years and show the lack of representation during my own years in high school, versus more recent, better quality fat or plus size characters. However, I came to the unfortunate realization that there are very few examples of good representation in mainstream novels. The first two examples that sprang to mind were Carmen from The Sisterhood of the Traveling Pants and Leah from Simon vs. the Homo Sapiens Agenda, both of which were verbal in their dislike of their own bodies. I want to present an authentic evolution of fat-positive representation, so I'll be discussing three books with different versions of plus size characters throughout the past few years.
---
"There's something about swimsuits that make you think you've got to earn the right to wear them. And that's wrong. Really, the criteria is simple. Do you have a body? Put a swimsuit on it." ― Dumplin' by Julie Murphy
Willowdean Dickson is the first character in Young Adult fiction that I experienced as having a tangible and radical sense of self love. I read Dumplin' when I was in high school, around the same age as the protagonist. While previous books had side characters who were fat, Willowdean was the first main character that I could see myself reflected in without having any significant feelings of inferiority or shame because of her size.
The book follows Willowdean and other plus-size characters entering the Blue Bonnet Pageant in direct defiance of the town's strict entrance standards. This was the first time I experienced a popularized YA book that purposefully challenged both fatphobic beauty standards and their resulting deeply toxic effects on young women. There were still some aspects of this book that, in retrospect, conform to diet culture, such as when Willowdean pushes to lose weight. However, the unapologetic exclamation of fat self acceptance has become a cornerstone for many young readers to launch their own deconstruction of fatphobia.
---
"She shoved one of the cakes from the coffee service into her mouth and mumbled, 'What do you want, Kaz?' 'You have crumbs on your cleavage.' 'Don't care,' she said, taking another bite of cake. 'So hungry.'" ― Six of Crows by Leigh Bardugo
When I brainstormed the idea for this post, it was with the intention of discussing the character of Nina Zenik from Leigh Bardugo's Grishaverse novels. She holds a special place in my heart for her quintessential love of food and the unique way she claims and utilizes her beauty as any other spy skill. Six of Crows was one of the first books I'd read with such a varied and representative cast of characters, and Nina in particular was a plus size character who took pride in her fashion and appearance in a way I had never read before. While her size is not a central focus of her characterization, Leigh Bardugo makes it clear to the reader that Nina is plus-size and desirable because of it, not in spite of it. Nina is not necessarily a protagonist, but her expanded development in later books beyond Six of Crows creates a well-developed, represented plus-size character with additional LGBTQ+ relationships.
---
"We can't all subsist on buttered noodles and self-righteousness." ― Undead Girl Gang by Lily Anderson
Undead Girl Gang is a unique example of fat-positive representation because very little of the actual plot has to do with the body of the main character Mila Flores. Instead, it's a fun and lightheartedly vengeful romp through amateur witchcraft and the supernatural. Mila is another good example of fat-positive representation because her size is simply a fact of her character, and it is not a notable reason for her previous bullying. Without giving spoilers, I would recommend this book to readers who are looking for better, more accurate plus-size representation that casually exists within a very fun and spooky YA book.
After reviewing and more critically thinking about Young Adult representations of fat bodies, I realized that many of the books I had read as a teenager weren't included. Those books either perpetuated body negativity and diet culture, or the attempted plus-size representation was through a minor character. The three books I discussed above are my favorite recommendations for YA fat representation because the characters' size is wholly accepted without shame. Additionally, all three of these books show meaningful friendships and relationships with plus-size characters, showing that a person's size has nothing to do with their ability to love themselves or others.
PRR Writer and Editor, Kayla Chandler