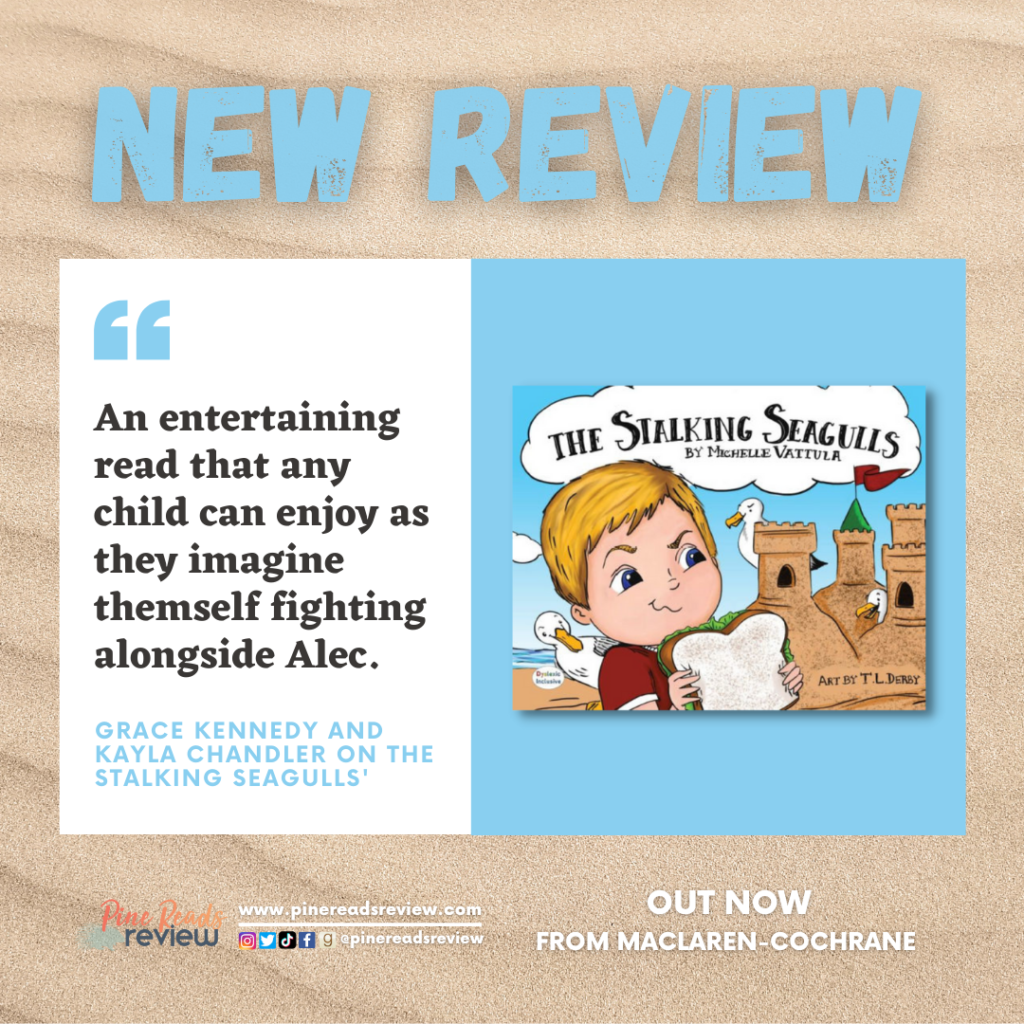 The Stalking Seagulls written by Michelle Vattula & illustrated by T.L. Derby
Out now from MacLaren-Cochrane Publishing; 32 pages
About the Author: "Michelle was born in Boston but grew up most of her life in Erie, PA. After She received her Bachelor degree from Miami University of Ohio, she ventured back to Boston for her Master's degree in Speech-Language Pathology from Northeastern University. Michelle Currently lives in the beautiful rolling hills of North Pittsburgh with her Finnish husband, her two Golden Retrievers and two beautiful boys who are her true inspiration for writing. Michelle's debut picture book, THE STALKING SEAGULLS, will be published by MacLaren-Cochrane Publishing on April 20, 2021. Michelle is part of the Western Pennsylvania SCBWI leadership team as their New Member and Critique Group Coordinator. She is also a proud member of the twitter group #Newin19. Michelle is represented by T.J Kirsch of JCH Literary. She is open for interviews and virtual school visits." (Bio taken from author's website.)
Find Michelle Vattula on the following platforms:
---
"You sneaky, sandwich-stealing seagulls better not mess with me! I'm ready for battle!"
Gearing up for the battle of a lifetime, tenacious young Alec stands guard against a horde of scheming seagulls threatening a fun day at the beach. Wary of an attack after last summer's bird-bomb disaster, Alec guards his lunch against the army of feathery fiends. He sets up his sand-castle defenses and bucket blockade to hold the fort down while the sneaky seagulls circle around. The Stalking Seagulls documents an epic meeting of the strategic minds between Alec and his enemies that might not go how one would expect.
Michelle Vattula writes with engaging alliterations and interesting character descriptions, and Alec is absolute in his determination to fend off the seagulls. He is a very endearing young boy who considers mealtime a serious and defensible affair, contrasted by his adorable little brother in the background enjoying the day unbothered by the flying thieves. A seemingly regular summer beach day becomes a battlefield in one young boy's mind and is conveyed through entertaining dialogue and narration, bringing the audience into Alec's world. The pure tenacity and quick pacing of the food battle, when compared to the otherwise quiet and simple beach day, creates an entertaining read that any child can enjoy as they imagine themself fighting alongside Alec.
Additionally, the exciting story of Alec's beachtime adventures is written entirely in Dyslexie, a font developed to enable reading for all people with Dyslexia through unique letter characters. The purposeful publication of The Stalking Seagulls in Dyslexie is extremely important because it allows many young readers a new opportunity to read a fun, original story with less struggle.
PRR Assistant Director, Grace Kennedy & PRR Writer and Editor, Kayla Chandler