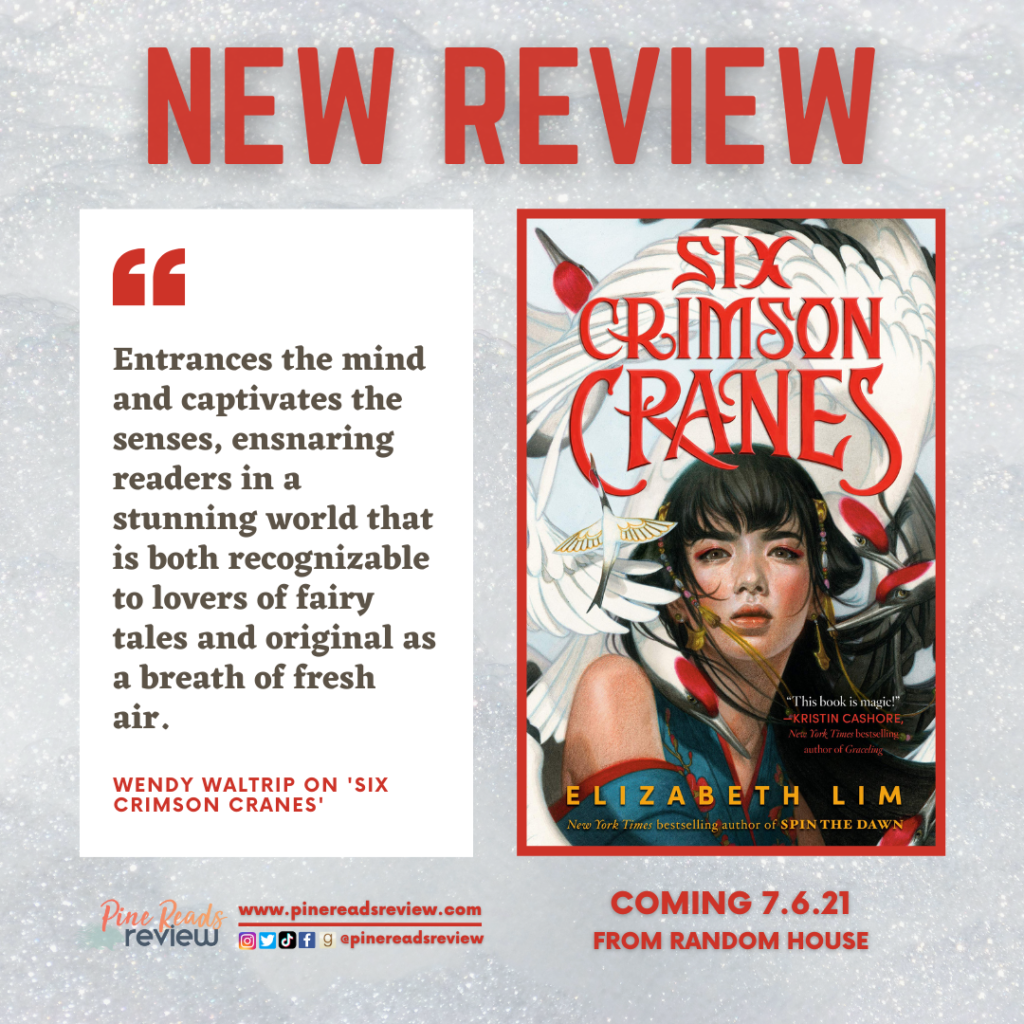 Six Crimson Cranes by Elizabeth Lim
Coming July 6, 2021 from Random House Children's; 464 pages
Content Warnings: Animal death, some graphic descriptions, violence, bullying, death of a parent, murder, blood, fire
About the Author: "Elizabeth Lim is the author of the critically-acclaimed and bestselling The Blood of Stars duology (Spin the Dawn and Unravel the Dusk), the New York Timesbestseller So This is Love, and the USA Today bestseller Reflection. Forthcoming books include the Six Crimson Cranes duology, expected summer 2021 and summer 2022, respectively. Elizabeth grew up on a hearty staple of fairy tales, myths, and songs. Her passion for storytelling began around age 10, when she started writing fanfics for Sailor Moon, Sweet Valley, and Star Wars, and posted them online to discover, "Wow, people actually read my stuff. And that's kinda cool!" But after one of her teachers told her she had "too much voice" in her essays, Elizabeth took a break from creative writing to focus on not flunking English. Over the years, Elizabeth became a film and video game composer, and even went so far as to get a doctorate in music composition. But she always missed writing, and she turned to penning stories when she needed a breather from grad school. One day, she decided to write and finish a novel—for kicks, at first, then things became serious—and she hasn't looked back since. Elizabeth graduated from Harvard College with an A.B. in music and a secondary in East Asian Studies, and she completed her graduate degrees (MM, DMA) at The Juilliard School. She grew up in Northern California and Tokyo, Japan, and now resides in New York with her husband and two daughters. Her books have been translated into over a dozen languages, and are represented by Gina Maccoby of the Gina Maccoby Literary Agency." (Bio taken from the author's website.)
Find Elizabeth Lim on the following platforms:
---
"No longer was I the girl who rolled her eyes at her brothers or squealed over rice cakes and sugared animals on sticks. Now I carried a dagger everywhere, even in my dreams."
Princess Shiori, the only daughter of the emperor of Kiata, does not want to get married. She doesn't want to be confined to a cold castle in the far north of the empire, nor does she want to leave her family—particularly her brothers. And she definitely does not want her supposedly future husband to discover her hidden, and forbidden, magic. So when she accidentally loses control of her magic on the morning of her betrothal ceremony, forestalling the wedding, Shiori thinks her luck has turned—until Raikama, her stepmother and a woman with dark magic of her own, discovers Shiori's magic. Raikama banishes Shiori to the far corner of the empire and transforms Shiori's six brothers into cranes, leaving Shiori penniless and alone. And the worst part? Shiori cannot speak to anyone, for with every sound that passes her lips, one of her brothers will die. With only her magical paper crane for company, Shiori must traverse the empire to find her brothers and a way to break the curse. Because a twisted plot to overtake the throne is on the rise, and if Shiori can't find her way home in time, there may be nothing left of her beloved empire—or of the family she loves.
Elizabeth Lim's newest fantasy entrances the mind and captivates the senses, ensnaring readers in a stunning world that is both recognizable to lovers of fairy tales and original as a breath of fresh air. One of my absolute favorite elements of this sensational story was the rich world-building. I could picture every part of the empire that Lim describes in remarkable detail. Every time I opened the book, I never wanted to leave! As a self-proclaimed lover of fairy tales, I also greatly enjoyed how Lim mixes the Hans Christian Andersen story of the wild swans with East Asian folklore, combining the two to create something entirely new. As for the characters, spunky Shiori is a fantastic heroine, but I also loved reading about the fun and fascinating side characters like Kiki and Seryu. I mean, what's not to love about a sassy magical paper crane and a mysterious shape-shifting dragon boy? Plus, the slow-burn, enemies-to-lovers romance was to die for! I enjoyed watching how it developed over the course of the book, and I can't wait to see what happens in the sequel. With lots of twists and turns, loveable characters, and mesmerizing magic, Six Crimson Cranes is the next big YA fantasy.
Six Crimson Cranes releases on July 6, 2021.
(Pine Reads Review would like to thank NetGalley and the publisher for providing us with an ARC in exchange for an honest review. Any quotes are taken from an advanced copy and may be subject to change upon final publication.)
PRR Assistant Director, Wendy Waltrip