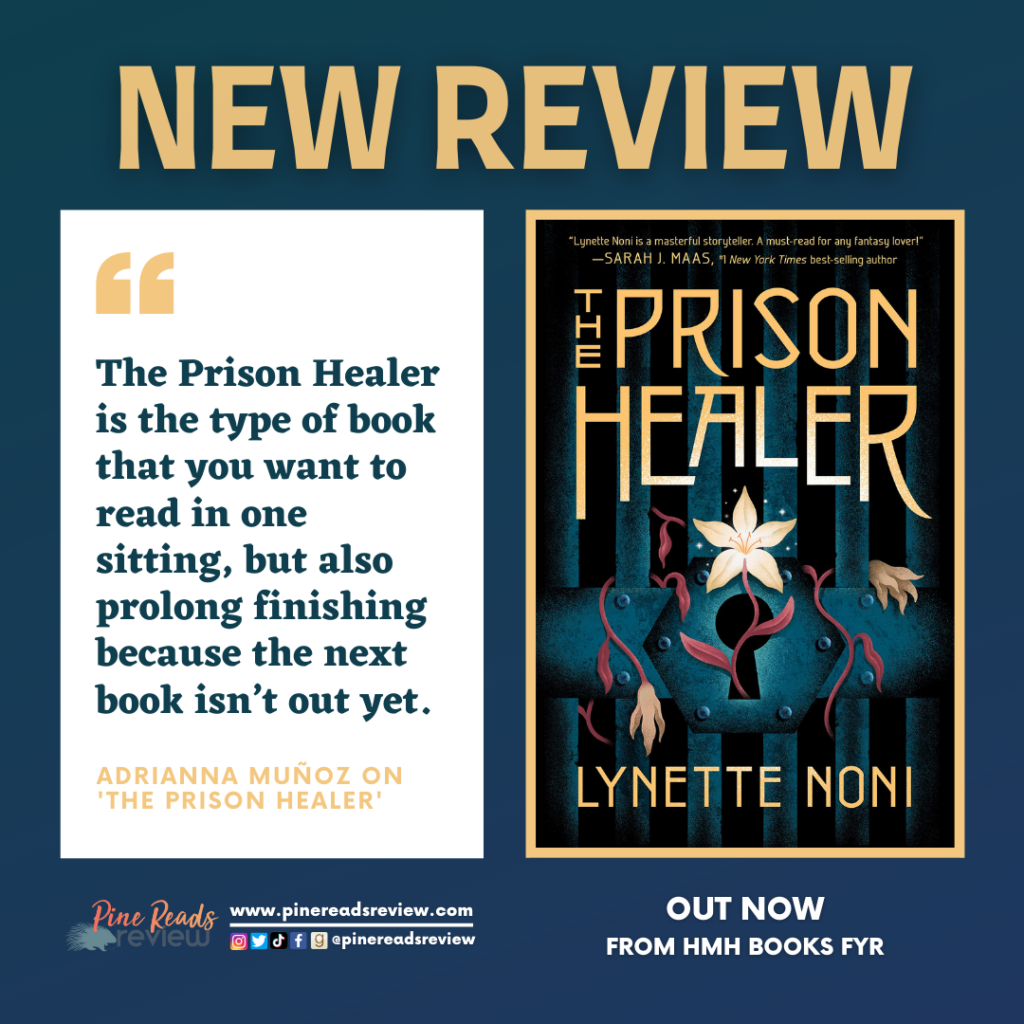 The Prison Healer By Lynette Noni
Out Now from HMH Books for Young Readers; 403 pages
Content Warnings: Blood, death, drug addiction, death by drug overdose, abuse, abandonment, graphic injuries, self harm, torture, mention of rape, degrading language
About the Author: "Lynette Noni is currently Australia's #1 YA fiction author. After studying journalism, academic writing and human behaviour at university, she finally ventured into the world of fiction. She is now a full-time writer and the bestselling author of the six-book young adult fantasy series, The Medoran Chronicles, as well as a second bestselling and award-winning series called Whisper. Lynette won the 2019 ABIA Award for Small Publishers' Children's Book of the Year, along with the 2019 Gold Inky Award (Australia's only teen choice book award). She is currently collaborating on a project with #1 New York Times bestselling author of the Throne of Glass series, Sarah J. Maas. The first book in Lynette's newest series, The Prison Healer, released globally in April 2021, with the sequel coming in October." (Bio taken from the author's website.) 
Find Lynette Noni on the following platforms:
---
"Zalindov showed no mercy, not even to the innocent. Especially not to the innocent."
For the last ten years, seventeen-year-old Kiva Meridan has been a prisoner at Zalindov: the prison that answers to all eight kingdoms in Wenderall. Kiva has done everything she could to survive as long as she can, including following in her father's footsteps to become the Prison Healer. Her rule for survival is not caring about anyone but herself. When the Rebel Queen becomes a prisoner, Kiva must do anything to keep her alive, which leads her to act as her champion in the Trial by Ordeal. As Kiva deals with the four trials, a deadly plague starts killing prisoners left and right. Trying to find a cure, surviving the trials, and caring for the Rebel Queen is all Kiva has time for, but when tensions begin to rise and a handsome young man starts vying for her heart, Kiva doubts the likelihood of escaping Zalindov.
The Prison Healer is a creative book with two different maps and many unexpected plot twists. One great aspect of this book is the section of black pages that provide an immersive experience for the reader. This book kept me on my toes with the many tough decisions Kiva had to make and the dangerous repercussions that followed. Kiva is a complex character who struggles with her morals and responsibilities as she fights to keep herself and her patients alive. My favorite character, however, was Tipp. He is a character that brings a much needed lightheartedness to the infirmary with his eagerness to help and his silly pranks. The Prison Healer is the type of book that you want to read in one sitting, but also prolong finishing because the next book isn't out yet. This book is perfect for people who like danger, romance, and a little bit of magic.
PRR Writer, Adrianna Muñoz