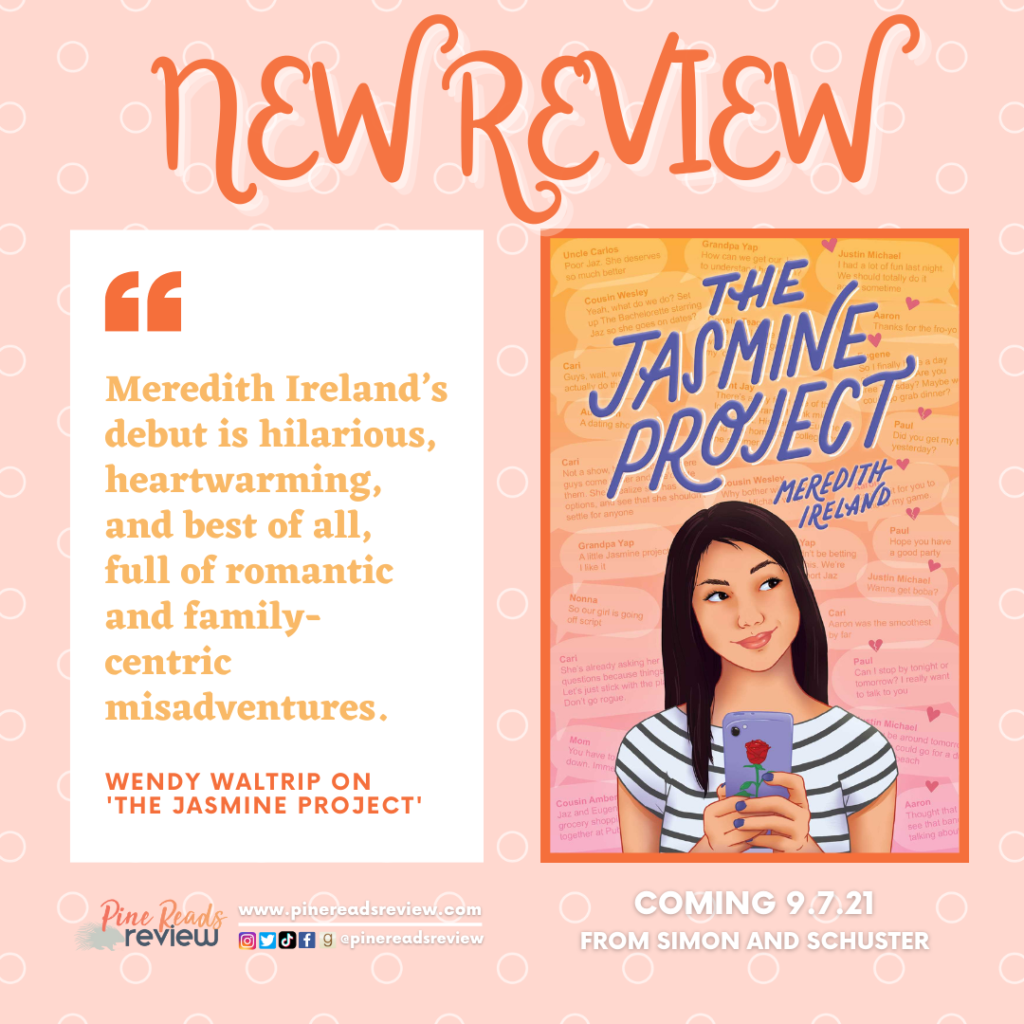 The Jasmine Project by Meredith Ireland
Coming September 7, 2021 from Simon & Schuster Books for Young Readers; 400 pages
Content Warnings: Underage drinking, emotional manipulation, bullying, infidelity, divorce, moderately strong language
About the Author: "Meredith Ireland was born in Korea and adopted by a New York librarian. Her love of books started early and although she pursued both pre-med at Rollins College and law at the University of Miami, stories were her fate. She currently resides with her two children, and Bob, a carnival goldfish, who's likely a person. She writes young adult books, some of which you may like. The Jasmine Project is her debut novel." (Bio sent by publicist)
Find Meredith Ireland on the following platforms:
---
"A part of me will always want to take the safest route. I just have to conquer it."
Jasmine Yap has a plan: graduate high school with honors, move in with her long-time boyfriend Paul, attend community college on a great scholarship, and eventually become a nurse. Everything seems to be falling into place, and she's mostly happy—but then her family catches Paul with another girl, and Jasmine's stable world suddenly becomes shaky. She finally has a chance to see what the world is like outside of her comfort zone, but Jasmine refuses to meet anyone new. So, her large, overprotective family decides to take matters into their hands and creates a secret Jasmine Project to set Jasmine up with the most eligible teen bachelors in Orlando…without her finding out. But what starts as semi-successful soon becomes anything but as hilarious shenanigans ensue. Will Jasmine finally figure out her self-worth? Or will the Jasmine Project crash and burn before she has a chance?
Meredith Ireland's debut is hilarious, heartwarming, and best of all, full of romantic and family-centric misadventures. I loved everything about this fantastic book! Jasmine is a brilliant protagonist, and her gradual discovery of her own self-worth is simultaneously heartbreaking, inspirational, and oh-so-very real. Each of the bachelors are fabulously fun and unique, and I had a hard time deciding which one Jasmine would fall for. Of course, a review of The Jasmine Project would not be complete without mentioning Jasmine's hysterically loving fifty-member-strong family, and that brings me to one of my absolute favorite parts of this book: the family group texts! Ireland's creative inclusion of group texts to discuss how the Project is coming along—as well as podcast episodes, diary entries, and bookkeeping notes—really brought the story and the characters to life and added even more levity to this loveable tale. Moral of the story? Grab yourself a copy of The Jasmine Project as soon as it hits shelves because this is one book you don't want to miss! 
The Jasmine Project releases September 7, 2021.
(Pine Reads Review would like to thank NetGalley and the publisher for providing us with an ARC in exchange for an honest review. Any quotes are taken from an advanced copy and may be subject to change upon final publication.)
PRR Assistant Director, Wendy Waltrip