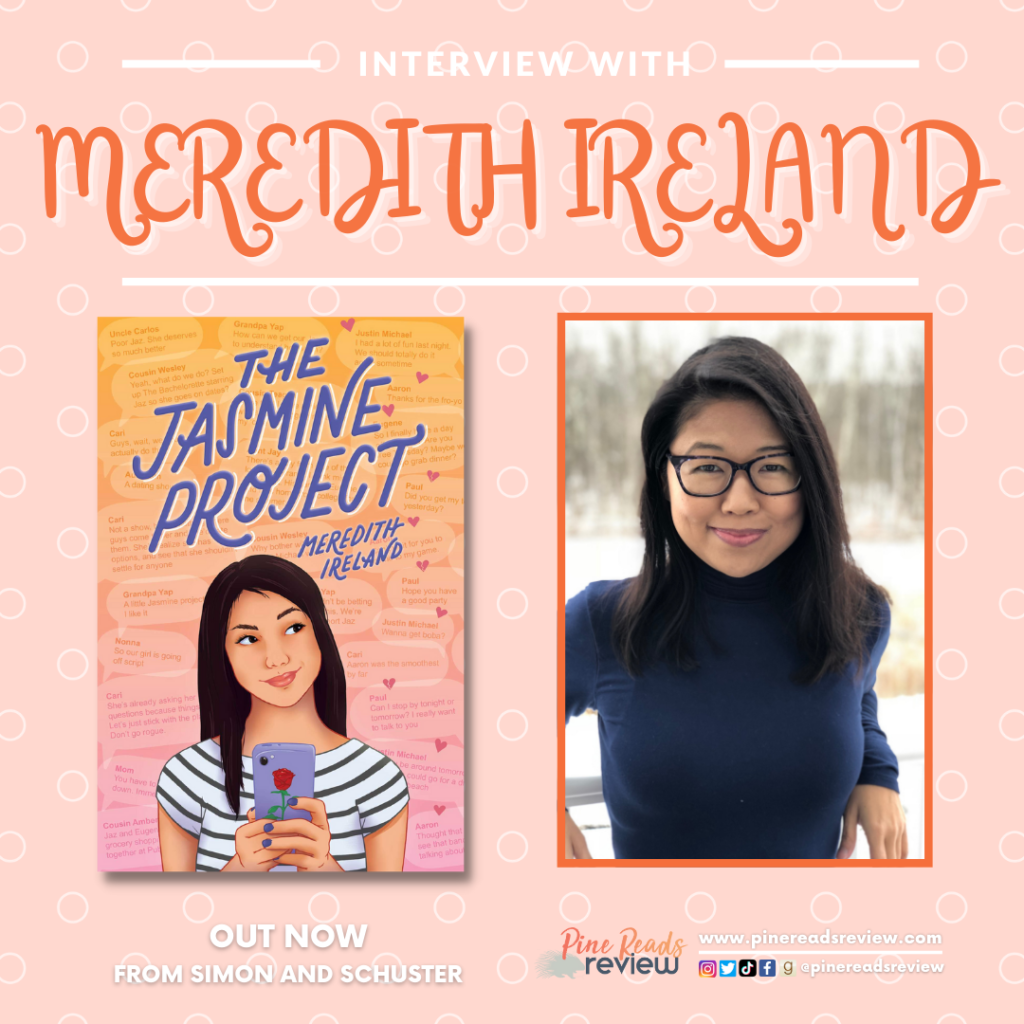 About the Author: "Meredith Ireland was born in Korea and adopted by a New York librarian. Her love of books started early and although she pursued both pre-med at Rollins College and law at the University of Miami, stories were her fate. She currently resides with her two children, and Bob, a carnival goldfish, who's likely a person. She writes young adult books, some of which you may like. The Jasmine Project is her debut novel." (Bio sent by publicist)
Find Meredith Ireland on the following platforms:
---
A huge thank you to Meredith Ireland for the following interview and to Chantal Gersch for arranging it! Don't miss Meredith's debut novel The Jasmine Project (out now from Simon & Schuster Books for Young Readers!). Check out our review of The Jasmine Project here!
---
Wendy Waltrip: First off, I just want to thank you so much for taking the time to talk with me, and congratulations on a fantastic debut! I was fortunate enough to receive an ARC of your young adult debut, The Jasmine Project, and I absolutely loved it. What's it like seeing your story finally hit shelves? Would you mind briefly summarizing the story and characters for those who aren't yet familiar with it?
Meredith Ireland: Thank you so much for having me. I'm so glad you were able to get an ARC and I'm thrilled that you enjoyed it! It still feels pretty surreal. I think seeing it in libraries and on bookstore shelves is going to remain my favorite thing for a while.
The Jasmine Project is about a girl who has settled for stable in all aspects of her life. She has a long-term boyfriend, intends on following in her mother's footsteps to become a nurse, and generally thinks okay is good enough. When he cheats on her, Jasmine's family sees an opportunity to show her what she's worth, and maybe get her away from her boyfriend, by setting up a dating competition. Kind of a The Bachelorette meets My Big Fat Greek Wedding and the only catch is Jasmine doesn't know. Kirkus put it well: it's a story about finding out what you're worth and someone worthy of you.
WW: What inspired you to write The Jasmine Project? What came to you first? Was it the idea of a secret bachelorette project, the characters (including Jasmine's hilarious family), or something else?
MI: I love rom-coms and very recently discovered I was funny. (No seriously, my family doesn't think so, but Twitter does.) Jasmine came to me first. I wanted to write a book I wish I would've had at that age—to not only see myself as a main character but worthy of more would've been very helpful and I hope it'll resonate with others. This process was collaborative with my editor. She'd suggested a big family and a kind of set up and that led us here. I'm a sucker for reality TV (Love is Blind) even though I never seem to think so.
WW: In The Jasmine Project, Jasmine struggles with understanding her own self-worth, especially when it comes to balancing her needs with the needs of others. What message are you hoping to pass on through your characters about this?
MI: I'm hoping to show readers, especially younger readers, that there is more out there. There are people who will value you and appreciate you, but that it has to start with you. Jasmine has a naturally giving personality and I think that can be really hard in a world that takes. She discovers she has hidden strength and I'd love for readers to find that in themselves.
WW: One of my favorite elements of The Jasmine Project is the bond between Jasmine and her family. What would you like readers to take away from the portrayal of family in this novel?
MI: I hope it will be an emotionally safe space for those who don't have strong bonds with their families. Many, including the one I grew up in, don't treat each other the way that Jasmine's does. It's twofold: a safe place for 400 pages, and to show there are loving families out there. Also that families can mess up and still love each other.
WW: What were your favorite moments in The Jasmine Project to write? Were there any parts that you found more difficult to write? Do you have a favorite quote?
MI: I loved writing the Publix scene! Just the cringe of running into a cute boy when you do not in any way look your best is something I related to deeply. I found it hard to write her experience with mean middle schoolers. Probably because that was very much my middle school experience. It's hard being different.
My favorite quote is: "Family secrets have a way of staying buried even when the hurt shows." I also like when she refers to herself as "the slowest donkey in Donkeyville." I laughed every time I reread it.
WW: What originally drew you to the literary world? Have you always wanted to be an author, or is that something that you found out later in life?
MI: I've always written. I'm a kinesthetic learner so writing notes, journaling comes naturally. I wrote some stories in college and beyond as a way for me to deal with relationships ending but I just shoved them in the trash. I always loved to read, though. And then about six years ago I started taking writing seriously. It's never too late to start.
WW: Many times while reading The Jasmine Project I laughed out loud at the hilarious antics of the characters or at lines of dialogue and narration. Do you have any advice for writing humor? How does it compare to writing romance (both notoriously hard aspects of writing and both present in The Jasmine Project)?
MI: I think you have to write what you enjoy. Mainly because you'll have to reread your own work like 197 times before it's published. Humor is so subjective there isn't really any writing advice I can give aside from gathering 3-5 of the books that really made you laugh aloud and then rereading them with an eye for how they did it. Was it deadpan, slapstick, repetitive?
Writing romance is a first love of mine. I am a sucker for clever meet cutes and those initial sparks. What makes romance hard is that it must follow a formula of meet cute, dark moment, happily ever after or at least looks like they'll get together and that's hard to make fresh.
WW: Speaking of advice, in addition to writing amazing novels, you also have a blog that gives advice to other writers. How do you balance these two types of writing, along with your busy life? What does a typical writing day look like for you? What's your best piece of advice for aspiring writers?
MI: I definitely wrote the blog when I had more time! I'll follow up though with a post on what it was like to debut soon. Publishing has a lot of secrecy and that makes it really hard on writers, so I try to be as transparent as possible. A typical writing day, ideally, looks like:
Drop kids at school
Come home and answer messages, decompress for a bit, address anything that can't wait
Wander to my office and write until I'm hungry
Break for food
Second session
Pick up kids
Maybe squeeze in an hour while they have their hour of iPad or TV time
Family time until they go to bed
A last session if I can. I don't push this too hard. Most days I'm exhausted
TV/laundry/dishes/decompression time
I'm super, super lucky to be able to write full time right now. I don't have a clue how people have a full-time job, kids, and do this. That's witchcraft.
My best piece of advice is: READ. It changes everything. It shows you where the market is, where craft is. Read well-received books in your genre and category, then also read outside your genre because they're fun but also you'll take away something from say fantasy even if you write contemporary and vice versa.
WW: Finally, what's next for you? Do you think you'll ever revisit the world of The Jasmine Project in a future book?
MI: I would LOVE to do a sequel or spin-off, but that'll all depend on how Jasmine does! Next up for me is Everyone Hates Kelsie Miller out next fall. It's another YA rom-com. This time, it's enemies-to-lovers where two rivals for valedictorian of their hypercompetitive high school team up to try to win back their exes. He's been ghosted by his summer girlfriend and her best friend won't talk to her but they realize both of their exes will be at the University of Pennsylvania, so they take an overnight road trip there. Expect a lot of humor but with heavier topics as they tackle what it's like losing friends and dealing with academic pressure.
PRR Assistant Director, Wendy Waltrip