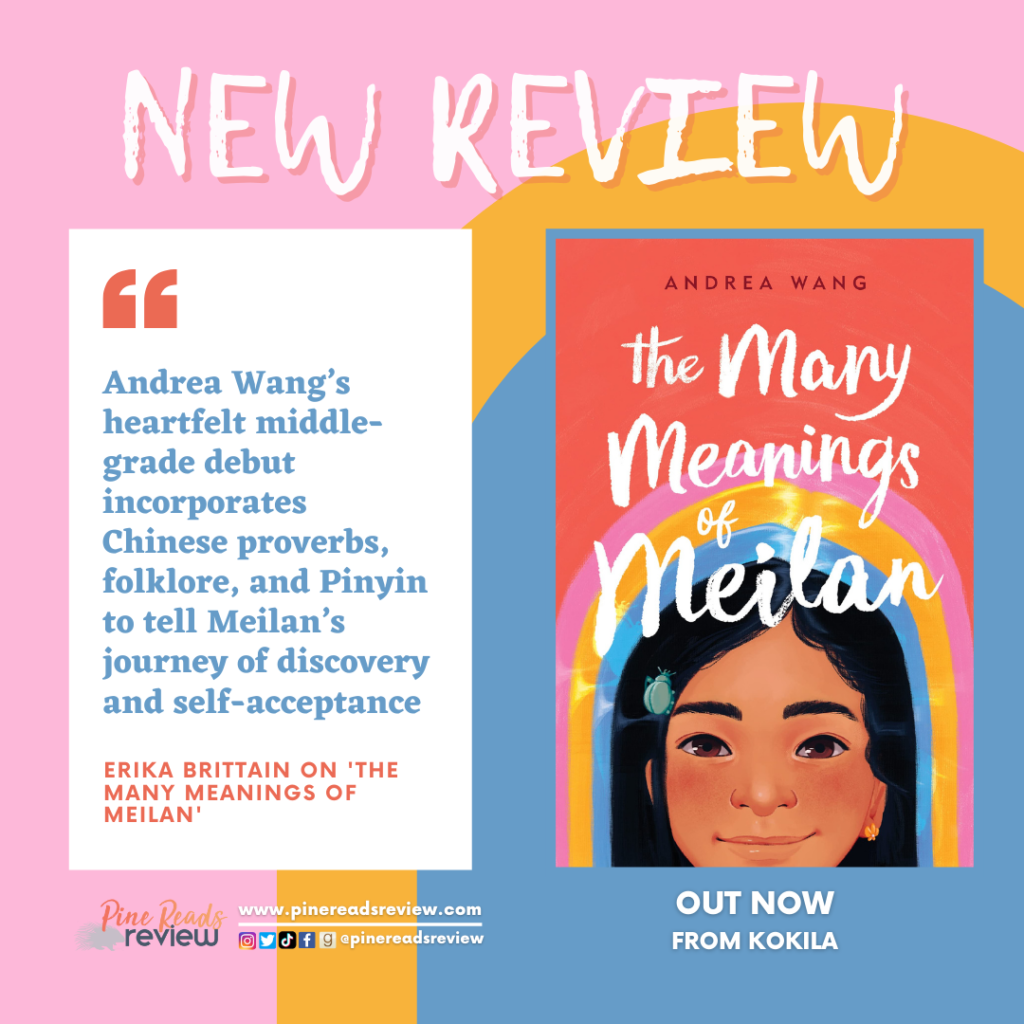 The Many Meanings of Meilan by Andrea Wang
Out Now from Kokila Books/Penguin Young Readers; 368 pages
Content Warning: Racism against Asians, microaggressions, discussions about racism, being given an Anglicized name, cultural assimilation, bullying, family fighting, fights about money, death of a grandparent (off page), mourning, belief in ghosts/cultural supernatural beings
About the Author: "Andrea Wang is the award-winning author of The Nian Monster (APALA Honor, PW starred review) and Magic Ramen: The Story of Momofuku Ando (JLG Gold Standard Selection, Sakura Medal, Freeman Book Award Honor, SLJ starred review). She has two books releasing in 2021: Watercress (JLG Gold Standard Selection, starred reviews from Kirkus, SLJ, PW, Horn Book); and The Many Meanings of Meilan, her debut middle grade novel. Her work explores culture, creative thinking, and identity. She is also the author of seven nonfiction titles for the library and school market. Andrea holds an M.S. in Environmental Science and an M.F.A. in Creative Writing for Young People. She lives in the Denver area with her family." (Bio taken from author's website)
Find Andrea Wang on the following platforms:
---
"Měilán means Beautiful Orchid in Mandarin. There are thousands of varieties of orchids, but there is only one me."
Meilan Hua, or Huā Měilán, is a twelve-year-old Taiwanese American girl living in Boston. When her family's business is broken apart, Meilan moves to Redbud, Ohio. Here, in a predominantly white town, Meilan starts to question who she is. At home, she's the reason her family had to move. At school, she's "Melanie" and is bullied for her Chinese heritage. And by herself, she is searching for an identity. Who is Meilan?
Andrea Wang's heartfelt middle-grade debut incorporates Chinese proverbs, folklore, and Pinyin (the romanization system of Mandarin) to tell Meilan's journey of discovery and self-acceptance. As someone who grew up in a pretty strong Chinese-American community, there is so much in this story that resonates with me. Meilan's conflicts with her family-centric mindset and cultural assimilation were all situations I saw my Chinese-American friends experience, and, unfortunately, so were the microaggressions that Meilan deals with in school. I think writing these very real issues into Meilan's story is incredibly impactful, especially for a middle-grade audience. I also thoroughly enjoyed the ways Chinese folklore and proverbs appeared in the story. Meilan, an innate storyteller, relates the world to the magical folk stories of Chinese culture. Meilan's mom, a good Asian mother, relates the world to old Chinese proverbs and sayings. I found these aspects both entertaining and incredibly informative, even more so with Andrea Wang's background of translations and descriptions of the Chinese proverbs. Another major part of Meilan's story is learning about her Gōnggong's, or grandfather's, involvement in the Vietnam War for a school project. Meilan's discovery of Gōnggong's history adds a whole new level of heart to the book, as she learns to appreciate her family and be even prouder of her history. The Many Meanings of Meilan is definitely a story that I think deserves to be read at least once in your life. 
PRR Writer, Erika Brittain