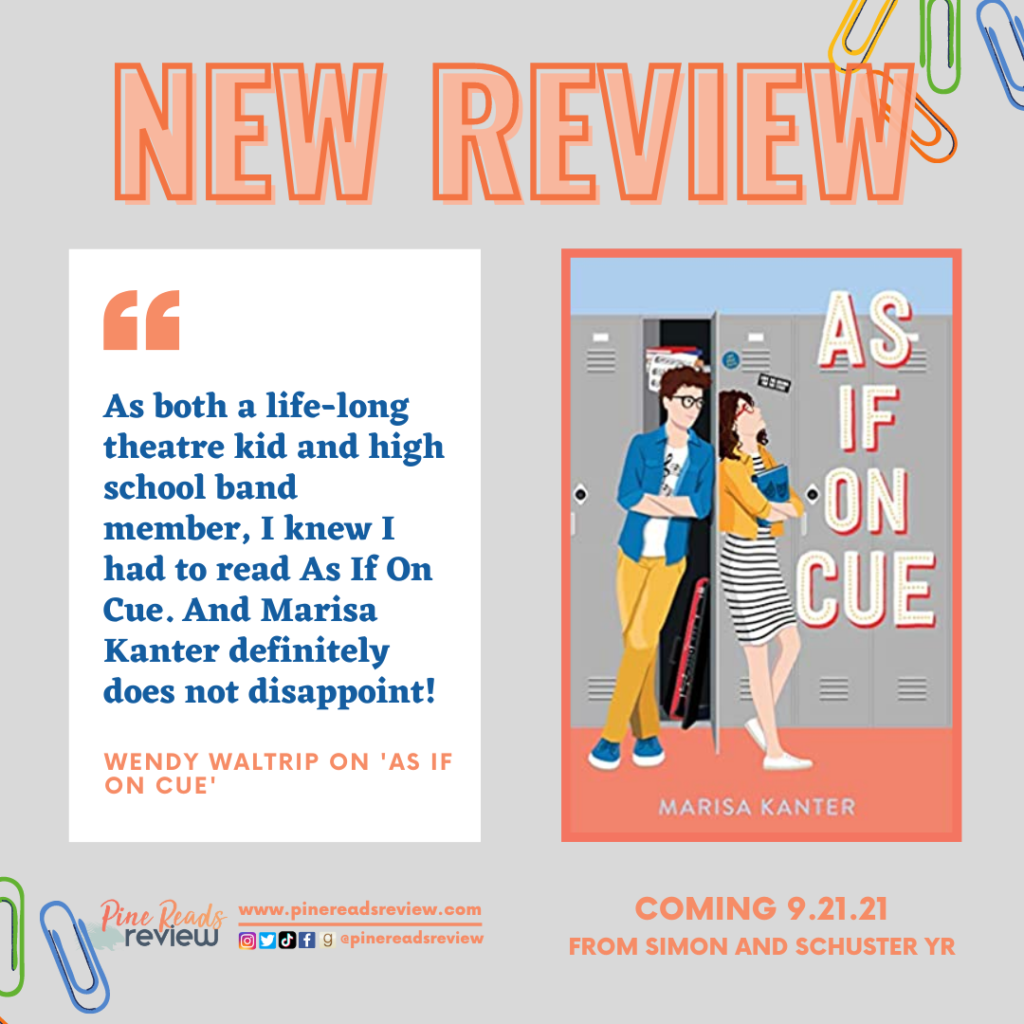 As If On Cue by Marisa Kanter
Coming September 21, 2021 from Simon and Schuster Books for Young Readers; 400 pages
Content Warnings: Anti-Semitism, bullying, micro aggressions, strong language, underage drinking
About the Author: "Marisa Kanter is a young adult author, amateur baker, and reality television enthusiast. She is the author of What I Like About You and As If On Cue. Born and raised in the suburbs of Boston, her obsession with books led her to New York City, where she worked in the publishing industry to help books find their perfect readers. She currently lives in Los Angeles, writing love stories by day and searching for the perfect slice of pizza by night." (Bio taken from author's website.)
Find Marisa Kanter on the following platforms:
---
"When it comes to Reid and music, it will always be a competition. Even when we're supposed to be on the same team."
Sixteen year-old Natalie Jacobson spent all summer writing a play for Lincoln High's first student-written theatrical production. She's ecstatic to see her words come alive on stage, but the school board has other ideas. Budget cuts have caused all the arts extracurricular activities to be eliminated—well, all except the school's award-winning band…which just happens to be directed by Natalie's father and stars her life-long nemesis, Reid. For Natalie's play to be performed, the band will have to lose some of their funding, something Reid is definitely not going to let happen. But when the two end up in an all-out prank war that goes terribly wrong, Natalie and Reid have to face the music. Their punishment? They now have to write and direct a musical…together. With the fate of all the arts clubs on the line, Natalie and Reid will have to figure out how to work together and deliver a perfect show if they want things to go back to how they were before. Except after spending so much time together on the show, is that even what they want anymore?
As both a life-long theatre kid and high school band member, I knew I had to read As If On Cue. And Marisa Kanter definitely does not disappoint! This book is fabulously full of fun characters, brilliant references, and a fantastic enemies-to-lovers romance. Natalie and Reid are both excellent characters with very real flaws and insecurities, who also bring out the best in each other. I loved watching their relationship grow and change over the course of the book. Additionally, I enjoyed the Jewish representation Kanter includes. She handles topics like Anti-Semitism and micro aggressions skillfully, covering how both high schoolers and middle schoolers alike can be bullies. Overall, As If On Cue is the perfect read for fans of fun and flirty teen romances and art-lovers alike.
As If On Cue releases September 21, 2021.
(Pine Reads Review would like to thank NetGalley and the publisher for providing us with an ARC in exchange for an honest review. Any quotes are taken from an advanced copy and may be subject to change upon final publication.)
PRR Assistant Director, Wendy Waltrip