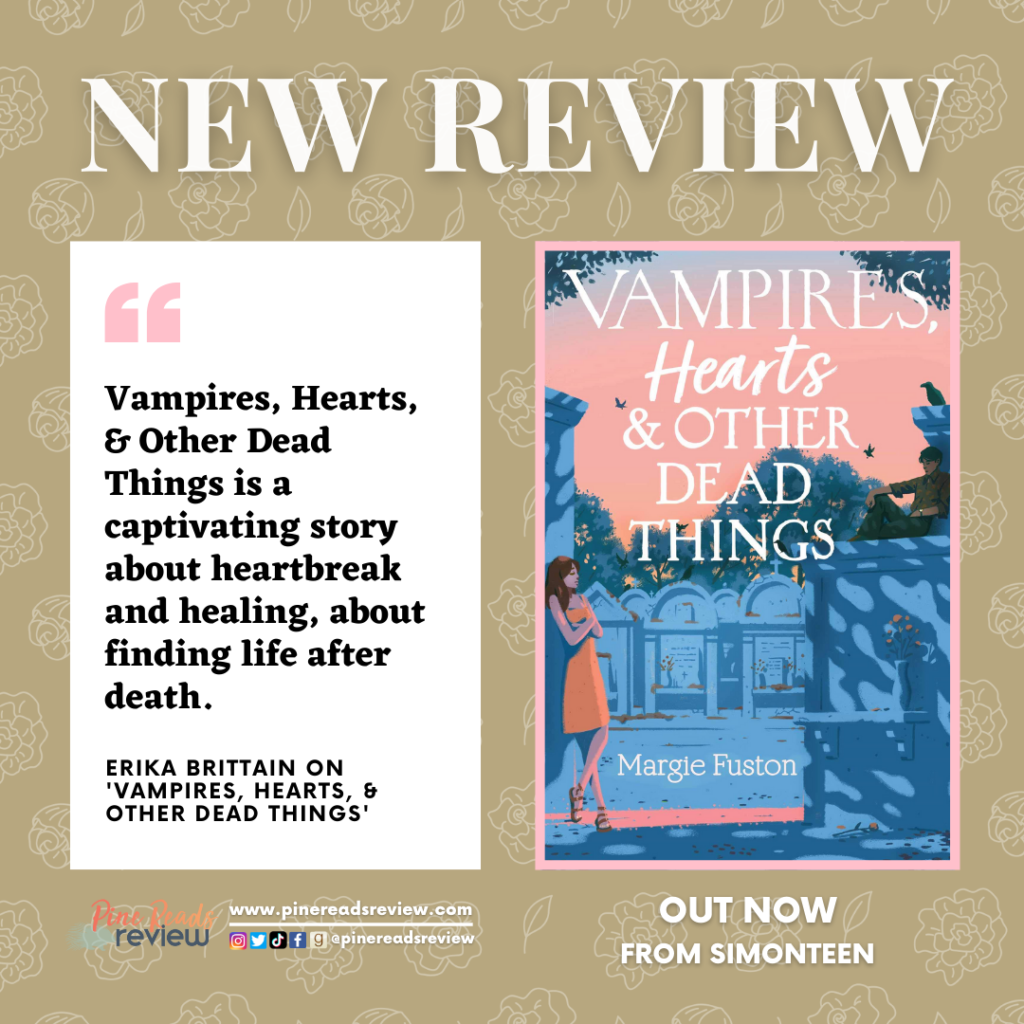 Vampires, Hearts, & Other Dead Things by Margie Fuston
Out Now from SimonTeen; 345 pages
Content Warnings: Parental death, parent with cancer, dying from cancer, pancreatic cancer, grief, blood, mention of blood loss, mild gore, discussions of dying
About the Author: "Margie lives in California but dreams of being in New Orleans, eating thin-cut, fried catfish or a muffuletta for every meal. (Followed by beignets for dessert of course.) She has an MA in Creative Writing. Her poetry has appeared in Writer's Digest, Gargoyle, and Late Peaches: An Anthology of Sacramento Poets, among others. She does a little bit of everything to make a living, but she mostly flips houses to support her very spoiled cats. When she's not working, writing, or wrangling cats, she's getting lost in the forest, wandering the beach, or curling up on the couch to watch The Vampire Diaries one more time. Margie is represented by Rebecca Podos of Rees Literary Agency." (Bio taken from author's website.)
Find Margie Fuston on the following platforms:
---
"'Prove it to me,' he says. 'How?' How do you prove you love life? Especially when life has gutted you in the worst way."
Victoria's dad is dying. Pancreatic cancer. But she isn't giving up on him as easily as her mom or sister. Not when they live in a world where vampires exist, and becoming one will save her dad. With her former best friend Henry by her side, Victoria goes to New Orleans and finds a real life vampire: Nicholas. But he won't help Victoria so easily. No, she'll have to prove herself to Nicholas. The question is: what will Victoria have to give up so that her dad can live forever?
Vampires, Hearts, & Other Dead Things is a captivating story about heartbreak and healing, about finding life after death. Margie Fuston masterfully balances the heavy topic of losing a parent and a delightful contemporary vampire story, from the raw and candid emotions between Victoria and her dad; to the fun and thrilling challenges that Victoria must complete; to the vivid scenic descriptions of New Orleans—and the mouth watering beignet content! One of the most beautiful things about this story is Victoria's character arc as she realizes that it's okay to feel joy in the midst of tragedy. The fact that Victoria is challenged to prove that she loves life, loves it enough to live forever, really resonated with me, and I think it will resonate with a lot of other readers. While I did read most of this book with tears streaming down my face, I also laughed a lot! Victoria and Henry rebuilding their friendship (and their friends-to-lovers romance!) is so heartwarming and fun to watch unfold. I was also very entertained by the sort of bucket list of challenges that Nicholas gives Victoria to complete. Dare I say I got FOMO from reading about this fictional vampiric quest? I could talk about this book forever; there is just so much to love about Margie Fuston's debut novel. Vampires, Hearts, & Other Dead Things is definitely one of my new favorite books!
For more discussion on Vampires, Hearts, & Other Dead Things, keep an eye out for our upcoming interview with author Margie Fuston!
PRR Lead Website Manager, Erika Brittain