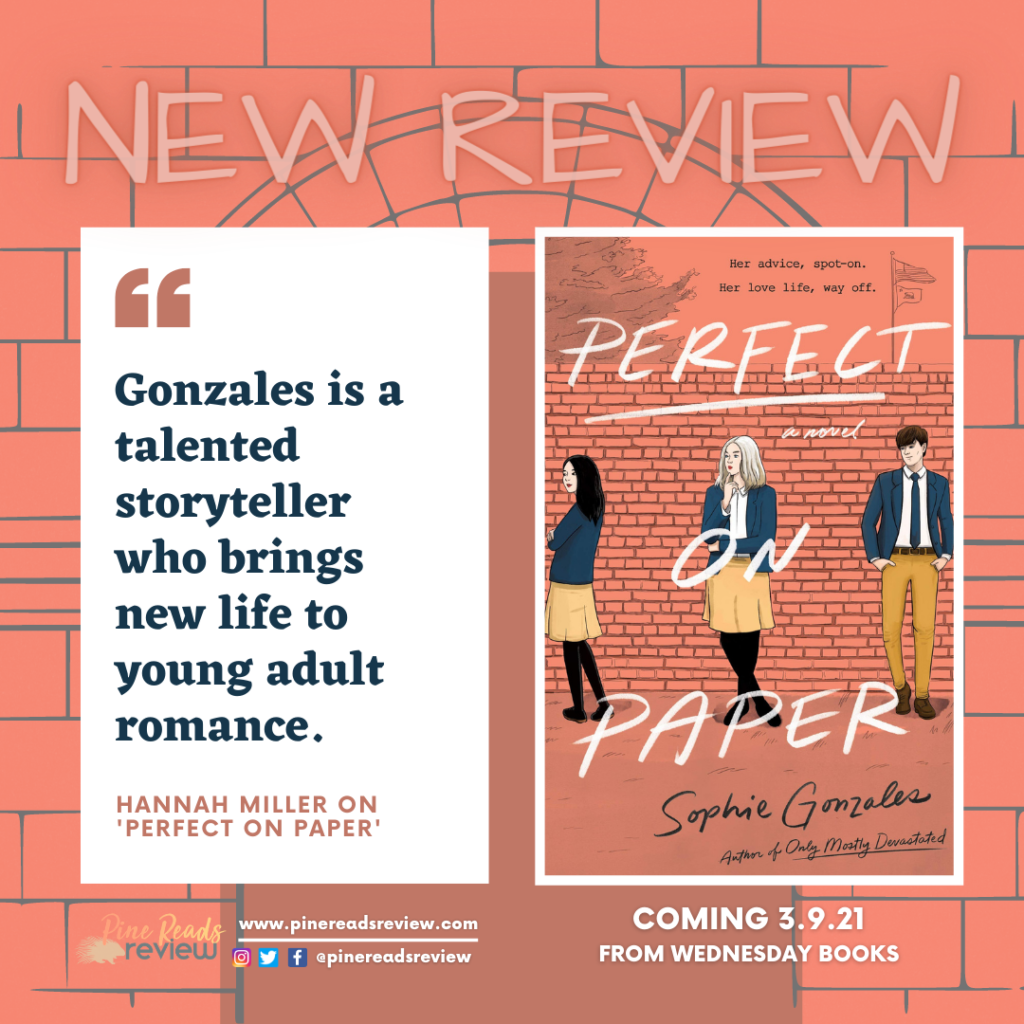 Perfect on Paper by Sophie Gonzales
Wednesday Books, Releases March 9th 2021, 304 pages
Content Warning: discussion of biphobia/internalized biphobia, divorce, character with an alcoholic parent, teen partying, mild language
About the Author: "Sophie Gonzales was born and raised in Whyalla, South Australia, where the Outback Meets the Sea. She now lives in Melbourne, where there's no outback in sight, but slightly better shopping opportunities. Sophie loves punk music, frilly pink skirts, and juxtapositions. Sophie has been writing since the age of five, when her mother decided to help her type out one of the stories she had come up with in the bathtub. They ran into artistic differences when five-year-old Sophie insisted that everybody die in the end, while her mother wanted the characters to simply go out for a milkshake. Since then, Sophie has been completing her novels without a transcriptionist." (Bio taken from the author's website.)
Website: https://www.sophiegonzalesbooks.com/
Twitter: @sgonzalesauthor
Instagram: @sgonzalesauthor
---
"The only thing that's universally agreed on is this: if you're having relationship issues and you slide a letter through the vents of locker eighty-nine, you will receive an email from an anonymous sender within the week, giving you advice. And if you're wise enough to follow that advice, your relationship problems will be solved, guaranteed, or you money back. And I rarely have to give people their money back."
As her high school's go-to relationship guru, Darcy Phillips is great at giving anonymous advice to other students. She knows how to get your oblivious lab partner to notice you, or your boyfriend to be more emotionally present. Until fellow classmate, Alexander Brougham, finds out who's actually running this (previously) covert operation and recruits Darcy as his personal dating coach. In exchange for helping Brougham win back his ex-girlfriend, he promises to keep Darcy's secret identity under-wraps—which she desperately wants, because if her best friend (and long-time crush) Brooke found out who was behind locker eighty-nine, she'd also uncover some unsavory secrets Darcy's been keeping.
For fans of Netflix's Sex Education or anyone who loved Sophie Gonzales' previous YA rom-com, Only Mostly Devastated, prepare to be dazzled yet again. Perfect on Paper is a hilarious, heartfelt story full of great relationship advice, trips to Disneyland, and a damn-good romance. The novel is also an unabashed rejection of queerphobia (biphobia specifically), showcasing widespread normalized queer representation and an openly bisexual heroine whose interest in a boy in no way "erases" her queerness.
Gonzales is a talented storyteller who brings new life to young adult romance through her unique concepts, dynamic queer characters, and spot-on dialogue. In Perfect on Paper, she both engages with and subverts classic tropes of the genre with wit and skill. I mean, there's just something about the timeless "two characters who only refer to each other by their last names suddenly switching to a first-name basis to show the growing intimacy between them" that really hits me hard in the ole heart. So let me channel my inner Darcy Phillips for a moment and offer you some advice: don't miss this book!
Perfect on Paper releases March 9, 2021.
(Pine Reads Review would like to thank NetGalley and the publisher for providing us with an ARC in exchange for an honest review. Any quotes are taken from an advanced copy and may be subject to change upon final publication.)
PRR Assistant Director, Hannah Miller
Check out our interview with Sophie Gonzales here!