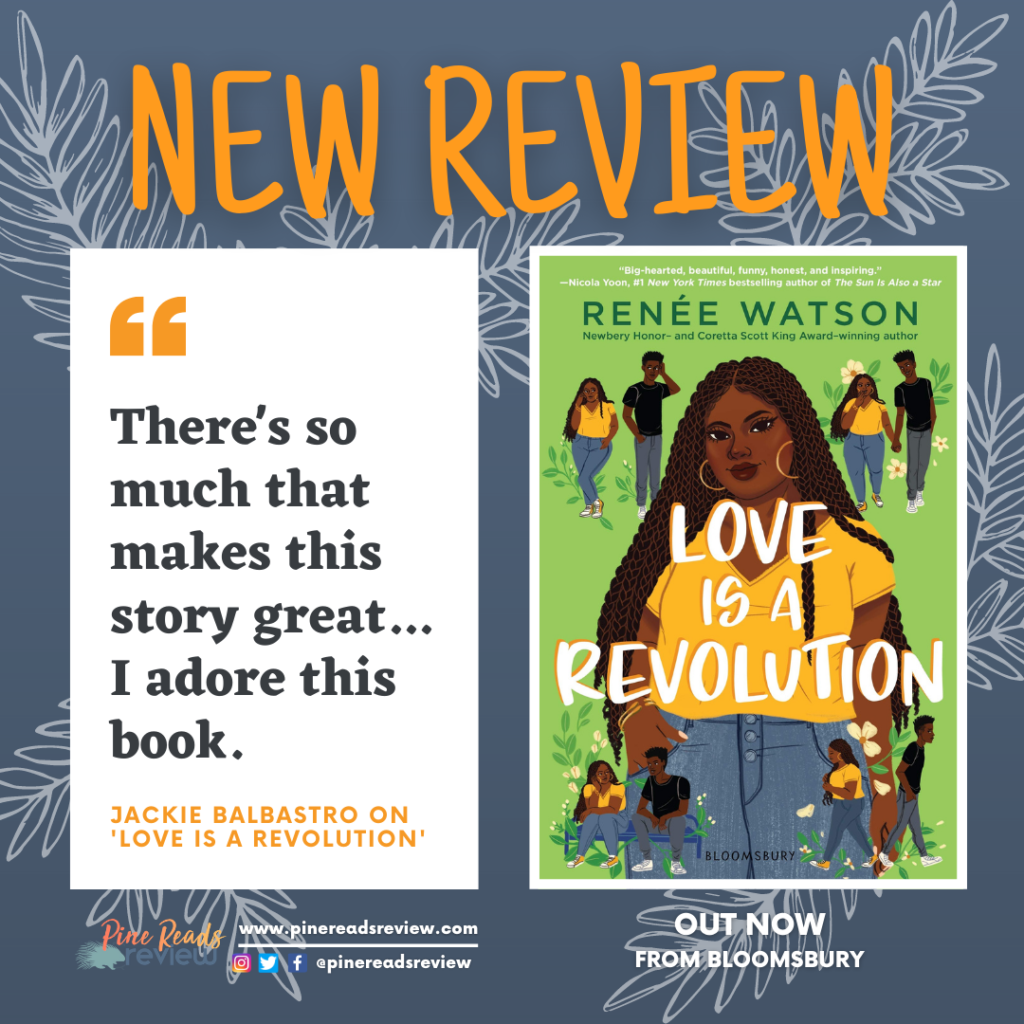 Love is a Revolution by Renée Watson
Bloomsbury YA; 2021; 304 pages
Content Warnings: N/A
About the Author: "Renée Watson is a New York Times bestselling author, educator, and community activist. Her young adult novel, Piecing Me Together (Bloomsbury, 2017) received a Coretta Scott King Award and Newbery Honor. Her children's picture books and novels for teens have received several awards and international recognition. She has given readings and lectures at many renown places including the United Nations, the Library of Congress, and the U.S. Embassy in Japan and New Zealand. Her poetry and fiction centers around the experiences of Black girls and women, and explores themes of home, identity, and the intersections of race, class, and gender. Her books include young adult novels, Love is a Revolution, Piecing Me Together, This Side of Home, and Watch Us Rise, co-written with Ellen Hagan. Her middle grade novels include the Ryan Hart series, (Ways to Make Sunshine and Ways to Grow Love), Some Places More Than Others, Betty Before X, co-authored with Ilyasah Shabazz, and What Momma Left Me. Her picture book, Harlem's Little Blackbird: The Story of Florence Mills received several honors including an NAACP Image Award nomination in children's literature. One of Renée's passions is using the arts to help youth cope with trauma and discuss social issues. Her picture book, A Place Where Hurricanes Happen is based on poetry workshops she facilitated with children in New Orleans in the wake of Hurricane Katrina. Renée was a writer in residence for over twenty years teaching creative writing and theater in public schools and community centers throughout the nation. She founded I, Too Arts Collective, a nonprofit that was housed in the home of Langston Hughes from 2016-2019. Watson is on the Council of Writers for the National Writing Project and is a member of the Academy of American Poets' Education Advisory Council. She is also a writer-in-residence at The Solstice Low-Residency Creative Writing Program of Pine Manor College. Renée grew up in Portland, Oregon, and splits her time between Portland and New York City." (Bio taken from author's website.)
Instagram: @harlemportland
Twitter: @reneewauthor 
Website: https://www.reneewatson.net/ 
---
"All I want is to find love because…who doesn't?"
At the age of thirteen, Nala Robertson moved in with her Aunt Ebony, Uncle Randy, and cousin-sister-friend Imani. Now, Nala and Imani are in the summer before their senior year of high school, and with college on the horizon, the two have very different plans for their break. Imani is an active member of her Inspire Harlem group and finds every opportunity to do community outreach, but this leaves Nala feeling left out when all she wants is to have fun with her best friend. One night, Nala accompanies Imani to an open mic, and she instantly falls for another member of Inspire Harlem, Tye Brown. However, there's one catch to this whirlwind romance: Nala has been lying to Tye. As the lies pile up, Nala begins to mold herself to fit what she thinks Tye wants and is left with the question of who she really wants to be.
There's so much that makes this story great. I loved the moments with Inspire Harlem and how it connects all these characters through a central mission to uplift the community, whether it be socially, politically, or environmentally. Watson also does a fantastic job realistically portraying Nala struggling to find her voice as her peers compete to be the most "woke." Activism isn't a competition. This book makes it clear that you don't need to prove yourself and, as the title suggests, showing both external love and self-love can be powerful in and of itself. In this way, Love is a Revolution reminded me of all my favorite "messy" young adult films that I watched growing up since it drives home the message that being your authentic self is difficult. Nala pretending to be something that she's not is nothing more than completely realistic, as many teens are forced to lie about themselves to "fit in," be loved by their parents, and so many other reasons. In light of this, sometimes simply being—and loving—who you are, especially as a plus size Black girl, is a revolutionary act. 
Overall, Love is a Revolution is so wholesome. I adore this book for having a character who doesn't hate her body, and I would love to read more about Nala's journey in a sequel. Powerful themes of family, activism, female relationships, and the various types of love are all things readers can look forward to in Renée Watson's newest release.
PRR Writer, Jackie Balbastro