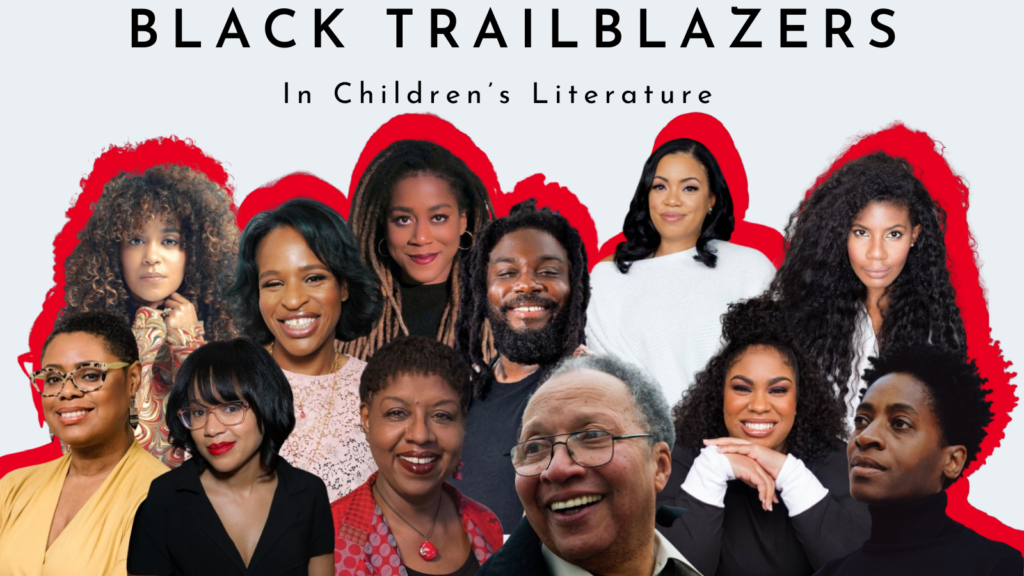 Among the authors on this list, there are New York Times and Indie Best Sellers, Coretta Scott King Award Winners, Horn Book Award Winners, and Caldecott Medalists. Above all else, the work of these creatives has leapt beyond the page and impacted media and culture. Below are twelve iconic writers who have opened doors for current and future Black trailblazers in the making. With that said, this list is only a small piece of an ever-expanding legacy that will continue to inspire readers for generations to come. 
---
WALTER DEAN MYERS
It feels only natural to begin with THE Walter Dean Myers as most people will probably read at least one of his works during their lifetime. During his career, he was able to publish over one hundred books, including nonfiction and picture books, and served as the National Ambassador for Young People's literature from 2012-13. Though he unfortunately passed away in 2014, Myers' books remain prevalent in school curriculums. For many, his work is their first dive into young adult literature and, more importantly, it might be the first time they feel seen on-page. Notably, We Need Diverse Books began a program named after Myers which helped kick-start the careers of many other trailblazers. Myers continues to be remembered for his prolific writing, including his final published work, "Where Are the People of Color in Children's Books?" in which he advocates for more Black children to be represented in children's literature.
---
ELIZABETH ACEVEDO
A prominent poet with a powerful voice, Elizabeth Acevedo has brought three wonderful young adult novels into the world (so far), and I love them all dearly. As an AfroLatinx woman, Acevedo spotlights the intricacies of her intersectional identity and has inspired readers to appreciate the verse novel and spoken-word artistry. Prior to the pandemic, Acevedo was involved in nearly 80-100 presentations a year in the hopes of connecting with as many readers as possible. In December of last year, it was announced that Acevedo's most recent novel, Clap When You Land, is being developed into a television series, and that her other novel, With the Fire on High, is being developed into a movie! As a huge fan of hers, I genuinely cannot wait for what the future holds for her.
---
ANGIE THOMAS
Anytime I speak with fellow readers, even casual ones, they usually know about The Hate U Give and, at least by name alone, Angie Thomas. Since 2017, her titles have consistently been on the New York Times Bestsellers list and have won multiple distinguished awards like a 2018 Coretta Scott King Award, 2017 and 2019 Horn Honor Book Award, 2018 Michael L. Printz Honor Book Award, and many others. The Hate U Give was made into a feature film in 2018 by 20th Century Fox, and as of 2019, the studio is developing an adaptation of her second novel, On the Come Up, as well. Thomas has even hinted at adapting her newest release Concrete Rose that centers Starr Carter's father, Maverick, as a teen. From racial prejudice and social justice, to fatherhood and trauma, Angie Thomas explores complex and vitally important themes in her novels. On a more personal note, The Hate U Give was one of the first YA books that I ever picked up and has continued to inspire me as both a reader and storyteller. Simply put, she is the reason that I am a writer today.
---
DHONIELLE CLAYTON
When I think of publishing, my mind almost instantly thinks of Dhonielle Clayton. Not only because she is a beacon in the writing community, often uplifting her fellow authors, but also because she is the Chief Operating Officer of We Need Diverse Books and a fantastic writer in her own right. Her novel Tiny Pretty Things, written alongside Sona Charaipotra, was recently adapted into a Netflix Original Series. Clayton stays busy participating in industry events and hosting her podcast Deadline City alongside fellow author Zoraida Córdova. Her newest project, A Universe of Wishes—a YA sci-fi/fantasy anthology which she edited—was released in December 2020. Her wildly popular YA fantasy series, The Belles, explores the opulent world of Orléans. With book three on the way, it's the perfect time for everyone to pick up a copy of the first two books, The Belles and The Everlasting Rose!
---
TIFFANY D. JACKSON
No one does thrillers like Tiffany D. Jackson. Her novels live in an uncanny space that is intriguing, powerful, and absolutely breathtaking. Each of her stories are often 'ripped from the headlines,' exploring profound themes and usually involving some type of murder. She has won various accolades, including John Steptoe and Coretta Scott King awards, while also having a successful career in film and television. Jackson is another author who continues to inspire my own writing, and as a fan of her style, I will genuinely buy anything she releases. Her novels Monday's Not Coming and Grown have stayed with me long after I turned the last page. Jackson is set to release a new novel entitled White Smoke on September 14 of this year. It's been described as "Get Out meets The Haunting of Hill House," and I couldn't be more thrilled!
---
IBI ZOBOI
As an AfroLatinx author, Ibi Zoboi has poured her intersectional identity into her writing, offering representation and phenomenal stories to readers of all ages. I recently read and reviewed her novel in verse, Punching the Air, written in collaboration with Yusef Salaam. As a lover of verse writing and Zoboi's multifaceted catalog, the book was absolutely stunning both in terms of form and storytelling. Zoboi is a magnificent writer who pushes readers to embrace their feelings, identity, and authentic voice—something that I appreciate greatly.
---
NIKKI GRIMES
Grimes is another author with a longstanding career as both a writer and poet, with a beautiful catalog of books that has surely touched generations of readers. As of January 2021, Grimes has a total of 79 published books with her most recent releases including Legacy: Women Poets of the Harlem Renaissance, Kamala Harris: Rooted in Justice, and Off to the Sea. Her prolific career dates back to the 1970s with notable themes reflecting the Black experience as well as community, family, and friendship. Her legacy as a children's author is one that is unmatched in both commitment and flair, with her recognition in the literary awards circuit alone marking her place as a trailblazer who threw the doors open for more writers like her.
---
NICOLA YOON
Nicola Yoon's The Sun is Also a Star is one of the first dual-narrative books that I read; the way she conveys fate, love, and intergenerational relationships made me fall in love with multiple-perspective storytelling. Both of her novels to date have been adapted for the big screen as well. It has been so long since we've been blessed with a book from her, but only a few weeks ago, she announced her next novel, Instructions for Dancing, which will be released this upcoming June. Yoon also shared recently that she is part of the six-author team writing the highly-anticipated anthology Blackout, along with other iconic voices from this list like Angie Thomas and Tiffany D. Jackson. Additionally, Yoon and her husband, fellow author David Yoon, are launching a young adult imprint, 'Joy Revolution,' that will focus on stories from people of color.
---
JACQUELINE WOODSON
Jacqueline Woodson is an author that I wish I had read at a younger age as it wasn't until college that I discovered the magic of her writing when reading Brown Girl Dreaming for the first time. She is a prolific writer who has won various awards over a long career such as the Newbery Medal, the Coretta Scott King Award, the Caldecott Medal, and the National Book Award. Last year, she published her middle grade novel Before the Ever After, which I can't wait to dive into. She served as the Young People's Poet Laureate in 2015-17, and then became the National Ambassador for Young People's Literature for 2018-19. Additionally, Woodson was named a MacArthur Fellow (unofficially called the "Genius Grant") in 2020.
---
JASON REYNOLDS
As yet another prolific writer and poet, Jason Reynolds has a magnetic presence that inspires readers of all ages. Since his first published piece in 2014, Reynolds has won numerous accolades, including the Coretta Scott King/John Steptoe Award for New Talent, and serves as the current National Ambassador for Young People's literature. His New York Times bestselling work is taught in classrooms around the country, and he enjoys speaking with young readers whenever he can. If you haven't already, don't hesitate to pick up one of his books as soon as possible!
---
TOMI ADEYEMI
There's no denying it: Tomi Adeyemi is a global phenomenon. Since her smash-hit YA fantasy debut, Children of Blood and Bone, released in 2018, followed by the sequel Children of Virtue and Vengeance a year later, readers cannot stop yearning for more stories from her. The massive book deal for her debut was unheard of not only in the YA community but for Black authors in general, even including a preemptive sale of film rights. The coming-of-age storyline set in a magical world with themes of oppression, colorism, and class divides solidified the critical and commercial success of Adeyemi's books. The first movie in the Legacy of Orïsha series is set to release next year!
---
NIC STONE
Nic Stone is yet another author who is very community-centered, and I love her for it. She has written a plethora of books including Odd One Out, Clean Getaway, and Jackpot. Just recently she returned to her Dear Martin universe, releasing a follow-up titled Dear Justyce. This year she has teamed up with a group of other iconic authors (some featured in this list) to write Blackout, a fabulous new anthology that promises love and humor with interlocking stories all taking place during a blackout in New York City. In what may end up being one of the biggest releases of the year, I'm beyond ready to dive in!
---
PRR Writer, Jackie Balbastro