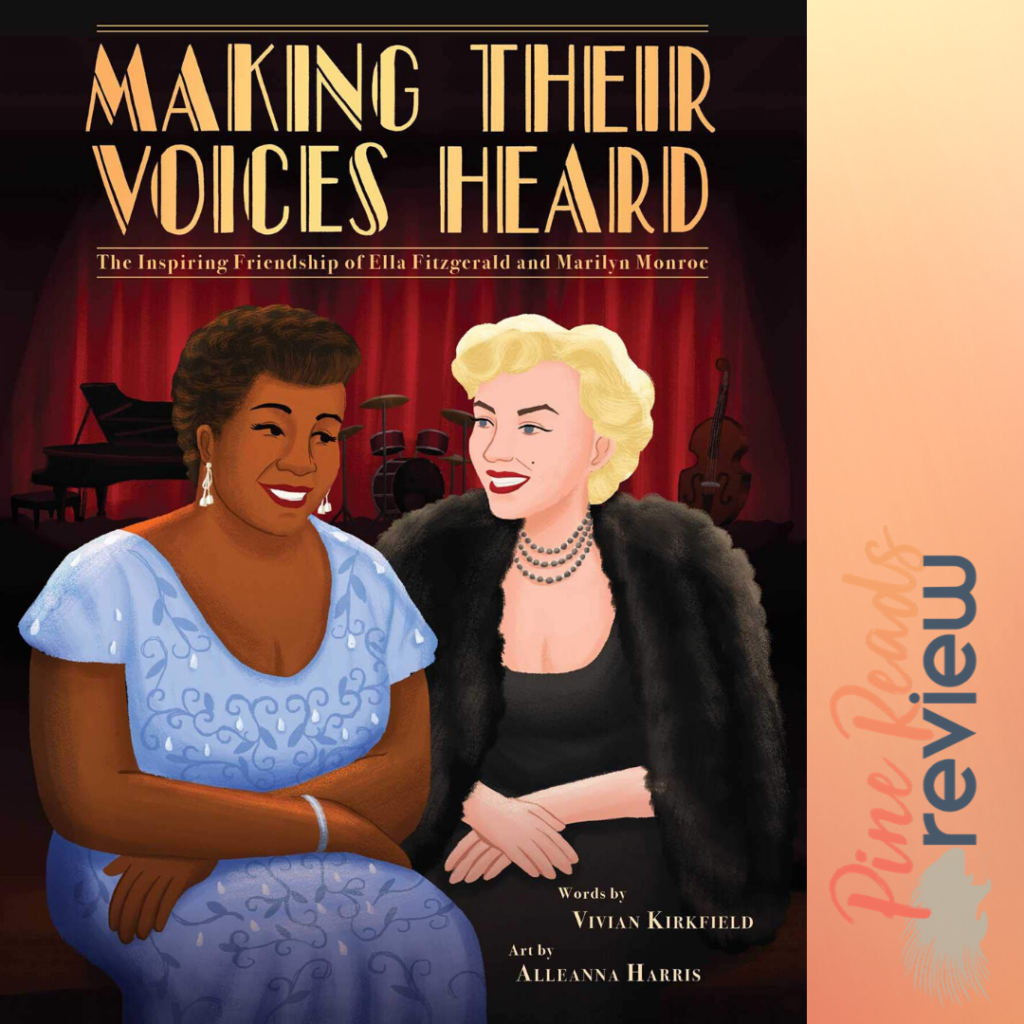 Making Their Voices Heard: the Inspiring Friendship of Ella Fitzgerald and Marilyn Monroe by Vivian Kirkfield
Illustrated by Alleanna Harris
Little Bee Books, 2020, 40 pages
Trigger Warning: racism, sexism, discrimination
About the Author: Writer for children—reader forever…that's Vivian Kirkfield in five words. Her bucket list contains many more than five words—but she's already checked off skydiving, parasailing, banana-boat riding, and visiting kidlit friends around the world. When she isn't looking for ways to fall from the sky or sink under the water, she can be found writing picture books in the quaint village of Amherst, NH where the old stone library is her favorite hangout and her young grandson is her favorite board game partner. A retired kindergarten teacher with a masters in Early Childhood Education, Vivian inspires budding writers during classroom visits and shares insights with aspiring authors at conferences and on her blog, where she hosts the #50PreciousWords and #50PreciousWordsforKids Writing Challenges. She is the author of Pippa's Passover Plate (Holiday House); Four Otters Toboggan: An Animal Counting Book (Pomegranate); Sweet Dreams, Sarah (Creston Books); Making Their Voices Heard: The Inspiring Friendship of Ella Fitzgerald and Marilyn Monroe (Little Bee Books); and From Here to There: Inventions That Changed the Way the World Moves (Houghton Mifflin Harcourt). You can find more about her on her website.
Social Media:
Facebook: @viviankirkfield
Twitter: @viviankirkfield
Pinterest: www.pinterest.com/viviankirkfield/
Instagram: @viviankirkfield
About the Illustrator: Alleanna Harris received her BFA in Animation with Honors from the University of the Arts, but she has been drawing and making art "for as long as [she] can remember." She is currently based in New Jersey, where her illustration contributes to children's books, advertisements, and educational materials, just to name a few venues. She is represented by the Bright Agency. You can find more about her on her website.
Social Media:
Etsy: Alleanna Harris Art
Instagram: @alleannaharris
Facebook: @alleannaharris
Twitter: @alleannaharris
"Ella and Marilyn. On the outside, you couldn't find two girls who looked more different. But on the inside, they were alike—full of hopes and dreams, and plans of what might be."
We've all heard Ella Fitzgerald's breathtaking voice and seen Marilyn Monroe shine on screen. They are incredible examples of what women in their fields have historically accomplished, despite the discrimination they faced throughout their careers. But many people don't know much about their friendship and how it truly allowed both women to soar to new heights together.
In Making their Voices Heard, Vivian Kirkfield and Alleanna Harris tell the story of Ella's and Marilyn's rise to fame by examining the ways that each woman helped inspire and promote the other in their respective industry. Kirkfield's text is a hopeful one for readers, introducing them to the discrimination both women faced and demonstrating how we can overcome challenges by working together. When paired with Harris' crisp and historically authentic artwork, this biography inspires readers to support and empathize with one another, even when we don't come from similar backgrounds. The book even contains detailed information after the text, for older children and educators who want to further explore these two figures.
Making their Voices Heard celebrates two of history's most impactful women, while reminding us that "even stars need a little help to shine."
PRR Writer, Mandy Becker
Pick up your own copy today!