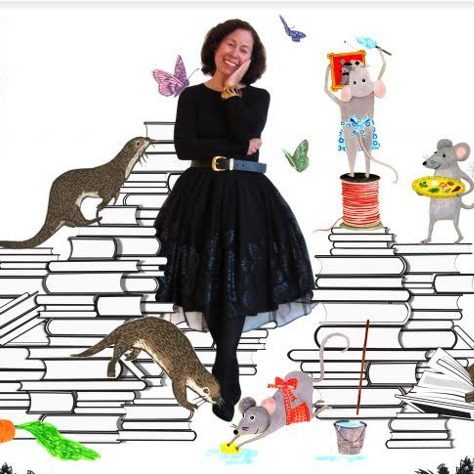 About the Author: Writer for children—reader forever…that's Vivian Kirkfield in five words. Her bucket list contains many more than five words – but she's already checked off skydiving, parasailing, banana-boat riding, and visiting kidlit friends around the world. When she isn't looking for fun ways to fall from the sky or sink under the water, she can be found writing picture books in the quaint village of Amherst, NH where the old stone library is her favorite hangout spot and her young grandson is her favorite board game partner. A retired kindergarten teacher with a masters in Early Childhood Education, Vivian inspires budding writers during classroom visits and shares insights with aspiring authors at conferences and on her blog, where she hosts the #50PreciousWords and #50PreciousWordsforKids Writing Challenges. She is the author of Pippa's Passover Plate, Four Otters Tobogga: An Animal Counting Book, Sweet Dreams, Sarah, Making Their Voices Heard: The Inspiring Friendship of Ella Fitzgerald and Marilyn Monroe, and From Here to There: Inventions That Changed the Way the World Moves.  You can learn more about her on her website.
Social Media:
Facebook: @viviankirkfield
Twitter: @viviankirkfield
Pinterest: www.pinterest.com/viviankirkfield/
Instagram: @viviankirkfield
Mandy Becker: What drew you to telling the story of Ella Fitzgerald and Marilyn Monroe's friendship in your book Making Their Voices Heard?
Vivian Kirkfield: Several years ago, I discovered a 1954 photo online of Ella Fitzgerald and Marilyn Monroe. Sitting shoulder to shoulder, it was obvious there was camaraderie and a special connection between these two icons and the caption explained that Marilyn had helped Ella get a booking at one of Hollywood's top nightspots. But wait a minute! I grew up in the 50's and I was a big fan of Ella's jazzy blues and Marilyn's comedic talent…I never heard that they were friends. My curiosity was piqued…I had to find out the story behind the story.
As I did more research and dug deeper, I uncovered a wonderful story of allyship…of speaking out and stepping up and actually DOING something about discrimination. What was even more striking – this happened in 1954 – before Rosa Parks refused to give up her seat on the bus, before Dr. Martin Luther King, Jr gave his 'I have a dream' speech. In 1954, white Hollywood starlets didn't fraternize with black jazz musicians – the studio bosses controlled their every move and jazz wasn't considered mainstream. Yet Marilyn studied Ella's recordings to improve her own voice…she respected Ella as a singer and as a person. And I knew that this story of inclusive friendship needed to be told, especially for today's young people.
To get to the bottom of the story, I reached out to the woman who had been Ella's promoter/PR person for thirty-seven years and was able to speak with her on the phone. That's what I love about writing nonfiction picture books…you never know where your research will lead you.
MB: How do you balance entertainment and education in biographical books for kids?
VK: There are plenty of textbooks filled with facts. Those are great…but they usually don't engage kids. Most kids are looking for an entertaining narrative that will keep them turning the pages. What I try to do is craft an opening line that hooks the reader…and then I fashion a narrative with plenty of action…sprinkling in the information I need to share.
MB: Are there any messages that you hope readers can take away from this story?
VK: VOICES is a story of friendship…inclusive friendship. I hope readers will take away the message that our friends can and should be anyone…people who look like us and people who don't…it is through mixing with people from different cultures that we learn to frame a loving and inclusive world view. I also hope readers will embrace the message of allyship and standing up for others, no matter the consequences. The third message is that people are complex individuals…we cannot know who a person is just from the outside. Many thought Marilyn was a ditzy blonde without brains. However, she was the first female movie star to own her own movie production company. And she renegotiated her studio contract after her success with Gentlemen Prefer Blondes to get a higher salary and more script control. She owned hundreds of books and read them all…and even wrote beautiful poetry.
MB: What is your favorite part of the picture book making process?
VK: My favorite part of the book making process – I do love the research…I sometimes feel like a detective, digging deep for clues. I also love crafting that first sentence. But my favorite part is when I have revised and polished and I read it aloud, recording my voice…and then listen back. When I hear the story that I have written and I get to the end and I get a little chill – I know that the manuscript is ready…THAT is my favorite part.
MB: What drew you to writing as a career?
VK: I always loved writing. As a child, I penned little poems about horses. As a young mother, I wrote little stories for my own children, sometimes even making a little book mock-up. But I didn't seriously think about writing as a career until I turned 64 and my son gave me a very unusual birthday gift…he took me skydiving!
It was very exciting…but the best part was when my feet touched the ground, I knew that if I could jump out of a perfectly good airplane, I could probably do anything! I had started blogging a few months before to spread the word about a parent/teacher guide that I had written, Show Me How! Build Your Child's Self-Esteem Through Reading, Crafting and Cooking…I loved picture books and believed they could be a key element in helping young kids. I'm a big fan of Dr. Rudine Sims Bishop who talks about how books can serve as mirrors and windows and sliding glass doors…mirrors because the child sees herself and is validated; windows because the child is exposed to the wider world; sliding glass doors because the child can be inspired to investigate further and a spark may be lit to pursue a new path. After that skydiving adventure, I knew that I wanted to share messages of hope and inspiration to young people…I wanted to write for children.
MB: In your book Sweet Dreams, Sarah, you tell the story of another important historical figure: Sarah E. Goode, one of the first African-American women to get a U.S. patent. Are there any other historical individuals that you would like to write a book about? Why?
VK: There are so many historical individuals I would like to write a book about. I tell people I will have to live at least another 30 years to write all the stories I have in my head…and I am already 73! We just sold another manuscript about the first woman to ride a bike around the world in 1894 – I can't share details because it hasn't been announced yet. But I am very excited! And I just started some research on the first woman screenwriter – I discovered her when I connected with another kidlit writer who had read Making Their Voices Heard. In the book, I talk about the movie with the big singing role for Marilyn Monroe – Gentlemen Prefer Blondes. And this kidlit acquaintance mentioned that a distant relative of hers had written the script. WHAT? Right away, my curiosity soared. I did a bit of research and found out that the woman led an amazing life…she even fought for a woman's right to keep her maiden name after marriage. I think that is a story…although it may take some doing to find the appropriate focus to turn it into a picture book story. But I do love challenges!
MB: What can we expect from you in the next year?
VK: My writing life is definitely blessed. In the next year, I'll be getting ready to launch another book: From Here to There: Inventions That Changed the Way the World Moves (Houghton Mifflin, January 19, 2021), illustrated by the award-winning Gilbert Ford. This is a compilation/chapter book about nine visionaries – each story captures the AHA moment when the inventor realizes he/she is on to something. Geared for grades 3-6, the stories are fully illustrated and will definitely be enjoyed by younger kids as well. From the hot-air balloon in France in 1783, to the first bicycle in Germany in 1817, to the liquid-fueled rocket in Massachusetts in 1926, the stories chronical how these inventions changed the landscape of the planet. I know this will be a sought-after book for schools and I hope to do many author visits to share it with students…because, in the end, my goal is to get the books into the hands of kids – sharing that important message to follow your dreams because nothing is impossible if you can imagine it.
PRR Writer, Mandy Becker
Don't miss our review of Making Their Voices Heard here!
Pick up your own copy today!