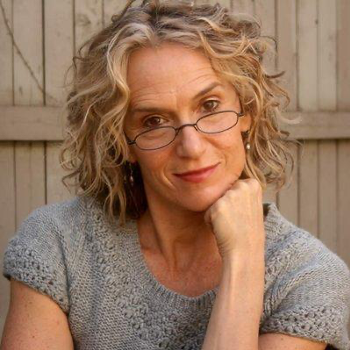 About the Author: The daughter of a Merchant Marine and a Rockaway beach babe, Alice Kaltman's life has always been ocean-centric. When she's not in the water, she writes about surfers, mermaids, and other odd balls. In addition to The Tantalizing Tale of Grace Minnaugh, Alice is the author of Wavehouse, also from Fitzroy Books, and the short fiction collection Staggerwing. Alice's work can also be read in numerous journals, magazines and fiction anthologies. She splits her time between Brooklyn and Montauk, New York where she swims, surfs, and writes; weather and waves permitting. Learn more about Alice at www.alicekaltman.com.
Facebook: Alice Kaltman
Twitter: @AliceKaltman
Instagram: @alicekaltman
A huge thanks to Alice Kaltman for the below interview on her new middle-grade novel, The Tantalizing Tale of Grace Minnaugh (Fitzroy Books), out now! And don't miss our review of Grace Minnaugh here!
Hannah Miller: I believe you worked on The Tantalizing Tale of Grace Minnaugh for over fifteen years. What was your initial writing process like and how did the project develop?
Alice Kaltman: TTTOGM is the story most close to my heart, the first novel I wrote. The original draft of TTTOGM began over fifteen years ago, when I knew absolutely nothing about fiction writing. There have been at least ten versions of Grace over the years, but generally the story remained the same. I sent out the original story to publishers and agents (back then you sent things through regular post with SASE's!) and got some early positive responses, but no bites. I did a few writing workshops after that, attended SCBWI conferences, which were somewhat helpful, but I think reading other middle grade novels helped me the most. I'd put the manuscript away but never gave up on it. And then I signed my deal with Fitzroy books for my YA novel Wavehouse. After having such a great experience working with Fitzroy I sent them Grace, which to my delight, they decided to publish as well. The story was originally called "Grace Under Water", then in subsequent drafts it was changed to "Saving Grace", and then my editor at Fitzroy Books came up with the current title, which I absolutely adore.
HM: Mermaid folklore has been around for centuries and continues to show up in popular culture even today. Why do you think mermaid mythology is still so mesmerizing and what elements were you most excited to play around with in TTTOGM? Did you draw on any specific mermaid legends?
AK: There's a whole world under the surface of the sea, some of which we know about and much that remains a mystery. The ocean and the creatures and plants that live in it are part of the same earth as the one we walk upon. I think that's why mermaid lore continues to fascinate so many of us, particularly those of us with a special affinity with the sea. Maybe because we can almost imagine living that life? A so-close-yet-so-far sort of situation?
I loved playing around with the element of secrecy in Grace. Mermaids in all the old tales have to keep themselves safe from harm at the hands of humans. Grace is no different! How can she keep this flip-floppy existence of hers under wraps? What sort of machinations must she go through?
When I was very young, every night before bedtime I squeezed both legs into one side of my pajama bottoms and shuffled around the house pretending I was a mermaid. I didn't have any particular legends in mind when writing Grace, but I'm sure all those years of The Little Mermaid (both H.C. Andersen and Disney), movies like Splash, and my aspirations to be a Weeki Watchi mermaid as a kid, all played into the creation of Grace's story.
HM: Your last two books, Staggerwing and Wave House, were adult and young adult fiction respectively. Yet, The Tantalizing Tale of Grace Minnaugh is middle grade. What about this story fit a younger audience for you? What was the biggest challenge and biggest reward in writing middle grade fiction?
AK: I think the fantasy element of Grace's story is particularly great for a younger audience. But I hope readers of all ages find something in this book to adore. As a reader myself, I love the 'middle' of middle grade fiction. If you're a little kid with a high level of reading comprehension you can read it yourself, or have it read to you by an older reader, parent, teacher, sibling, friend. If you're in those middle grades, you've got stories about kids just like you. For the more grown-up reader, middle grade has all the complex elements of YA or adult fiction, but usually without the snark or the edge. There's a lack of self-consciousness in middle grade fiction that I adore. For me, striking the right note in terms of authentic voice and broad appeal is the biggest challenge and biggest reward when writing middle grade fiction.
HM: In the same vein, having now written for adult, young adult, and middle grade audiences, would ever consider penning a picture book?
AK: Ah ha! My secret is out! I actually started writing by penning a bunch of picture book manuscripts many, many, moons ago! I even illustrated them myself. I haven't ever tried seriously to get them published, but hey…maybe now's the time?
HM: Grace ventures on more than one deep sea swim as a mermaid. I loved reading these scenes because you describe the ocean in such vivid detail. What was your favorite aspect in creating this underwater world for her to explore? Did you use personal experience, research, imagination, or a little of all three as inspiration?
AK: I definitely used all three. I've done a bit of snorkeling, and I swim regularly in a bay where there's lots of plant life, and the occasional sea creature. And I did research into what kind of plant life and sea creatures Grace might encounter in the Pacific Ocean close to the Southern Californian coast.
But honestly? I think my experience playing endless pretend games underwater in pools, lakes, oceans, bays as a kid informed my creation of Grace's underwater world the most! In my mind I could feel what it would be like to go deeper and deeper, the flutter-kicking of her tail, her gills, the sense of graceful weightlessness…ah!
HM: There are so many interesting dynamics throughout the story, from Grace and her mother to Grace and Alfie. One of the relationships I enjoyed most is that between Grace and her elderly neighbor, Mrs. Shelby, who is consistently a source of support for her in both ordinary and mermaid matters. What was it like crafting these two characters and their unique friendship, especially with the larger age gap between them?
AK: I love that you enjoyed Grace and Mrs. Shelby's special bond! That is one of my favorite relationships also. I had so much fun writing the character of Mrs. Shelby, and developing her importance in the story over many, many drafts. I wanted her to be eccentric, but not foolish. And I didn't want her to be the typical wise old person. She's elderly and frail, but she's got gumption, drive and imagination. She's the most open-minded person in the book. I think Mrs. Shelby's "can do" spirit is what joins her to Grace the most. And really; what's not to love about Mrs. Shelby?
HM: You also broach the subject of depression with Grace's mother, Minerva. It was interesting to view through a child's eyes how Grace reacts to her mother struggling with depression—a situation many actual children may find themselves in. How did you approach discussing a heavier topic in a story meant for young readers?
AK: In my "day job" I'm a psychotherapist, so I've had lots of experience working with kids and families impacted by mental illness. I drew upon that experience to write Grace's situation as authentically as I could.
Depression is such a common problem. Everyone knows someone with depression, most children will have family members or close friends who have depression, or they will have it themselves at some point in their lives. Whether it has been spelled out as such, diagnosed as such, or revealed in any direct way is another story. Grace is no different. In spite of her father being a psychology professor, no one ever says outright: Mom's depressed.
HM: Science plays a large role in Grace's journey, despite the presence of rather magical elements as well. For instance, when Grace discovers her mermaid powers, she uses the scientific method to test her limits. Why did you decide to interweave both the factual and fantastical in such a way?
AK: Because science is fun! Experiments are fun! And truth is stranger than fiction, especially when it comes to the deep blue sea!
HM: With Grace being a bookworm, you mention several classic stories like The Secret Garden and Harry Potter. How did you curate which books you wanted to include? Did they have any special influence on your life as a creative person? And, if you had to imagine, which book would be on Grace's bedside table right now?
AK: I wasn't a big reader as a kid, but the books I did read stuck with me forever. The Secret Garden was one of those books. Oh, and special shout out for The Mixed Up Files of Mrs. Basil E. Frankweiler, which I also snuck into Grace, and which was my all-time favorite book as a kid. I suppose I curated the books I mentioned in Grace based on my own predilections. I used Harry Potter as the book series for Mrs. Shelby to get hooked on because it has such broad appeal and could also be a series someone her age might have missed out on, if not for her friendship with an avid reader like Grace.
I think Grace would find great books that weren't necessarily well-known to read to have on her bedside table. Special gems, a combination of forgotten classics like The Wolves of Willoughby Chase by Joan Aiken, mixed with current books like the gender-bending series Unwritten and Rewritten by Tara Gilboy?
HM: Without spoiling too much, the ending leaves a lot of potential for a second book, especially with Grace's realization about certain people close to her. Do you see yourself returning to the world of Grace Minnaugh soon?
AK: I certainly hope so. I actually have a whole bunch of other Grace Minnaugh adventures mapped out. Keep your fingers crossed, and maybe you'll see a sequel or even a multiple book series soon!
PRR Writer, Hannah Miller
Pick up your own copy today!