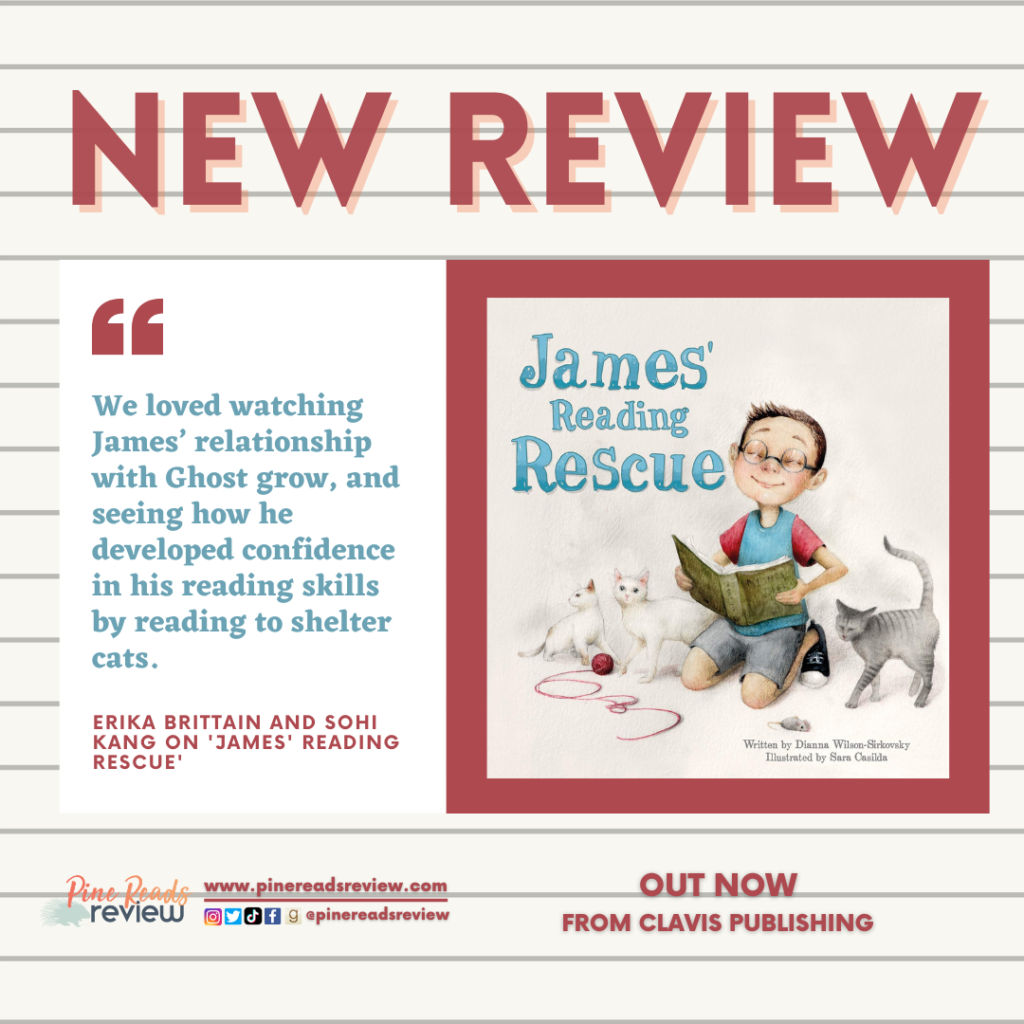 James' Reading Rescue written by Dianna Wilson-Sirkovsky and illustrated by Sara Casilda
Out Now from Clavis Publishing; 32 pages
About the Author: "I've always been a passionate reader and animal lover. As a result, my children grew up in a house full of books and cats! I rediscovered my love of picture books reading to my children and it is the realization of a dream to now write for other children. I spent my childhood years on the Canadian prairies but have lived in Montreal for many years, raising my family and working at McGill University. Writing for children is both a pleasure and privilege that I plan to enjoy for as long as possible!" (Bio sent by the author.)
Find Dianna Wilson-Sirkovsky on the following platform:
About the Illustrator: "Higher Technician in Graphic Arts and Design in Illustration and also a Bachelor of Arts at the School of Arts and Crafts in Toledo. I did an internship at the newspaper "La Tribuna" in Toledo, where they published the illustration "La Custodia" for Corpus Day in 2014 on the cover of its special edition. The passion for the arts led my professional career through various disciplines such as illustration, graphic design, muralism, photography … Dreaming of embracing, in addition, painting, writing and traditional and digital animation. The classic and children's editorial illustration, with touches of fantasy and imagination, fascinated me since I was a child. In 2018 I entered the editorial field as an illustrator with the illustrated album 'Naar bed, naar bed', which was a finalist in the KeyColours 2018 competition. My work is mainly artisan. I use charcoal, graphite, watercolors, colored pencils … and I end up with some digital touches for editing. I love and value nature in all its being. I am committed to your care and lead a lifestyle that is as conscientious and consistent as possible. From food to the materials I work with every day." (Bio taken from the illustrator's website.)
Find Sara Casilda on the following platforms:
---
"James read and read until . . . Ghost didn't hide in the box anymore. Sometimes he sat on top. Sometimes he sat in front. Always, his eyes were on James, listening to every word."
James is having a horrible day. Instead of going to recess, he has to stay inside and practice reading. To cheer himself up, James visits the cat rescue shelter, where he meets an unfriendly cat named Ghost. From then on, he goes to the shelter every week to practice reading out loud. As James gets better at reading, he learns that perseverance, kindness, and the companionship of a furry friend can go a long way.
James' Reading Rescue is a charming story with the most adorable illustrations! We loved watching James' relationship with Ghost grow and seeing how he developed confidence in his reading skills by reading to shelter cats. Ghost's development as a character was purr-fect, too! It was fun to see Ghost go from an aloof and hissing cat to a purring cuddlebug. Dianna Wilson-Sirkovsky's debut picture book has a message that will resonate with young readers. James' Reading Rescue inspires readers to get involved in their local animal rescues and encourages them to improve their reading skills. James' story highlights the importance of patience and practice, and a love for reading and animals in need. Go read this sweet book today!
(Pine Reads Review would like to thank the author for providing us with an ARC in exchange for an honest review. Any quotes are taken from an advanced copy and may be subject to change upon final publication.)
PRR Writers, Sohi Kang & Erika Brittain