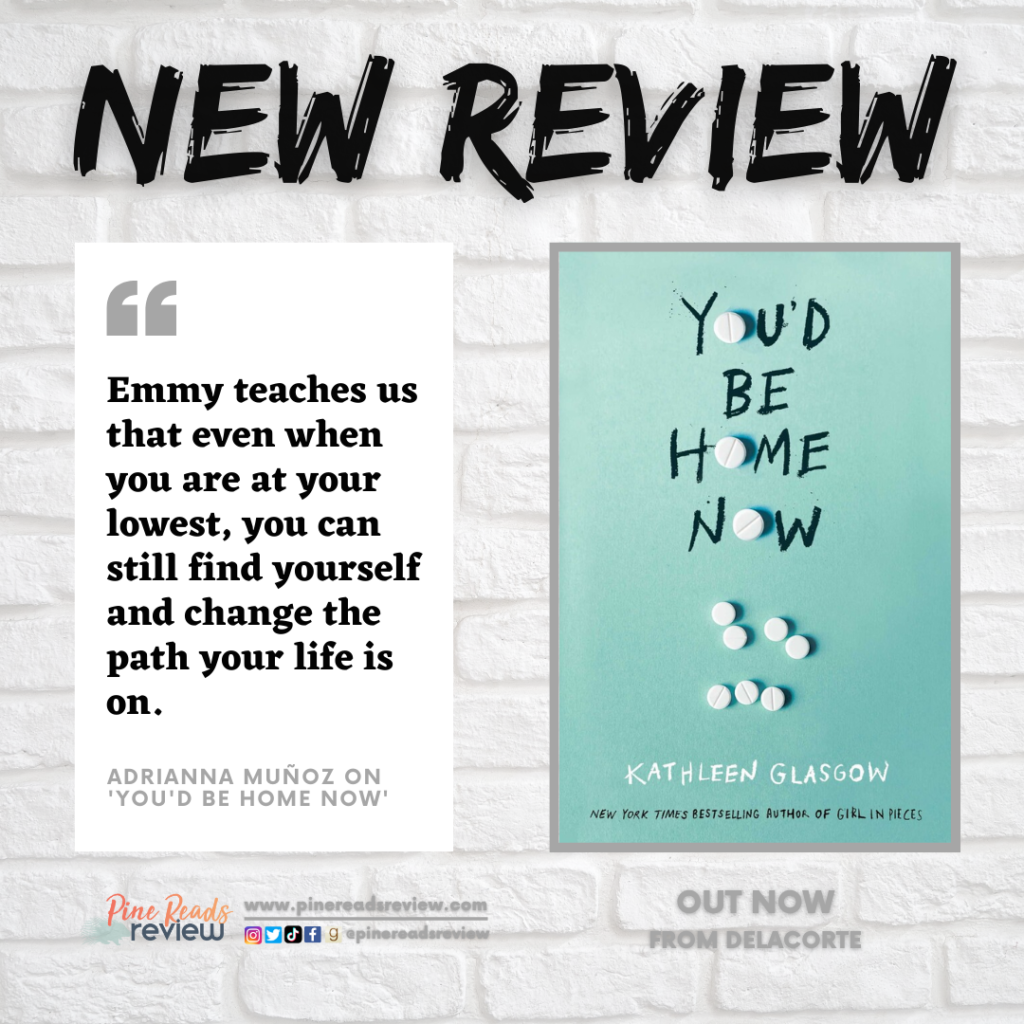 You'd Be Home Now by Kathleen Glasgow
Out Now from Delacorte Press; 378 pages
Content Warnings: Death, addiction, drugs and alcohol, bullying, adult content, bad coping mechanisms, betrayal, hospitals, difficult family dynamics
About the Author: "Kathleen Glasgow is the author of YOU'D BE HOME NOW, GIRL IN PIECES (a New York Times bestseller and Target Book Club pick), and HOW TO MAKE FRIENDS WITH THE DARK. Proud faulty robot. Visit her on Twitter (@kathglasgow), Instagram (misskathleenglasgow), her website (www.kathleenglasgowbooks.com), or TikTok @kathleenglasgow." (Bio taken from Goodreads.)
Find Kathleen Glasgow on the following platforms:
---
"Love Remains. And that's really all you can hope for, in the end. I have to believe that. I have to hold on to that."
Emory (Emmy) Ward has lived the life everyone else wanted for her. She's the boring, studious sister of the beautiful and outgoing Maddie Ward. She is the cautious, responsible sister of the reckless stoner Joey Ward. She is the great-great-granddaughter of the mill's founder. Mill Haven knows her as the obedient, reserved rich girl, but they don't truly know her. When Emmy and Joey survive a car accident that kills the beloved Candy MontClaire, their lives change drastically: Joey gets sent to rehab, Emmy endures a severe knee injury, and strict rules are set in place. Back at school, rumors spread and Emmy is an outcast, just swimming in the sea of students that not-so-silently judge her. In the midst of finding herself and adjusting to a new normal, Emmy has to watch over Joey so he doesn't relapse. Emmy has to learn to stand up for herself, protect her brother, and make Mill Haven a better place. 
Kathleen Glasgow knows how to tackle tough topics in her books, and You'd Be Home Now is no exception. Being a big fan of Girl in Pieces, I was ecstatic to see which ways Glasgow would make me cry next, and cry I did. Emmy is such a relatable character. Throughout the whole book we are able to see just how much her situation is affecting her and how she copes with it. Emmy takes on an immense amount of responsibility, more than she should at age sixteen. This spoke to me because I also struggled with that when I was her age. Not only does she deal with Joey's drug addiction, but she comes from a dysfunctional family that forces her to conform to what everybody expects her to do — be the perfect good girl. Emmy teaches us that even when you are at your lowest, you can still find yourself and change the path your life is on. For an emotional and intense coming of age book, pick up You'd Be Home Now.
​​(Pine Reads Review would like to thank the author and publisher for providing us with an ARC in exchange for an honest review. Any quotes are taken from an advanced copy and may be subject to change upon final publication.)
PRR Writer, Adrianna Muñoz