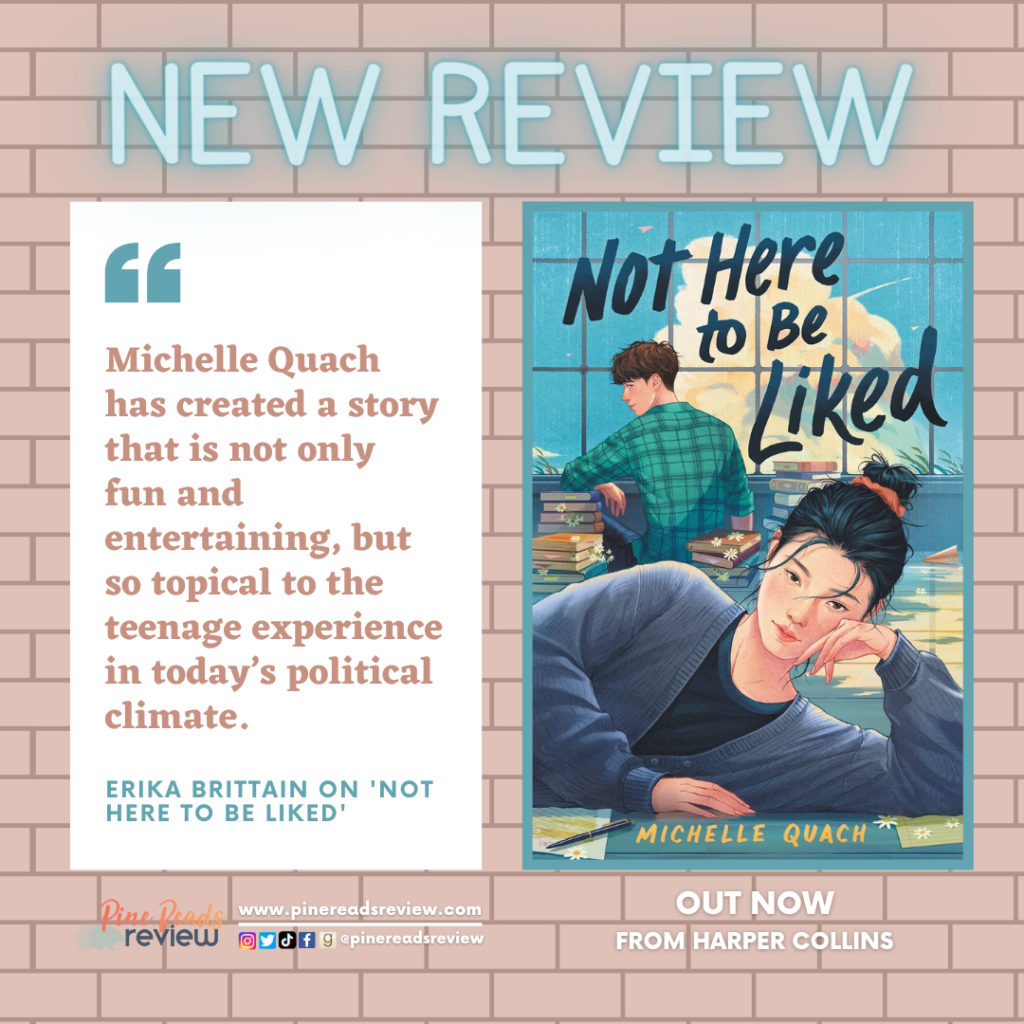 Not Here to Be Liked by Michelle Quach
Out Now from Katherine Tegen Books/HarperCollins; 371 pages
Content Warning: Strong language, underage drinking, mild sexual content, parent losing a job, sexism, misogyny, racism, offensive comments, stereotypes
About the Author: "Michelle Quach (rhymes with "rock") is a graphic designer and writer living in Los Angeles. She's Chinese-Vietnamese-American and a graduate of Harvard University, where she studied history and literature. She loves rom-coms, characters who don't always do the right thing, and any dog that kind of looks like her dog. Her first novel, NOT HERE TO BE LIKED, is available Fall 2021 from Katherine Tegen Books/HarperCollins in the US and Usborne Books in the UK. Michelle is represented by literary agents Jenny Bent and Gemma Cooper (The Bent Agency), as well as film agent Mary Pender-Coplan (UTA)." (Bio taken from author's website.)
Find Michelle Quach on the following platforms:
---
"A girl who seeks a leadership position must be smart, competent, hardworking, attractive, and, above all, nice."
Eliza Quan is not interested in "being nice." Though described as "too intense" and "overly critical," she is the logical choice for editor-in-chief at the school newspaper; however, former baseball star (and totally unqualified) Len DiMartile gets elected instead. In response to the unfair election, Eliza pens a passionate critique of sexism at her school—a critique which gets anonymously published. Now, Eliza's become a feminist trailblazer, devoted to dismantling the patriarchy. But what happens when Eliza must spend time with patriarchy-poster-boy Len? And what happens when Eliza starts falling for the guy she's trying to take down? 
Not Here to Be Liked really surprised me. Good reviews aside, I honestly wasn't sure how I would feel about the topic of feminism being so blatantly central to the book's plot. Feminism isn't a simple issue to tackle, especially not in a contemporary YA book. However, Michelle Quach has created a story that is not only fun and entertaining, but so topical to the teenage experience in today's political climate. I really enjoyed Eliza's evolution from the prickly, anti-feminine character to someone who sees that enjoying typically girly things and being kind isn't the same as being weak. I also enjoyed the shift in how Eliza understood the concept of feminism. Though Eliza and the other characters have conversations about performative activism and intersectionality with feminism, no character gets it 100% right. But they're all trying—I think, that's what makes the characters so compelling and realistic. I also have to talk about the romance. This book starts some great discussions on feminism and gender equality, but it's also a high school enemies/rivals-to-lovers with Eliza and Len having such great banter and chemistry. What's not to love about that? I really liked that Eliza and Len share their perspectives and experiences being the children of immigrants, as well as being Asian-American. From the messy high school drama to the thoughtful reflection on feminism, Michelle Quach's debut novel feels so real. Definitely go read this book!
PRR Lead Website Manager, Erika Brittain