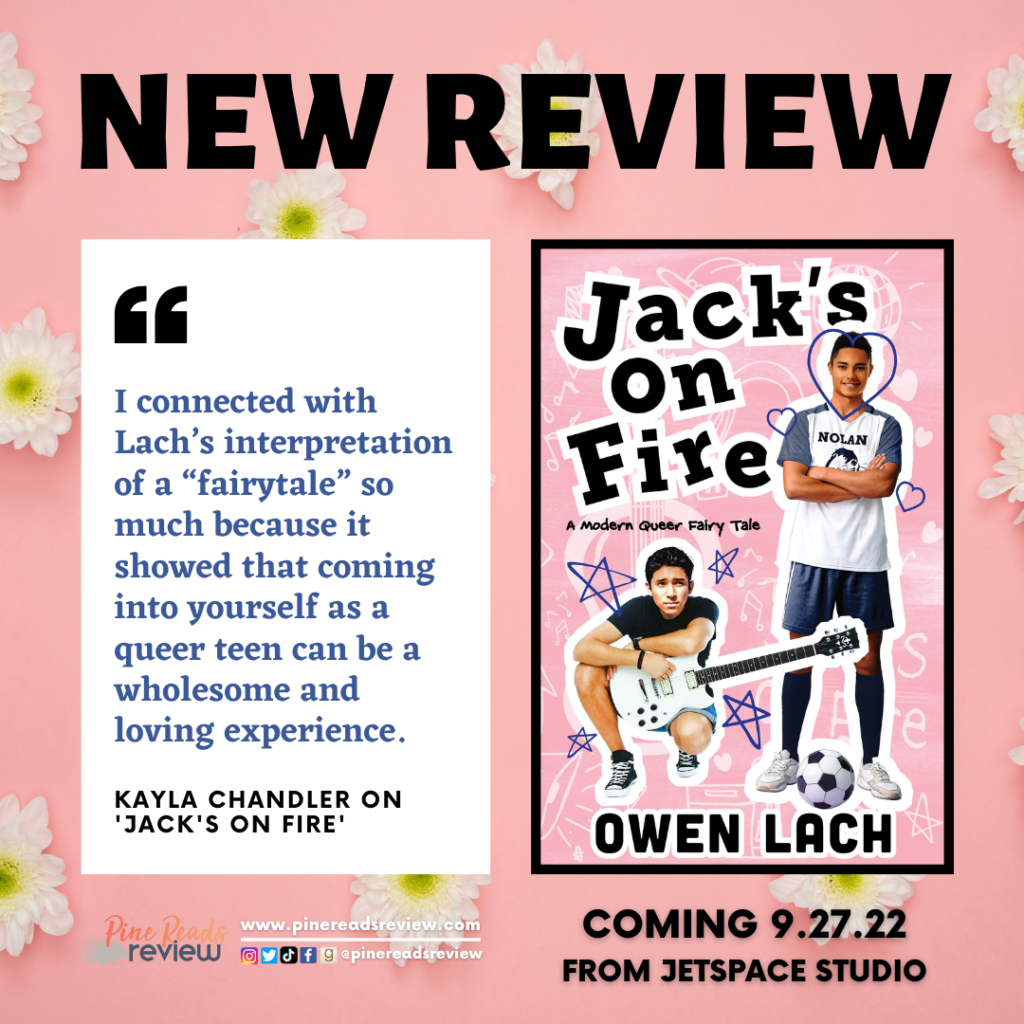 Jack's On Fire by Owen Lach

Coming September 27 from Jetspace Studio; 432 pages

About the Author: "Owen Lach (he/him) is a queer artist, gamer, and author who lives in the PNW. He loves to write queer stories. Especially YA fiction and science-fiction, that's also queer. When he's not writing, Owen enjoys reading books from queer, femme, trans, and POC authors, watching anime, or playing video games." (Bio taken from Author's website)
Find Owen Lach on the following platforms:
---
"Trying to make sense of everything happening around you when none of it made any sense. It was the theme of his newest song."
Owen Lach's latest YA book Jack's On Fire is a beautiful whirlwind of a young man coming to terms with his newly-outed sexuality as he stumbles into himself, along the way developing a loving relationship and making true friendships. Jack Martin is only 16 years old when his ex-boyfriend ruthlessly outs him, and must face the daunting choice of leaving his hometown to move in with his older brother in San Francisco or to stay and be sent to a conversion camp. While the start of Jack's story is life-changing choice that he's forced into by someone he thought he could trust, the life and person he becomes is a joyful and heartwarming journey where queerness is celebrated through his budding relationship with JV soccer captain and personal math tutor Damon. In the chaos of the move Jack at first doesn't notice that life in California is going almost too smoothly; he soon realizes that growing into yourself can make life become a literal fairy tale.
This story was a magical time spent learning about, and growing with a young queer man coming to terms with his upended life. My favorite part of Jack's On Fire is the progression of Jack's character as seen through his relationship with Damon. When romance is central to a story where the main character is actively growing, a discussion will arise of whether individual growth should be done separate from the relationship. Damon and Jack's transition from classmates, to friends, to partners shows that having a non-judgmental support system is often crucial to discovering yourself.

Jack hasn't even finished high school yet, and has already faced the harsh reality of his family not accepting him, and he chooses the safest option to leave behind his entire life, a situation that many young queer people find themselves in. Despite Jack's hardships his relationship with Damon develops into a sweet pairing where the two balance each other out – from Jack's very internal and musical life to Damon's boisterous and calming presence. His new life is going so well that, about halfway through the book, Jack recognizes that there is another level of magic helping him along. I connected with Lach's interpretation of a "fairytale" so much because it showed that coming into yourself as a queer teen can be a wholesome and loving experience. Jack's adventures in California are so wonderfully happy, loving, and supportive that it made my heart soar as a queer reader, and I would absolutely recommend Jack's On Fire to anyone looking for a wholesome and magical take on young queer love.
Jack's On Fire releases September 27, 2022
(Pine Reads Review would like to thank NetGalley and Jetspace Studio for sending us an ARC in exchange for an honest review. Any quotes are taken from an advanced copy and may be subject to change upon final publication.)
PRR Writer & Editor, Chandler
---