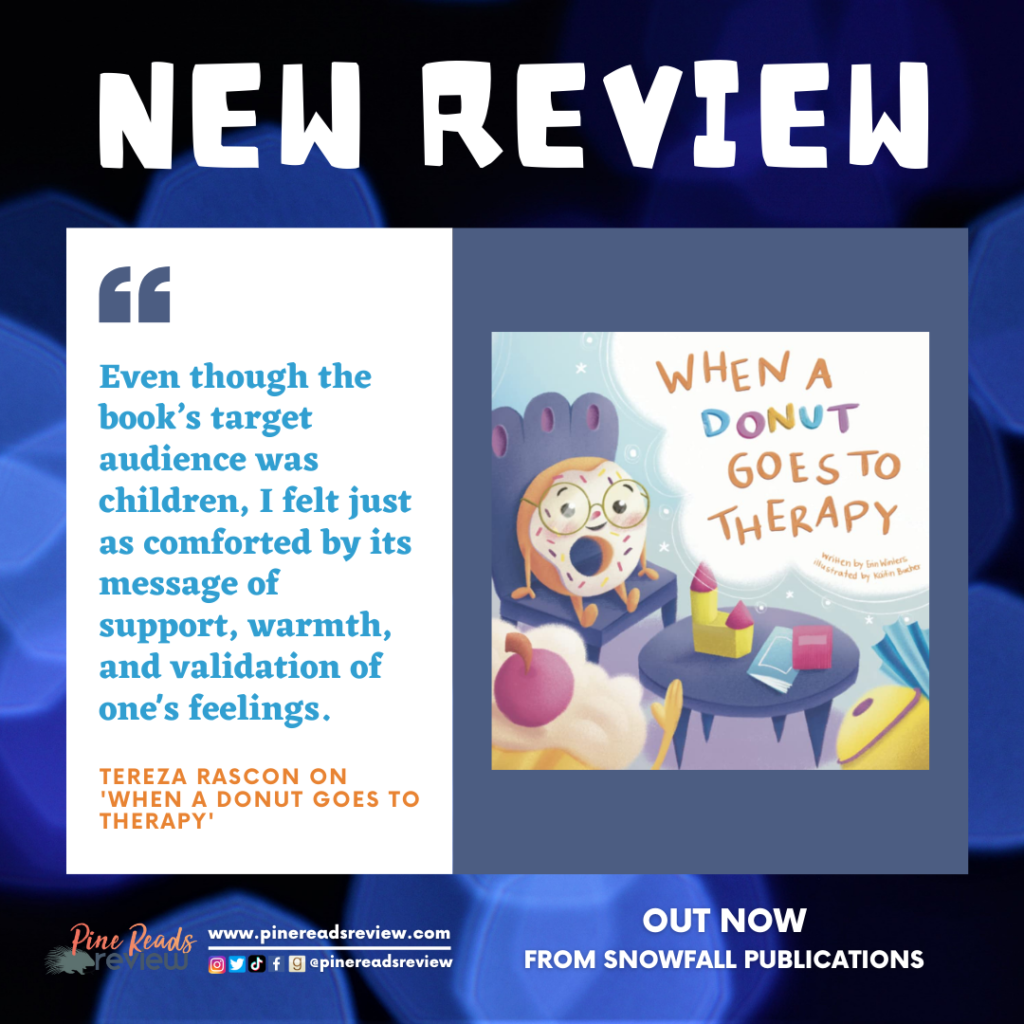 When a Donut Goes to Therapy written by Erin Winters and illustrated by Kaitin Bucher
Out now from Snowfall Publications, LLC; 32 pages
About the Author: "Erin Winters grew up in Raleigh, NC and currently resides in Lynchburg, VA with her husband and son. When she was little she wrote many stories she would likely be appalled to rediscover now, and wanted to be an author around the same time she wanted to be a dolphin trainer.

Neither panned out at first, but Erin started writing on the side in August 2017. She started training in the Israeli martial art Krav Maga around the same time, and enjoys putting bits and pieces from those experiences into her books. Erin loves steak and potatoes, basically any slab of meat as long as there is no suspicious thick sauce on it, and curling up in fuzzy socks with a cup of hot chocolate." (Bio taken from author's website).
Find Erin Winters on the following platforms:
About the Illustrator: "Katy Bucher lives in Stuttgart, Germany and loves to bring characters and stories
to life through her gorgeous, whimsical illustrations and artful eye for aesthetics. Katy and Erin work
closely together as Katy ensures each facial expression, body language, and other aspects are expressing the message most accurately." (Bio taken from publisher's website).
Find Kaitin Bucher on the following platforms:
---
"He gives high-fives to his old teammate, confident once more that he can handle hard life things, no matter what's in store!"
When a Donut Goes to Therapy is about a donut who struggles with big emotions. He anxiously goes to therapy, wary of what to expect from the visit. When he meets his therapist, he learns that a therapist is there to help you with your feelings. He's taken to a room where he can play with toys and draw to his heart's content. Sometimes he talks with the therapist, sometimes he doesn't, which is totally okay! Soon he learns that therapy isn't scary. He is able to learn techniques to help manage his big feelings and finds the confidence to handle life's challenges.
This book does a magnificent job illustrating the concept of play therapy in a way that's tangible for children. I loved the warm colors Bucher used in the illustrations. I found the idea of making the characters in the book talking dessert treats very unique. I adored her use of rhyme in the book. It created a rhythm to the story that helped it flow with ease as well as highlight important messages to the reader. I was most fascinated though by the subtle symbolism displayed in the illustrations, especially in regard to the donut. When the donut is first introduced, his donut hole is big and misshapen, reflecting the donut's feelings of worry and anxiety. However, as the story progresses, the donut hole shrinks, reflecting the donut's progress with his therapy.
I love how Winters points out that the reason why the donut's hole never goes away is because therapy isn't a cure for everything. However, therapy is a powerful resource that can help alleviate and teach us how to handle our big emotions. Winters manages to veil her therapeutic clinical knowledge into her children's book in an engaging and entertaining way. Even though the book's targeted audience was young children, I felt just as comforted by its message of support, warmth, and validation of one's feelings. I would highly recommend parents to get this book not only as a way to explain the concept of play therapy to their kids but as a way to teach them that feeling different emotions is okay. And if their feelings get too big, there will always be someone that can help them make those feelings not feel so big anymore.
PRR Writer, Tereza Rascon
---