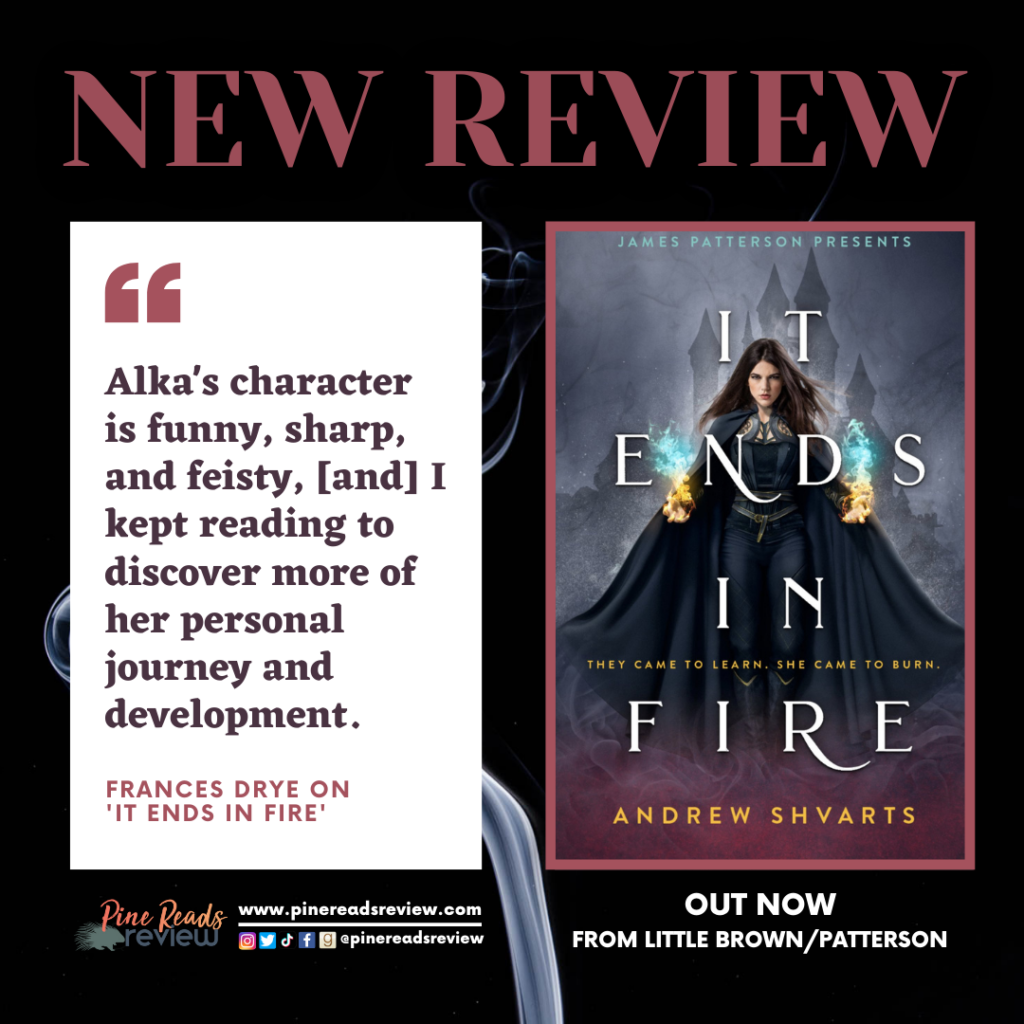 It Ends In Fire by Andrew Shvarts
Out Now From Little, Brown Books for Young Readers; 365 pages
Content Warning: Fire, character death, violence, sex, assault, and emotional abuse
About the Author: "Andrew Shvarts is the author of the Royal Bastards trilogy. He has a BA in English Literature and Russian from Vassar College. He works for Pixelberry Studios, making mobile games like High School Story, Choices, and more. Andrew lives in San Jose, California, with his wife, son, and two cats." (Bio taken from publisher's website)
Find Andrew Shvarts on the following platforms:
---
"When a game is rigged, there's only one way to win… Break the game"
Blackwater Academy is the most exclusive school in the Republic. It's the place where the ruling class of wizards learn their trade. Alka Chelrazi is a member of an underground rebel group that sent her on a mission to infiltrate the Blackwater Academy, gain the wizards' trust, and burn their society to the ground. Once she arrives, Alka learns that status is everything, the students have agendas of their own, and she can no longer ignore her past. Though Alka attempts to use her rebel training to complete her goals, she discovers she can't complete her mission alone. Self-sufficient Alka will have to let down her walls and make allies in order to start her rebellion.
Even with a beautifully written story and wonderfully complex main character, I found this book extremely disappointing. Andrew Shvarts' unique voice was the best part of the novel. His style is both articulate and conversational, and I felt like I could hear Alka's voice as I read. Alka's character is funny, sharp, and feisty, and despite my issues with the story, I kept reading to discover more of her personal journey and development. Though she begins as a loner, she learns how to be vulnerable and trust those around her.
My main issue with this book was the plot. I was shocked with how similar it was to J. K. Rowling's Harry Potter series. The setting was a wizarding school housed in a castle, the students were sorted into houses based on personality, and the main character competes in a competition that is eerily similar to the Triwizard Tournament. I found this extremely distracting because as I read, I was counting the similarities to other YA books. Because of Shvarts' wonderful writing skills and courageous main character, I was sad to find that the story was subpar and unoriginal.
PRR Writer, Frances Drye