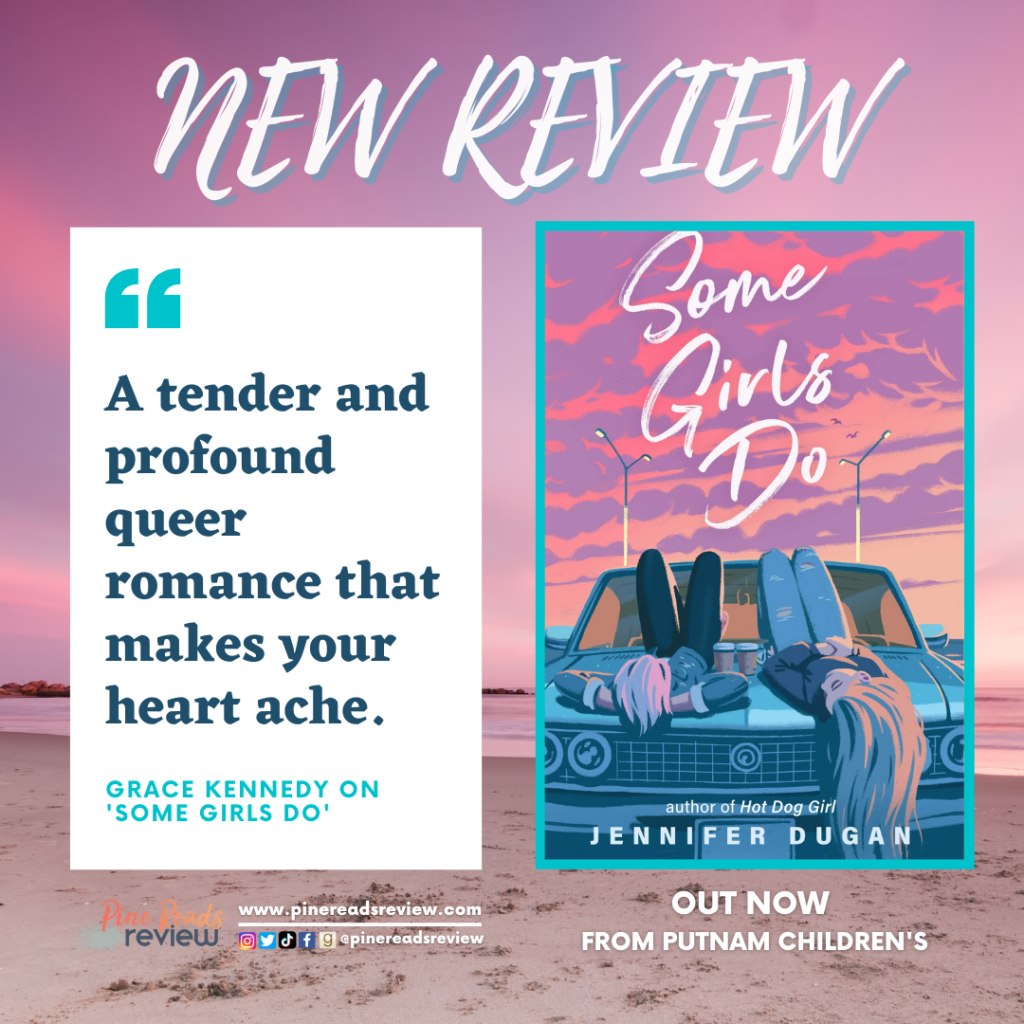 Some Girls Do by Jennifer Dugan
Out Now from Putnam Children's; 336 pages
Content Warnings: homophobia, bullying, toxic parenting, foul language, sexual content
About the Author: "Jennifer Dugan is a writer, geek, and romantic who writes the kinds of stories she wishes she had growing up. In addition to being a young adult novelist, she is also the writer/creator of two indie comics. She lives in New York with her family, dogs, and an evil cat that is no doubt planning to take over the world." (Bio taken from author's goodreads page)
Find Jennifer Dugan on the following platforms:
---
"I'm not spending my life pretending I'm something I'm not, or making myself smaller and quieter, just because someone else thinks I should."
Morgan is a high school track star, and Ruby is a breath-taking pageant contestant—two teen girls who no one thought would even be friends. Yet, the two find themselves drawn to each other with undeniable chemistry when Morgan shows up as the new girl. Morgan is proud to be an out lesbian, but is struggling with a painful transfer due to discrimination from her former Catholic school. Ruby, on the other hand, is living out her former beauty queen mother's dissipated dreams to earn a pageant title—though she would much rather be working on antique cars. Both Morgan and Ruby feel stuck in a rut with the hands they've been dealt but begin to imagine themselves with futures they hadn't thought possible.
Some Girls Do captured my attention in record time—an athlete and a beauty queen struggling to deal with budding feelings for each other? Of course I'm interested! And I have read a lot of queer romances, but one element in this novel that stood out to me was how Jennifer Dugan wrote Ruby and Morgan to have different experiences with queerness. Morgan had a supportive family and easily came to terms with being a lesbian publicly, but she still struggled with bullying and harassment in several instances. Ruby did not have the same support system and kept her feelings for Morgan wrapped up very tightly, reflecting a lot of the repressed emotions and trauma of her background. Many of the side characters also provided some representation to show queerness isn't a universal experience. I also loved the delicate, tentative nature of the relationship between the two, and the tension created by the yearning, dual-POV narration kept me wanting to read more. For a tender and profound queer romance that makes your heart ache, pick up a copy of Some Girls Do for your next summer read.
PRR Assistant Director, Grace Kennedy