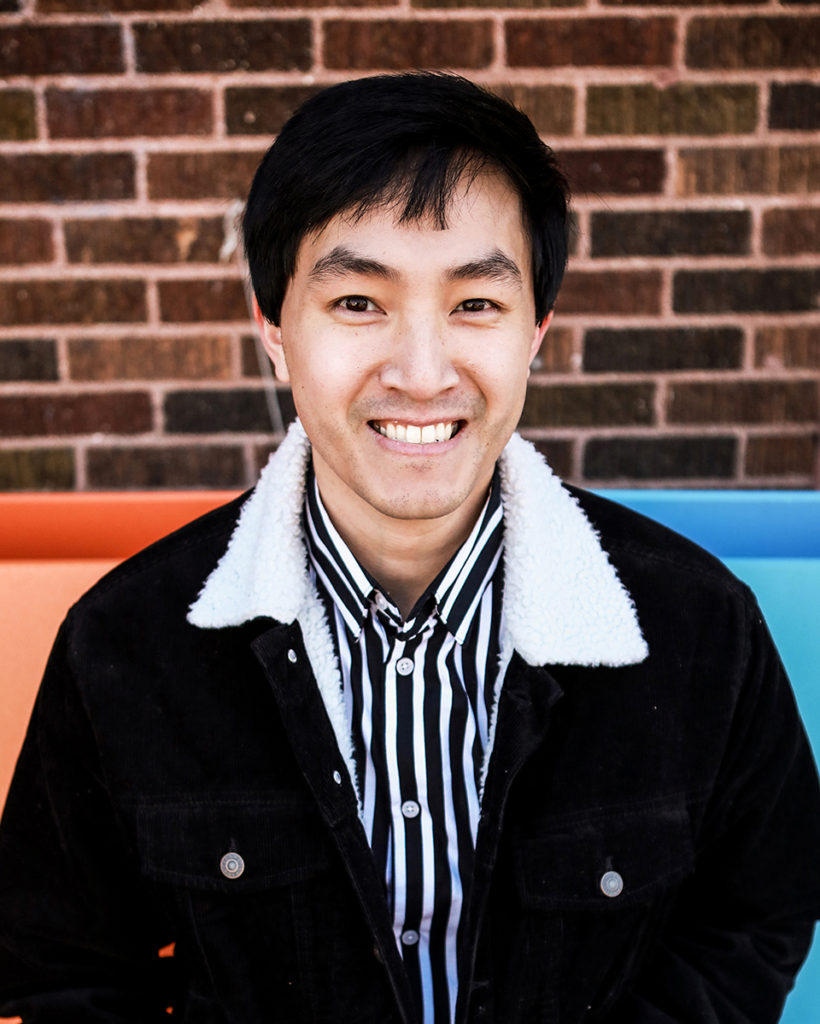 Spoiler alerts ahead for The Magic Fish!
About the Author: "Trung Le Nguyen, also known as Trungles, is a Vietnamese-American comic book artist and storyteller from Minnesota. He was born in a refugee camp somewhere in the Philippine province of Palawan.
Trung has contributed work for Oni Press, Boom! Studios, and Image Comics, largely in the romance genre. His first original graphic novel, The Magic Fish, is due out October 13, 2020 through Random House Graphic, an imprint of Penguin Random House.
Trung currently lives in Minneapolis, Minnesota and raises three very spoiled hens. He is particularly fond of fairy tales, kids' cartoons, and rom-coms of all stripes." (Bio taken from the author's website).
Instagram: @trungles
Twitter: @Trungles
Website: http://www.trungles.com/
---
A huge thank you to Trung Le Nguyen for the following interview on his debut graphic novel,  The Magic Fish (Random House Graphic, 2020), out now! In this interview Trung and I discuss his graphic novel, drafting process, art style, past work and themes such as belonging, immigration and identity. We also gush about his chickens, the Christmas season, holiday movies and Trung's upcoming project! 
Make sure to check out our review of The Magic Fish here!
---
---
Note: We've only highlighted select questions and answers from Trung and Jackie's discussion. Experience the full interview above! 
Jackie Balbastro: There are themes of great loss, queerness, immigration and xenophobia in the case of Tien's school intruding on his life. When it comes to that part of the book, which admittedly made me cry like a baby, was this a portion you knew was going to be a part of the story?
Trung Le Nguyen: Uh, I originally failed to anticipate that the story was gonna be very heavy. I came in and I was just like I'm gonna have a great time and just draw fairy tales cause that's the story that I love and maybe I'll make the main character somebody that, you know, young readers can really relate to and it'll be great and be fine and then I realized, you know, when you talk about immigration and when you talk about queerness especially like with a story, it's kinda a period piece, it takes place in 1998. The sort of and complete lack of agency is really harrowing for a kid and I think that was one of the things I really wanted to get across within the context of like an immigrant family and within the context of the time and the language barriers. Like that was something that I, you know, knew in my head, like intellectually, like this is sometimes a difficult topic and I was really wanting to tell the story from the perspective of the characters and not feel any pressure to educate or edify an audience about like "this is what an immigrant story is" or "this is what a queer narrative looks like". I just wanted to tell a story about a queer boy and his family and so when those themes kind of like pop up, it surprised me. I don't quite know how to sit with it at the time, so I kind of kept powering through and addressed things as they came along. I think as like, if you're any variety of marginalized creator whatsoever, like your story is your story. There are things that happen to you and they happen to you at eye level so you're not intellectualizing things all of the time. They just happen to be the things that you go through and that will resonate with you over the course of your life and so as I started to kind of go back over and run over those experiences again, um, I kinda had to really feel them again and that always was a bit of a surprise for me.
JB: I've read that The Magic Fish is a stand-alone and that you want to tell a story that is a much different tone. Where are you at in your next project and is there anything you can share?
TLN: Um, I don't know what I can and can't share about it actually. I don't think I have any kind of NDA because it's like it's my project I don't have to like keep anything a secret really, but my next book is just gonna be a pretty straight forward like teen romantic comedy. So it's gonna be, the characters will be a little older than Tiến. There will still be a lot of kind of family themes and there is going to be a fairy tale reference in it but I don't know how explicit I want to make it, that reference. So yeah, I'm really excited about it. It's about a girl who is in high school and she likes to keep herself really, really busy, in order to not deal with any of her feelings and so she's overcommitted and she has to find a way to make time for her friends and make time for her family so that she has an opportunity to develop meaningful relationships outside of just you know striving for her academic goals. So that's my next project and I'm really excited about it cause I really.. The Magic Fish wound up being so much more emotionally hefty than I thought it was gonna be and I just really wanted to spend a lot of time in a place where I could experience just a lot of joy and a lot of fun and so I just wanted to do a book that was straightforwardly fun.
PRR Writer, Jackie Balbastro