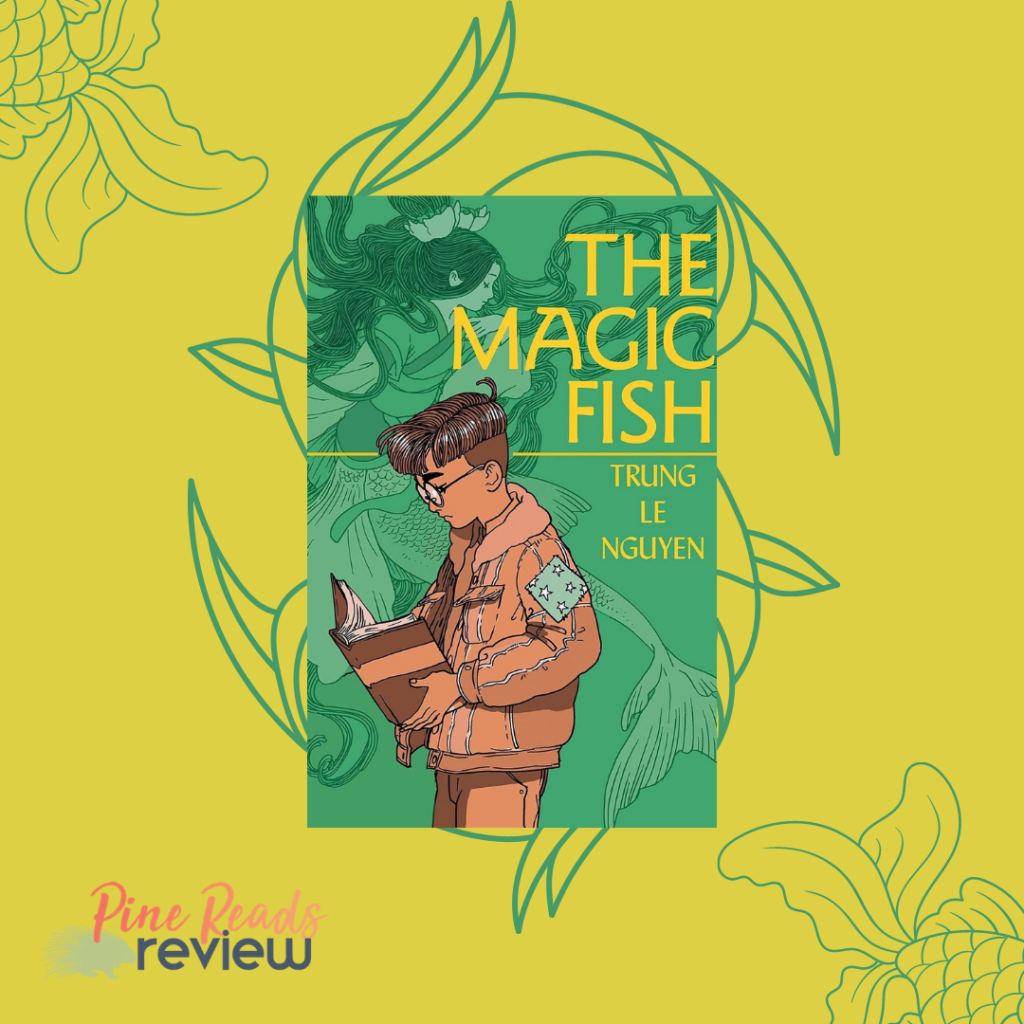 The Magic Fish by Trung Le Nguyen
Random House Graphic, 2020, 256 pages
Content Warnings:  Homophobia, cannibalism, mentions of death, murder, blood
About the Author: "Trung Le Nguyen, also known as Trungles, is a Vietnamese-American comic book artist and storyteller from Minnesota. He was born in a refugee camp somewhere in the Philippine province of Palawan. Trung has contributed work for Oni Press, Boom! Studios, and Image Comics, largely in the romance genre. His first original graphic novel, The Magic Fish, is due out October 13, 2020 through Random House Graphic, an imprint of Penguin Random House. Trung currently lives in Minneapolis, Minnesota and raises three very spoiled hens. He is particularly fond of fairy tales, kids' cartoons, and rom-coms of all stripes." (Bio taken from the author's website.)
Instagram: @trungles
Twitter: @Trungles
Website:http://www.trungles.com/
---
"The space between two shores is the ocean… and being caught between feels like drowning. And really, what is the point of tears among so much salt water?"
Tiến, a 13 year old boy, is gay and he's been keeping it a secret for a long time. He's not sure if he'll ever get the chance to come out to his parents or if there are even words in Vietnamese so he can tell them properly. He worries that everything will change if anyone ever finds out his secret, so he suppresses his feelings and internalizes his anxieties. Tiến has trouble communicating with his parents because they struggle with their English, but they find comfort when Tiến reads his favorite stories out loud to them. The fairy tales that this family share connect them and help them all navigate through life towards a happy ending.
This is a fantastic graphic novel not only because it's visually impeccable with incredible detail, but the text and the layered narrative are beautiful. I especially appreciate how the fairy tales are Vietnamese and to see the different iterations of the story depending on who is telling it. Emotion pours through the artwork in some truly heartbreaking moments that pushed me to tears. Fairytales are a way for us to connect to one another, and I personally love writing them and reading them, so coming upon this book made me so happy. This book interweaves the complexities of immigration, communication, sexuality, culture, and so much more that I was in awe when Nguyen literally drew the parallels between fairytales we know and love and our personal struggles. The sections dedicated to Tiến's parents' backstory are devastating to say the least.
This book includes fairy tale stories retold, but at the center is Tiến and his mother who have their own deeply personal fairy tale all their own. The end of this book absolutely wrecked me, and I am so grateful to have queer stories out there that hit on so many intersections of identity. The Magic Fish is a story that transcended any expectations I had, and I am so very excited to read more from Trung Le Nguyen!
PRR Writer, Jackie Balbastro
For more of my thoughts on fairy tales and Cinderella retellings, specifically, check out the roundtable I did with Hannah and Wendy here!