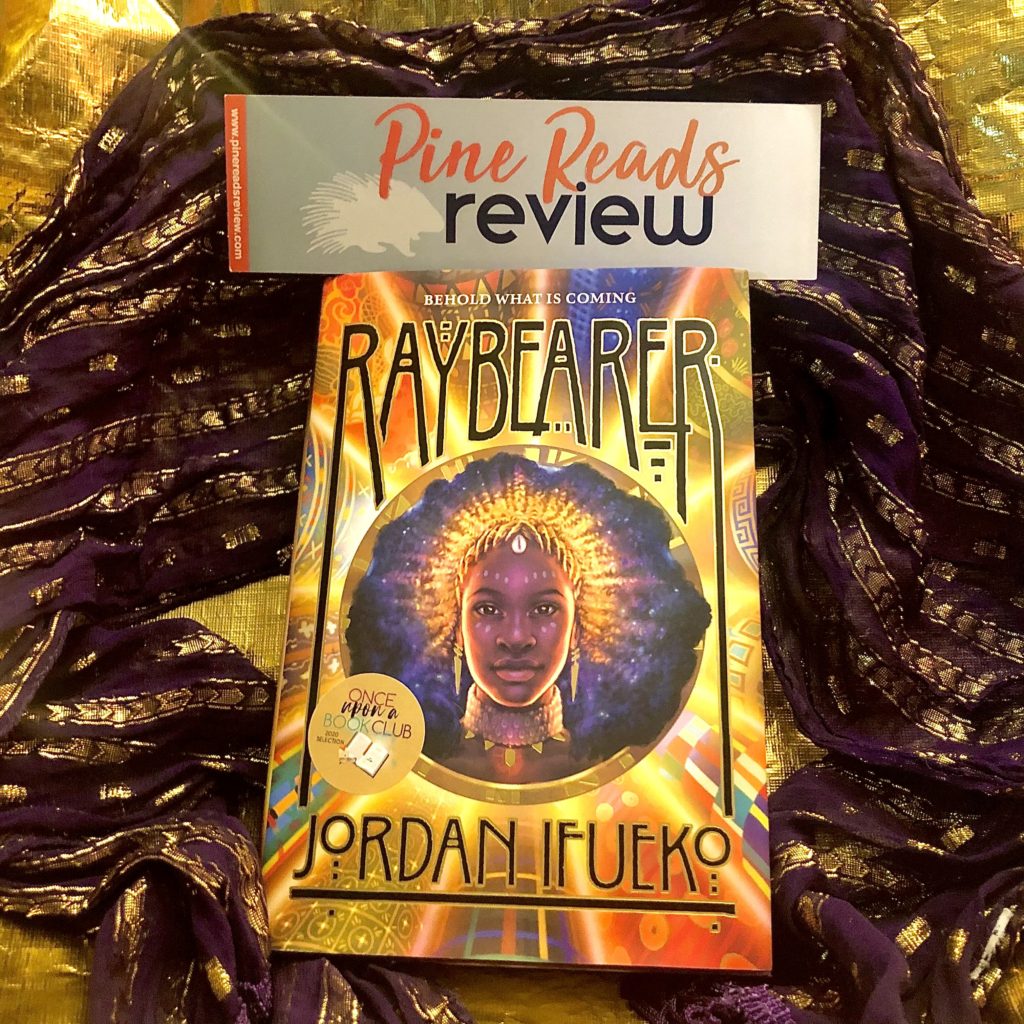 Raybearer by Jordan Ifueko
Amulet Books; 2020; 343 pages
Content Warnings: Intimate scenes, fire, violence, death, emotional abuse
About the Author: "Jordan Ifueko grew up under a blanket fort, eating fried plantains and reading comic books. Eventually, she switched the comics for a tea-stained notebook. She now lives in Los Angeles with her husband, David, and their collection of Black Panther Funko Pops." (Bio taken from the back of Raybearer.)
Website: https://jordanifueko.com
Instagram: @jordanifueko
Twitter: @jifueko
Facebook: @JordanIfueko
Hashtags: #Raybearer #JordanIfueko #yafantasy
---
"'You don't have to help me change the world. But mark my words; when I get going, this world will change. And you can be part of that…or you can stand back and watch.'"
The one thing Tarisai wants more than anything in the world is a family. Brought up alone in a house no one can see or hear with only her often-absent mother, Tarisai longs to meet other children and be part of something. At only eleven years old, she is sent to the capital to take part in a competition to become one of members of the Crown Prince's Council of Eleven. If chosen, she and the other Council members will serve the Prince and each other for the rest of their lives. However, through a cruel twist of fate, Tarisai's mother sends her with a magical order Tarisai must obey: Earn the trust of the Crown Prince, and then kill him. Desperate not to carry out her mother's wish, Tarisai embarks on a journey to discover who she truly is and what her purpose in life will be.
Author Jordan Ifueko has crafted a beautiful book with alluring prose and characters that leap off the page. The world-building is exquisite and so detailed that by the end of the book, I felt as if I could travel around the empire of Aritsar myself and not get lost. The magical elements of this world were very well established and easy to understand, and I loved discovering more about them as the story progressed. Tarisai is a fantastic heroine who isn't afraid to stand up for what's right, even if everyone else sees her as only a woman. The story traverses several years, and we follow her as she grows older and begins to see the world through new eyes. I especially enjoyed the romance, and I can't wait to see how it will grow and develop in the second book. Raybearer is perfect for fans of magic, fantasy, and adventure.
PRR Writer, Wendy Waltrip
Pick up your copy today!