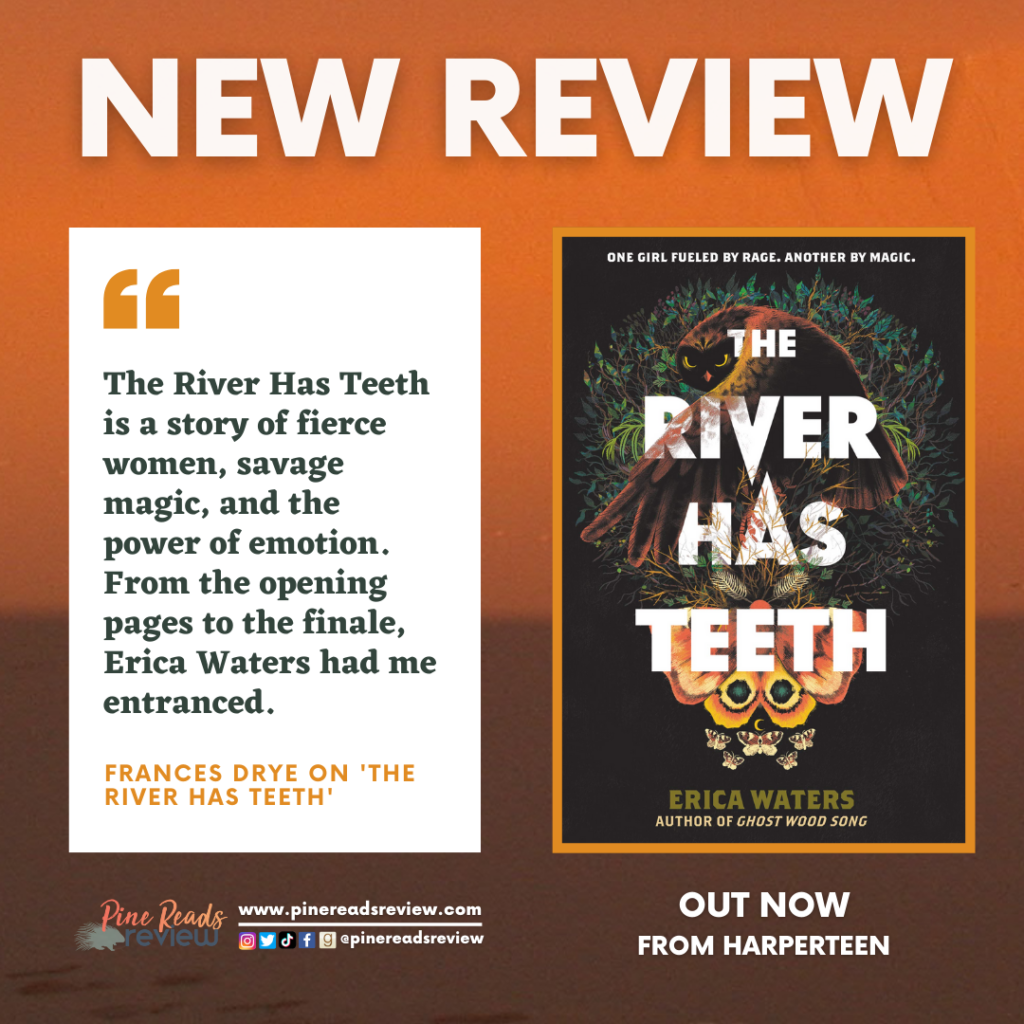 The River Has Teeth by Erica Waters
Out Now from HarperTeen; 390 pages
Content Warnings: Domestic violence, sexual assault (mentioned), drugging/roofies, abduction/imprisonment, use of weapons, violence against women, blood, death/dying, grief, animal attack, explicit language
About the Author: "Erica Waters grew up in the pine woods of rural Florida, though she now resides in Nashville, Tennessee. She has a Master's degree in English and works as a university writing tutor. When she's not writing books, you can find her hanging out with her two dogs, Nutmeg and Luna. Her debut novel, Ghost Wood Song, was a Bram Stoker Awards finalist and was nominated for YALSA's 2021 list of the Best Fiction for Young Adults. Her forthcoming books include The River Has Teeth and The Restless Dark." (Bio taken from author's website.)
Find Erica Waters on the following platforms:
---
"Here, we are witches and men are nothing. Here, the river has teeth."
After Natasha's sister goes missing on a mysterious local nature preserve called the Bend, the police's investigation provides no answers. Natasha is forced to look elsewhere in order to save her sister. She enlists the help of Della, a girl from a rural family of witches, desperately hoping that magic will help find her sister. Despite her stony demeanor, Della is not all she appears to be, and she quickly realizes that helping Natasha might mean destruction for her crumbling family. Both girls are desperate for answers, but the Bend has plans of its own.
Waters's haunting book transported me into Della and Natasha's world with its eerie atmosphere, haunting mystery, and hardened yet hopeful main characters. The River Has Teeth follows two young women who want to take power for themselves using any means necessary. Both girls showed that rage and grief have an important place in the fight for vengeance, and just how capable a woman can be. Though Della was tough and independent from the beginning, Natasha's character went through a transformation. She develops from a snotty rich girl into a ferocious witch capable of great strength. I could not put the book away, not only because of Della and Natasha, but because of the world of Waters's novel. The Bend's magic was not only musical and wild but sinister and creepy in all the best ways. The River Has Teeth is a story of fierce women, savage magic, and the power of emotion. From the opening pages to the finale, Erica Waters had me entranced.
PRR Writer and Editor, Frances Drye