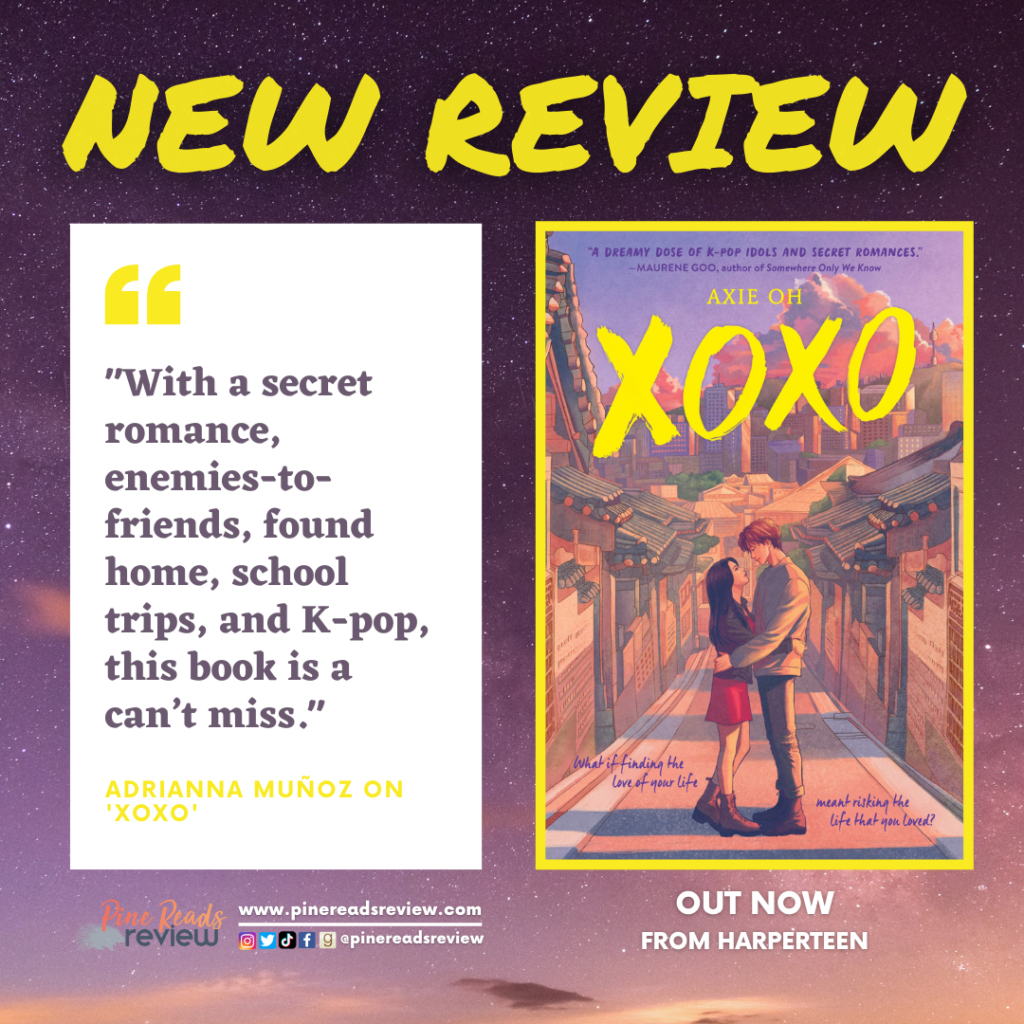 XOXO by Axie Oh
Out Now from HarperTeen; 337 Pages
Content Warnings: Death of a parent, bullying, paparazzi stalking, cancer and illness, hospitals, strained family relationships
About the Author: "Axie Oh is a first generation Korean American, born in NYC and raised in New Jersey. She studied Korean history and creative writing as an undergrad at the University of California – San Diego and holds an MFA from Lesley University in Writing for Young People. Her passions include K-pop, anime, stationery supplies, and milk tea. She currently resides in Las Vegas, Nevada with her puppy, Toro." (Bio taken from Author's website.)
Find Axie Oh on the following platforms:
---
"If cellists have fan clubs, Jenny, I want to join yours."
After meeting a strange boy, Jaewoo, in her uncle's karaoke bar, cellist extraordinaire Jenny's life changes. After Jenny's night of fun with Jaewoo, her mother makes the hasty decision to move back to South Korea to take care of the sick grandmother that Jenny has never met. But when she gets to Seoul, Jenny finds that Jaewoo is the beloved star of the K-pop group XOXO. Better yet, Jaewoo goes to her school. However, like most K-pop idols, Jaewoo is not allowed to date. Jenny has to decide whether to embrace the budding romance and hurt their careers, or walk away to go to her dream school, leaving her new home and all the friends she's made there, and letting Jaewoo's career thrive.
Axie Oh wrote one of the most wholesome and heartwarming stories I have ever read. XOXO is fun, sweet, and touching with its discussion of fame and how it affects those in the limelight. Oh teaches us about the intricacies of K-pop idols, how they get there, and what a regular day looks like for them. Although this book is marketed as a romance book, there is an overall focus on every relationship Jenny builds, not just the romantic one. Jenny finds herself gaining the trust of unlikely friends, and she makes the most of her time with them in Seoul. I found myself admiring Jenny's journey of finding a home in Seoul and finding the missing spark she needs to upgrade her cellist skills. Though she lived in the school dorms, she quickly felt a sense of belonging, one she never truly felt living back in LA. We experience a refreshing cultural immersion as we watch Jenny experience Seoul for the first time. With a secret romance, enemies-to-friends, found home, school trips, and K-pop, this book is a can't miss.
PRR Writer, Adrianna Muñoz