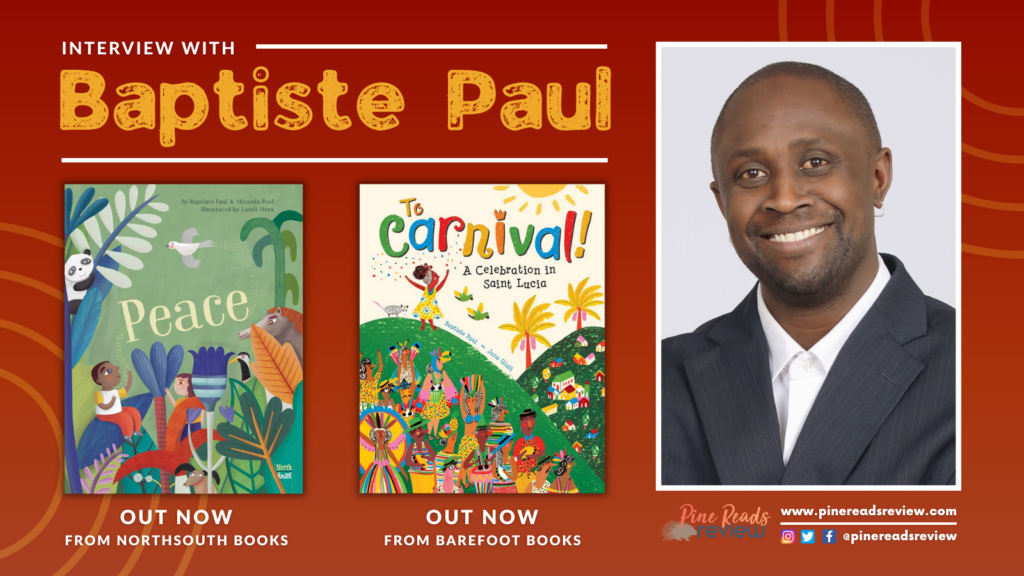 About the Author: "Baptiste Paul is a Caribbean-born children's book author. He is a native Creole/Patois speaker who enjoys sharing stories of his experiences with anyone who will listen. His debut picture book, The Field,was inspired by his childhood in St Lucia, and received starred reviews from Kirkus, The Horn Book, and Booklist. Baptiste's stories are fueled by his passion for diversity, inclusion, and uninhibited jwe (play)." (Bio and headshot from the author's website.)
Find Baptiste Paul on the following platforms:
---
A huge thank you to Baptiste Paul for the following interview where he speaks about his work as a children's author, future projects, and his most recent release from Barefoot Books, To Carnival!: A Celebration in Saint Lucia, illustrated by Jana Glatt. Read our review of this fantastic new picture book here. You can also find our review of the picture book Peace here, which Baptiste Paul co-wrote with Miranda Paul and was illustrated by Estelí Meza.
---
Hannah Miller: First off, thank you so much for taking the time to chat with me. I'm super excited to dive right in! Early 2021 has been quite a busy time for you as an author, as you've released not one but two new picture books since the start of the year: Peace, co-written with Miranda Paul and illustrated by Estelí Meza, and To Carnival!: A Celebration in Saint Lucia, illustrated by Jana Glatt. How are you celebrating both of these amazing works finally making it to shelves? As the author of numerous books, does each release feel different?
Baptiste Paul: When I think about celebrations, I think of friends, family, and maybe a cake. Since getting together is not the safest thing for us right now, I got myself excited about my new releases by listening to some reggae, soca and calypso music. However, my family and I celebrated by eating macaroons.
As a picture book author, you hope that the materials you create will be well received by kids and hopefully, adults as well. The years of research and writing boils down to a single moment — release day. With each new release, I wonder if people are going to be as excited as I am about this book. So far, the reviews for Peace and To Carnival have been very positive.
I would say that each release is a little different. Prior to the pandemic, I would be at schools presenting to kids — signing at bookstores and festivals. Right now, I've turned to social media as the primary vehicle to drum up excitement about my work. Before, I would make an occasional online post but lately it's quite frequent.
HM: As revealed in an author's note, To Carnival! is a personal story since you actually grew up in Saint Lucia. What was it like bringing aspects of your childhood to life on-page, particularly Carnival season?
BP: In many aspects, I would say that it's magical to see that part of your life on a page, but at the same time, it forces you to relive some uncomfortable moments. As a child, my family struggled. Those struggles did not define me. In my story To Carnival, my protagonist, Melba, overcame many challenges on her way to carnival. Her journey, her struggles, and her resilience in many ways are similar to my own experiences.
HM: Your debut picture book, The Field, also takes place in Saint Lucia and explores similar themes of play, joy, and community, though it does so through the lens of futbol. Is this a deliberate thematic thread in your work? What inspires you to write such uplifting and exuberant stories for young readers?
BP: Yes, I would say it's a deliberate thematic thread simply because I matter. I want kids who look like me and grew up like me to know that they matter as well. The themes of play, joy and community is central to how I grew up. My inspiration, would definitely be my childhood experiences. I wrote those stories because when I reflect back on my childhood years, there were lots of playful and joyous moments in the midst of the poverty my family experienced.
HM: Another central focus of your work is the environment. Peace, for instance, empowers readers to take steps, both big and small, to foster peace around the world and in turn protect nature from violent human conflict. While COVID has largely prevented travel, what's your favorite outdoor place to visit? And if you could say one thing to young environmentalists everywhere, what would it be?
BP: If I could visit the Grand Canyon every single day I would. But currently, I take comfort and joy walking along the creek in my backyard and listening to the wildlife. This past week, I placed signs that notify others that there is wildlife nesting nearby, so others will respect and appreciate nature just like I do.
My biggest piece of advice I would give to young environmentalists everywhere, is that you are never too young to take action.
HM: Lastly, what's next for you? Do you have any projects coming down the pipeline that you can speak about?
BP: I am always working on new materials. Up next for me is a book called Climb On. This book is also about my experiences growing up in St. Lucia. There are a few more projects that I'm working on, but since they are under contract, I can't share the details yet. Stay tuned! There will definitely be more books by Baptiste Paul in the future.
PRR Assistant Director, Hannah Miller