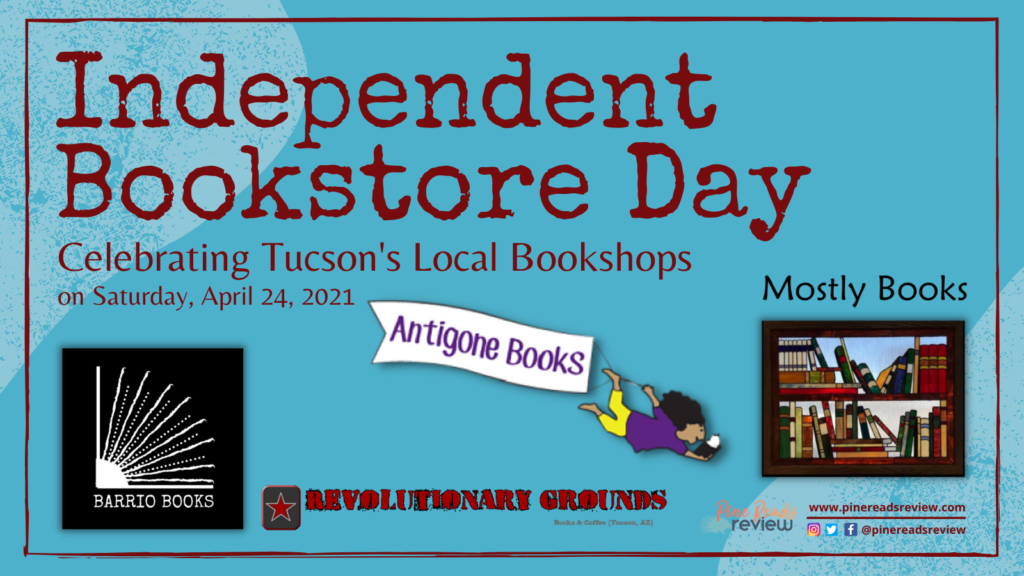 With the days warming up but still cool enough to enjoy, it's the perfect time to sit outside with a good book. And there's no better day to purchase all of your TBRs than on Independent Bookstore Day. This April 24th, support local bookstores by shopping online or in-person. We've compiled a list of some of our favorite local bookstores in Tucson. Check them out below! 
NOTE: This isn't a comprehensive list of bookstores in Tucson and is in no way representative of all the available vendors. 
---
411 N 4th Ave, Tucson, AZ 85705 
"In 1973, three women opened Antigone Books and named the bookstore after the Greek mythological character who stood her ground against male authority figures. Kate Randall and Trudy Mills owned the store for about thirty years," states the official Antigone website when speaking to its origins. In 2018, Antigone employees Morgan Miller, Melissa Negelspach, and Kate Stern purchased the bookstore and continue to run it today.
Described by their Facebook as "a zany bookstore with a feminist slant," Antigone is open to the public with a wide selection of literature. You can call 520-792-3715 or email info@antigonebooks.com to schedule an appointment to shop in-person. 
Follow them on Facebook for more information and updates on future author readings/release events.
---
720 W Silverlake Rd. Tucson, AZ 85713
As stated on their website, Barrio Books strives to "promote cultural representation for all ages and carry a great selection of hidden gems as well as well-known authors and titles in both English and Spanish. We promote the sacred knowledge of our cultura and of our beautiful community. On January 2nd, 2021 we opened our Brick and Mortar location in a partnership with Hotel McCoy. Today, we stay true to our vision as well as expand our inventory to other POC authors, Best Sellers and Local Authors."
Looking to support Latinx and BIPOC authors, some of whom are Tucson locals? Interested in bilingual books? Pay Barrio Books a visit over at Hotel McCoy and check out their diverse selection of literature. 
---
6208 E Speedway Blvd Tucson, AZ 85712
According to their Facebook, Mostly Books is a local independent bookstore that sells new and used books, greeting cards, t-shirts, and gifts. They offer the Book Lover's Surprise Monthly Subscription, which ships members a new staff-picked book on a monthly basis. They also offer the Younger Book Lover's Surprise for those who prefer children's, middle grade, and YA novels.
Looking to read and discuss books with others? Mostly Books has moved its book club to a virtual setting, so members can join from home. Check their website or social media for more information!
---
4675 E Speedway Blvd. Tucson, AZ 85712
As stated on their Facebook, Revolutionary Grounds Books and Coffee is "a revolutionary bookstore and cafe with shade-grown, organic, better-than-fair-trade coffee and delicious vegetarian and vegan food (we also have some meat options for those who are into that sort of thing). Libros en español para jóvenes y adultos."
When asked about future and current initiatives, Revolutionary said, "we plan to have a dedicated children's section, with a small table and activities, so that adults can enjoy their coffee and peruse the books knowing that their young ones are in a welcoming and safe space. Once we are able to open the full space, we will have a fabulous children's and YA literature section, with an emphasis on bilingual books, including indigenous language books, as we had in our previous location. We will also have author events, art events, and poetry events for all ages." 
Happy shopping on Independent Bookstore Day! Be sure to check out our other blogs/reviews for book recommendations.
PRR Writer, Kevin Sanchez