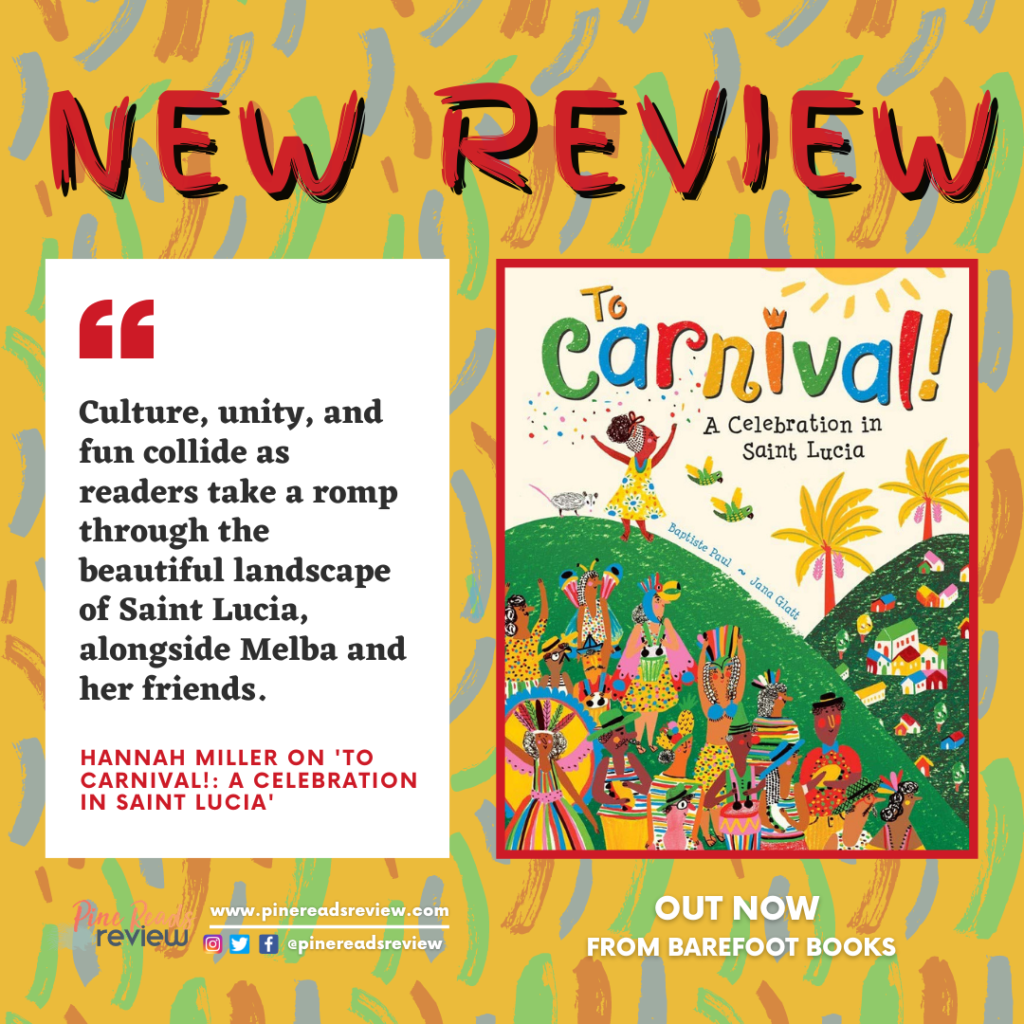 To Carnival!: A Celebration in Saint Lucia by Baptiste Paul
Illustrated by Jana Glatt
Barefoot Books; 2021; 32 pages 

About the Author: "Baptiste Paul grew up in Saint Lucia and now lives in Wisconsin, USA. As he was never able to participate in the Carnival parade when he was young, this book brings one of his childhood dreams to life. He is very happy to bring readers along for the ride too! Baptiste is the author of several other books for children." (Bio from the jacket copy of To Carnival!)
Find Baptiste Paul on the following platforms:

About the Illustrator: "Jana Glatt remembers participating in the professional parade of Samba Schools with all her friends. Whether creating costumes for Carnival or illustrations for books, she enjoys experimenting with bright palettes, prints, hats and more. Jana has illustrated more than twenty books. She lives in Rio de Janeiro, Brazil." (Bio from the jacket copy of To Carnival!)
Find Jana Glatt on the following platforms:
---
"One excited girl heads out the door, with two E.C. dollars in hand. 'To Carnival!' Along the road, everything reminds Melba of Carnival." 
Melba can't wait for Carnival in Saint Lucia—a seasonal celebration of community and traditional cultures that takes place in over fifty countries around the world. But when a series of mishaps makes Melba miss her ride to the Carnival parade, she must adapt to the unexpected as new and old friends join her along the way. As she makes her way from the countryside to the city, Melba learns that Carnival is less about where you are and more about who you spend it with.
From award-winning children's author Baptiste Paul and illustrator Jana Glatt comes a new picture book all about the spirit of Carnival. Culture, unity, and fun collide as readers take a romp through the beautiful landscape of Saint Lucia alongside Melba and her friends. The back matter explores the history and significance of this yearly tradition, the geography of Saint Lucia, and information on the Creole language. Paul's voice is rhythmic and lyrical, relaying the beauty and magic of Carnival with a deft touch. Glatt's illustrations burst with color, vibrance, and movement, framing each page as a celebration in and of itself. Together, they make To Carnival!: A Celebration in Saint Lucia a must-read for readers everywhere.
PRR Assistant Director, Hannah Miller