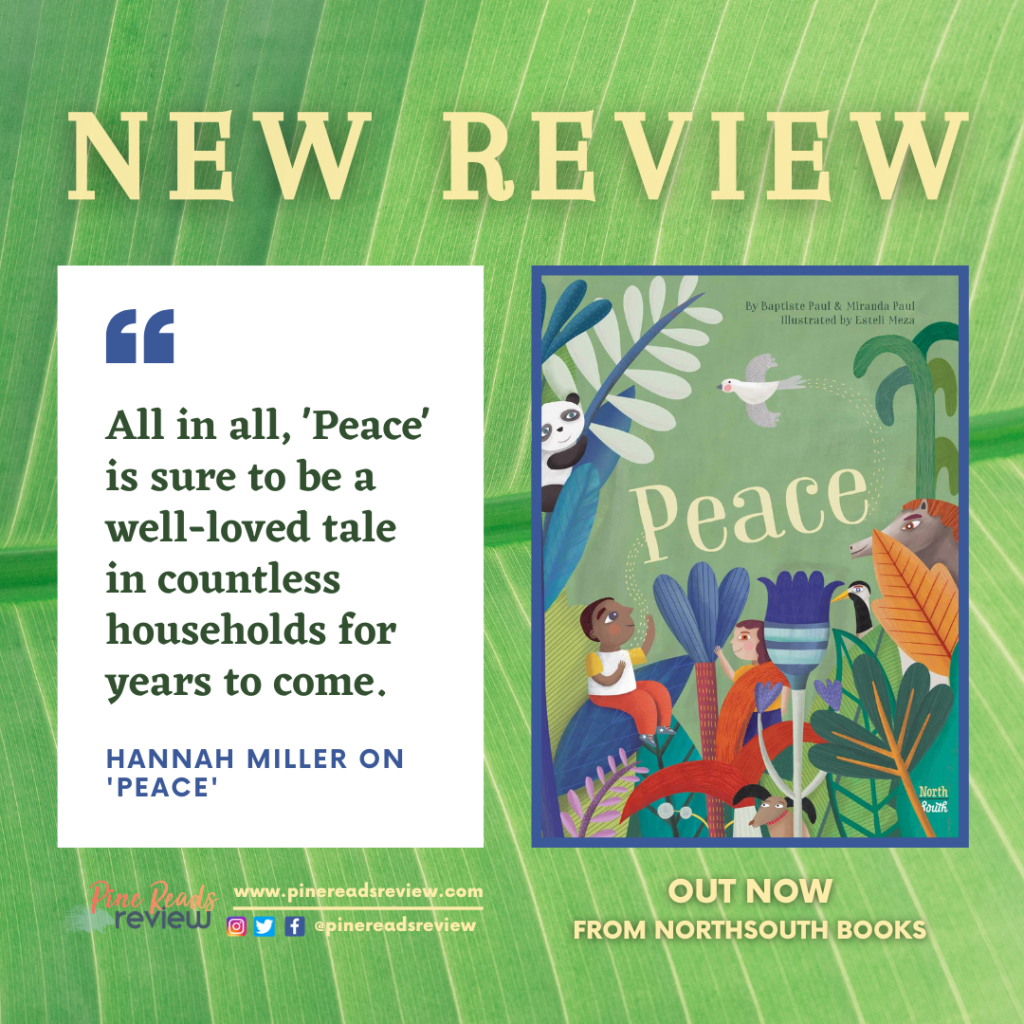 Peace by Baptiste Paul and Miranda Paul
Illustrated by Estelí Meza
NorthSouth Books; 2021; 40 pages
About the Author: "Baptiste Paul grew up in Saint Lucia. He loves sports, likes to roast his own coffee, and grills. His first book for NorthSouth was "The Field," winner of the Sonia Lynn Sadler Award, a Junior Library Guild selection, as well as appearing on the Horn Book Fanfare Best of 2018, the School Library Journal Best of 2018, and the CCBC 2018 Choices lists." (Bio from the jacket flap of Peace).
Website: https://baptistepaul.net/
Twitter: @baptistepaul
Facebook: @BaptistePaulAuthor
Instagram: @baptistepaul77
---
About the Author: "Miranda Paul has written more than a dozen children's books and has received several international awards. She is a founding member of the organization We Need Diverse Books and lives with her family in Wisconsin, USA." (Bio from the jacket flap of Peace).
Website: http://mirandapaul.com/
Twitter: @Miranda_Paul
Facebook: @AuthorMirandaPaul
Instagram: @mirandapaulbooks
---
About the Illustrator: "Estelí Meza grew up surrounded by books and was already developing an early love for illustrations. In 2018 she was awarded the A la Orilla del Viento, Mexico's most important picture book award. Today Estelí lives in Mexico City, spends her time drawing, and always has a notepad and pen in hand." (Bio from the jacket flap of Peace).
Website: https://estelimeza.com/
Twitter: @esteliilustra
Instagram: @estelimeza
---
"Peace is on purpose. Peace is a choice. Peace lets the smallest of us have a voice."
In their newest picture book, award-winning author-duo Baptiste Paul and Miranda Paul explore the many powerful forms and effects of peace. From pronouncing a friend's name correctly to giving more than we take, peace is made up of innumerable actions both big and small, bold and quiet; because peace isn't just about "getting along" but fostering the connections between us with kindness, empathy, and action. Rather than being a passive state, peace is an active decision, one that not only impacts the world around us but has the potential to bring us all closer together.
By the time readers finish this tender story, they will no doubt flip back to the beginning and start again, simply to re-experience the inspiring text and magical visuals. Lyrical rhyme pulls readers from page to page with soothing rhythm, making Peace perfect to read aloud. Estelí Meza's colorful illustrations bring vibrant life to every moment, depicting comforting scenes of children interacting with animals from around the world. As explained in an author's note at the end, studies have shown how violent human conflict influences our environment; thus, in pursuing peace, we can also protect and preserve nature and its animal inhabitants. All in all, Peace is sure to be a well-loved tale in countless households for years to come.
Peace is also available in Spanish and German translations.
(Pine Reads Review would like to thank NetGalley and the publisher for sending us an ARC in exchange for an honest review. Any quotes are taken from an advanced copy and may be subject to change upon final publication.)
PRR Assistant Director, Hannah Miller