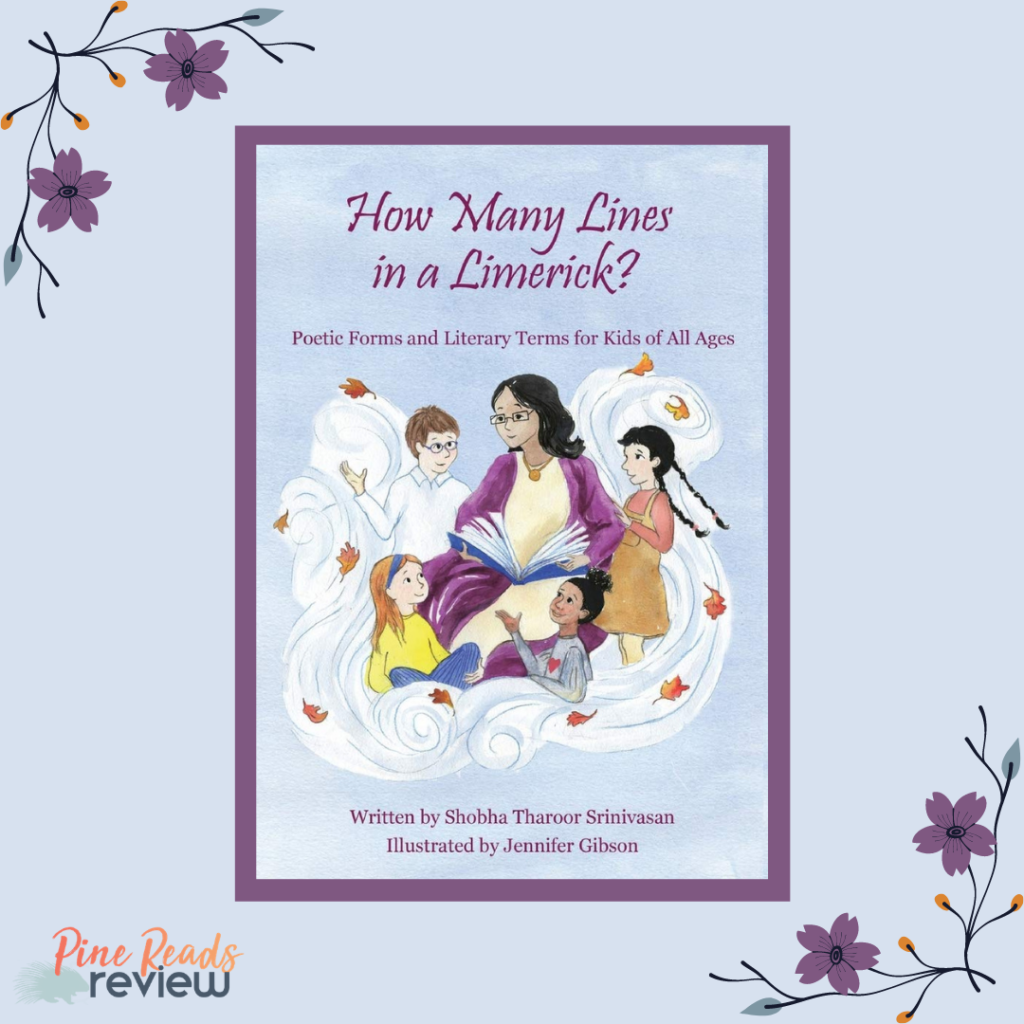 How Many Lines in a Limerick?: Poetic Forms and Literary Terms for Kids of All Ages by Shobha Tharoor Srinivasan
Clear Fork Publishing, Releases September 15th 2020, 40 pages
Trigger Warnings: NA
About the Author: "Shobha Tharoor Srinivasan is a California-based children's author, professional voice talent, poet, and translator who came to this second career from the world of non-profit, where she spent two decades using her words to bring funds to disability initiatives. Her voice can be heard in documentaries, educational and journalistic initiatives, and audio books, both in India and the United States, and her essays and stories have appeared in publications including India Currents, Skipping Stones, and Scroll.in. She has published five children's books in India with DC/Mango Books and Tulika, and her work was anthologized in A Hug for the World (Clear Fork Publishing). All proceeds from that volume were for victims of Hurricane Harvey. Indi-Alphabet was published in 2018 by Mango & Marigold Press (formerly Bharat Babies) and was recognized with a Purple Dragonfly Award for Diverse Literature. How Many Lines in a Limerick? (Clear Fork) will be available on September 15, 2020. A children's book on the artist Raja Ravi Varma is forthcoming from Westland Publishing. You can learn more about her at www.shobhatharoorsrinivasan.com" (Bio provided by the author)
Website: www.shobhatharoorsrinivasan.com
Twitter: @ShobhaTharoor
Instagram: Shobha.ts
Youtube: https://www.youtube.com/channel/UCe4IB2mFfUyAm0SNu8GFZvg
Hashtags: #Poetrychallenge #instapoetry #shortreads #whattoread #Fridayreads #kidspoem #childrenspoetry
"Your loving hug wipes away my tears / Your smile makes me smile back as well. / When I'm alone, if you're there / Things seem so much better. / Friends are not just fun. / They brighten days. / They fill hours. / And bring. / Joy."
Rhyming, framing, and word finagling are just a few of the several concepts that go into the creation of poetry, all of which are demonstrated by author Shobha Tharoor Srinivasan as she guides readers through various poetic forms. From sonnets in Iambic Pentameter to limericks and villanelles, the picture book How Many Lines in a Limerick?: Poetic Forms and Literary Terms for Kids of All Ages illustrates each type of verse with a poem written in the same style. 
By explaining various poetic forms through this method, readers are able to truly examine poetry in a way that is both engaging and easy to understand.
Whether you're a young reader interested in verse, a parent looking for a fun-filled way to explore poetry with your kids, or rhyme-enthused college students like us, How Many Limes in a Limerick? not only teaches readers about this form of writing, but also includes poems that tell heartwarming and charming stories—some of our favorites include "Living Situations" and "My Friend." So, are you ready to learn about the foundations of poetry in a more creative way? Then don't miss this magnificent new picture book, out today!
(Pine Reads Review would like to thank the author and publisher for sending us an ARC in exchange for an honest review. Any quotes are taken from an advanced copy and may be subject to change upon final publication.)
PRR Co-Assistant Directors, Julian Esquer and Hannah Miller