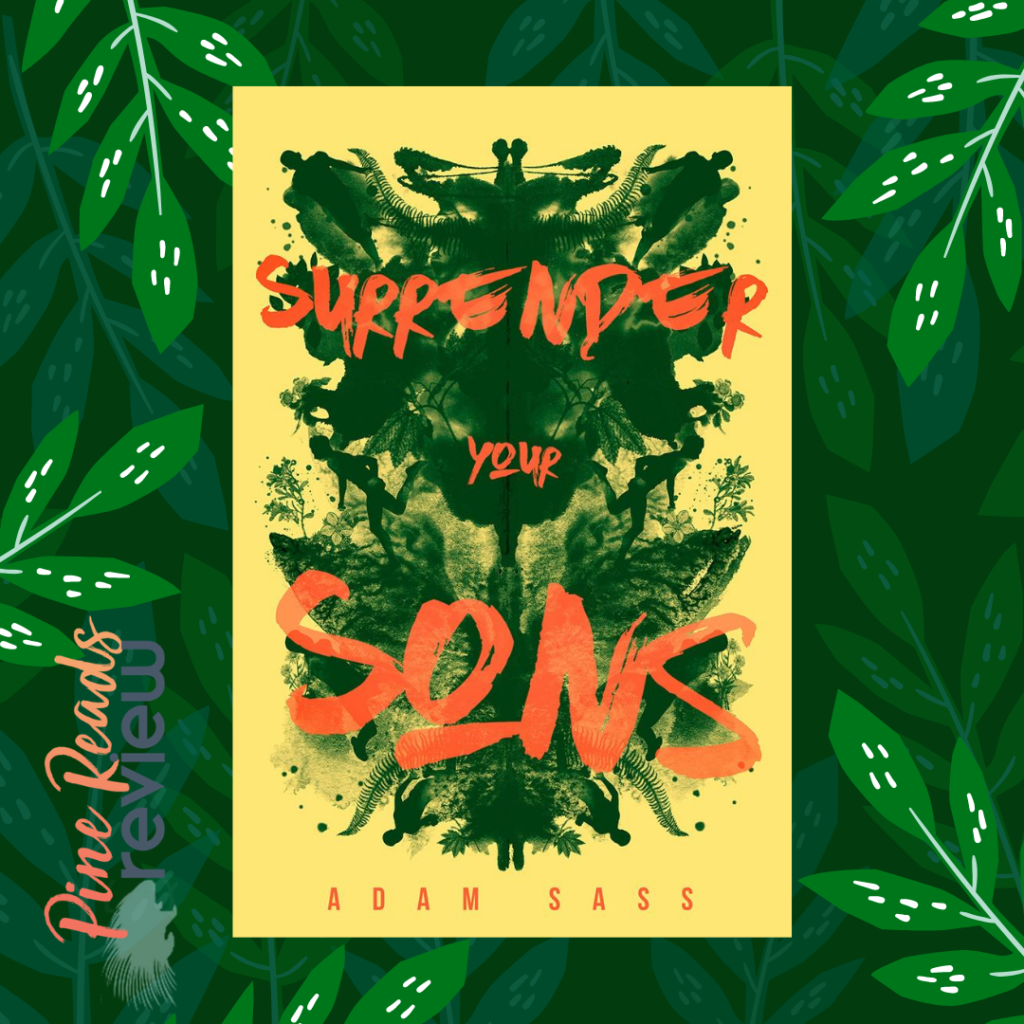 Surrender Your Sons by Adam Sass
Flux, Releases September 15th 2020, 392 pages
Trigger Warnings: conversion therapy camp; kidnapping; internalized queerphobia/extreme religious queerphobia; suicide; queerphobic emotional and physical abuse/violence; queerphobic slurs; anxiety attacks; murder; sexual content; swearing
About the Author: "Adam Sass began writing books in Sharpie on the backs of Starbucks pastry bags. He's sorry it distracted him from making your latte. Raised in an Illinois farm town, his desire for a creative career took him to Chicago, New York, Los Angeles, and currently, North Carolina, where he lives with his husband and dachshunds. His short story "98% Graves" was nominated by Writer's Digest for Best Science Fiction Story of 2015. A gay geek, he is also a recurring co-host on the popular Buffy the Vampire Slayer podcast Slayerfest98, alongside such special guests as Marvel's Agents of S.H.I.E.L.D. producer Drew Z. Greenberg and RuPaul's Drag Race winner Trixie Mattel. His debut YA novel SURRENDER YOUR SONS will release September 15, 2020 by Flux. He is represented by Eric Smith of P.S. Literary." (Bio taken from the author's website.)
Website: https://www.adamsassbooks.com/
Twitter: @TheAdamSass
Instagram: @itsadamsass
Facebook: @AdamSassBooks
Hashtags: #SurrenderYourSons
"Queer boys make cheesy coming out videos where their moms hug them, and dads are even starting to write blogs about taking the journey with their daughters as they transition. I know things are still bad for some queer people like me, but I thought it was getting better. This doesn't happen! It can't happen…"
After coming out to his religious zealot of a mother, Connor Major is kidnapped and sent to Nightlight Ministries, an island conversion camp near Costa Rica. Cut off from the outside world, his boyfriend, and any sense of safety, Connor must navigate this "Pray the Gay Away" fever dream he just can't seem to wake up from. When he teams up with the other queer campers, Connor might have an actual chance at escaping, and maybe even getting rid of this place once and for all.
As you probably guessed from its description, Surrender Your Sons is a grim story to digest—but, unfortunately, one that is all too real for many queer teens. The novel refuses to shy away from not just the mere existence of conversion therapy camps, but the horrific emotional and physical trauma inflicted by this detrimental practice—which is still yet to be banned statewide in 29 states in the U.S. Debut author Adam Sass explores the depths of queer suffering with scalpel-sharp precision and nuance as he peels back the proverbial curtain on Nightlight Ministries—no matter how painful a task this proves to be. At one point a Nightlight employee tells Connor that "this isn't Love, Simon"; and there is no question that Surrender Your Sons is cut from a far different cloth than this (relatively) fluffy queer rom-com. Happily ever afters and cute falling-in-love montages are replaced by creepy camp directors and a remote island hellhole.
But as much as Surrender Your Sons is a tale of queer pain, it's also a story about queer resistance, evoking a Hunger Games-level of adrenaline-inducing action and hard-fought rebellion against an oppressive regime. Ultimately, the survival of these queer teens rests in their communal uprising and mutual support— and nothing is more inspiring in an otherwise nightmarish scenario. All in all, Surrender Your Sons is a gripping and inventive addition to the young adult thriller genre.
Surrender Your Sons releases September 15th, 2020.
(Pine Reads Review would like to thank NetGalley and the publisher for providing us with an ARC in exchange for an honest review. Any quotes are taken from an advanced copy and may be subject to change upon final publication.)
If you want to learn more about the dangers of conversion therapy and what you can do to help outlaw this practice across the United States, visit The Trevor Project. You can also call the 24/7 TrevorLifeline (1-866-488-7386), or use their other digital crisis services, if you are a conversion therapy survivor or queer youth in crisis.
PRR Assistant Director, Hannah Miller