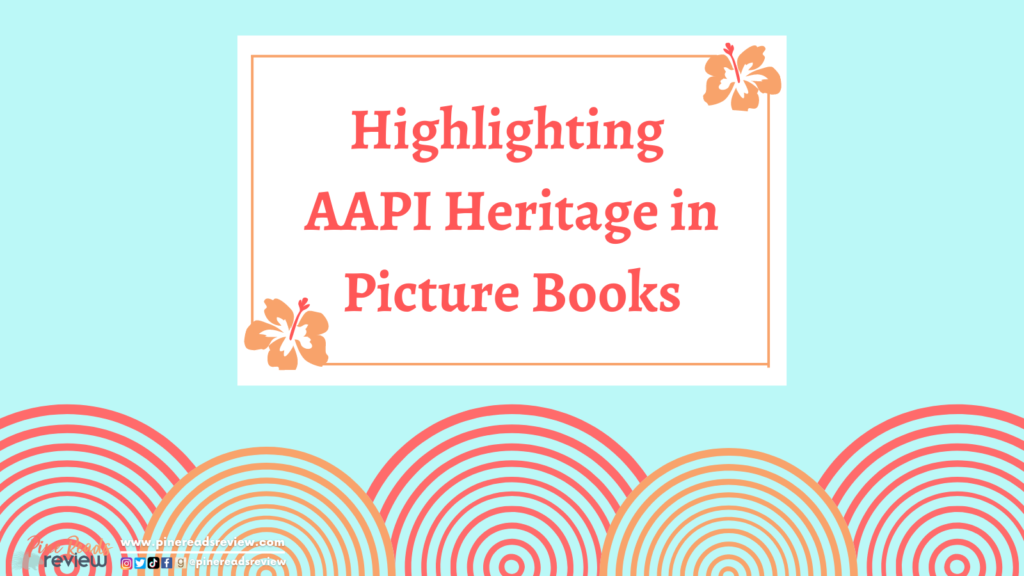 The month of May is recognized as "Asian American and Pacific Islander Heritage Month", or "AAPI Heritage Month". According to the Asian/Pacific American Heritage Month website, AAPI Heritage Month was dedicated to the month of May in honor of the first period of Japanese immigration to the U.S. in May 1843, and the transcontinental railroad's completion in May 1869 (Chinese immigrants were the majority of the workers). While these two events recognize specific East Asian ethnic groups and immigrants, AAPI Heritage Month celebrates all who identify as Asian, Asian-American, Native Hawaiian, or Pacific Islander. AAPI Heritage Month has also created some really neat opportunities for education, community involvement, and recognition of the cultures that brighten our world. I definitely recommend learning more about them this month!
In this blog, I want to highlight 12 recent picture books that feature various AAPI cultures and stories. The books include Chinese, Hawaiian, Vietnamese, Filipino, Bengali, Hmong, Japanese, Cambodian, Indian, Taiwanese, Pakistani, and Korean representations. These titles are definitely not the only picture books on Asian Americans and Pacific Islanders out there—it'd be impossible to name them all! Still, these are a great starting point for AAPI picture books recommendations. Happy reading, and happy AAPI Heritage month!
---
Written by Eva Chen & Illustrated by Sophie Diao
Feiwel & Friends, 2022

On the back cover of the book, I Am Golden is described as "An ode to the immigrant experience and a manifesto for Chinese American joy" —and I couldn't agree more! The story is narrated by Chinese immigrant parents talking to their daughter, Mei. Throughout pages of beautifully warm illustrations and vibrant colors, we see how Mei's parents encourage her to remember her family, her culture, and her power. I especially love that this book acknowledges the hardships of growing up as a Chinese American. Eva Green writes about the realities of the world with hope and compassion, making this story's message of empowerment all the more impactful. I definitely recommend this book for all of my Chinese American readers!
---
Written by Ilima Loomis & Illustrated by Kenard Pak
Neal Porter/Holiday House, 2020

'Ohana Means Family explores the importance of kalo, or taro, in Hawaiian culture and environment. Told in repeated verse, we learn how kalo is harvested and made into poi "for our 'ohana's lū'au." We also learn how kalo grows on the islands, and how the Hawaiian people have cultivated and cared for the land that provides for them. Kenard Pak's illustrations combine incredible textures and warm earthy tones to create stunning paintings that accompany Iluma Loomis' poetry. I was so drawn to the pictures in this story, as well as the unique building and breaking down of the rhyming text. I also loved that the reverence for Hawaiian culture and land is so abundantly clear in this story. Truly, a beautiful read!
---
Written by Mượn Thị Văn & Illustrated by Victo Ngai
Scholastic, 2021

Wishes is a powerful picture book told through simple text and detailed illustrations, relaying questions and emotions that accompany a refugee's journey. The story is told through the wishes of nonhuman characters, such as the night, the path, and the sun. These objects watch a family flee from their home and sail on a boat to a new place. In an author's note at the end of the book, Mượn Thị Văn shares how her own family left Vietnam as refugees. While the text of the story never specifically refers to Vietnam as the location, there are visual elements that point to this setting. Wishes is equal parts heartbreaking and hopeful, and a really impactful refugee story!
---
Written by Michelle Sterling & Illustrated by Aaron Asis
Katherine Tegen/HarperCollins, 2021
When Lola Visits is a book that highlights the love between grandmother and granddaughter. Lola (Tagalog word for "grandmother") always visits from the Philippines in the summer. She makes cassava cake and sings in Tagalog, tells stories of fishing and gathering fruit, and goes with her granddaughter around the city. Sadly, summer must come to an end. But, a special surprise helps keep the magic of Lola's visit going just a bit longer. There is so much to love about this story. The sensory descriptions are so on-point, and the illustrations perfectly depict the excitement of summer. The theme of grandmotherly love is also universal, and the incorporation of Filipino culture and Tagalog makes this story extra special!
---
Written by Radhiah Chowdhury & Illustrated by Lavanya Naidu 
Simon & Schuster, 2022

The Katha Chest tells the story of Asiya who loves to look at and learn about the history of her family's katha quilts. Katha quills are made from old saris that her nanu (grandmother), mother, and khalas (aunts) no longer wear. As Asiya explores the stories that surround the katha quilts, she learns how the family has gathered over the years, sharing tea, overcoming hardships, and remembering loved ones. Lavanya Naidu's unique illustrations depict the quilts with rich color and intricate detail, inspired by Bengali and Pattachitra folk art. Naidu's art pairs perfectly with Radhiah Chowdhury's sweet story. This book is beautiful and uplifting—a must-read for sure!
---
Written by Kao Kalia Yang & Illustrated by Khoa Le  
Carolrhoda Books, 2020

Based on Kao Kalia Yang's own experiences as a Hmong refugee, The Most Beautiful Thing tells the story of Kalia's family. Grandmother fled her home and immigrated with her siblings, creating a new life far away from her homeland. Grandma has endured many hardships: poverty, grief, and adjusting to a new world—though she has always remained strong. As Kalia reflects on how much Grandma has done for the family, and how the family cares for Grandma in return, she realizes the importance of gratitude and family appreciation. The Hmong people have a history filled with both triumph and tragedy. Yang's story shows the reality of this history from the refugee immigrant perspective, and it is so incredibly impactful to read. Khoa Le's illustrations are equally impressive, which makes the reading experience all the more beautiful!
---
Kiyoshi's Walk
Written by Mark Karlins & Illustrated by Nicole Wong
 Lee & Low Books, 2021

Kiyoshi's Walk is another wonderful story about grandparent/child relationships. This book also revolves around poetry! Kiyoshi, a young Japanese boy, sees that his grandfather is writing a poem and wonders "Where do poems come from?". Kiyoshi's grandfather, Eto, then takes Kiyoshi on a journey to explore the world around them through their senses. Together, Kiyoshi and Eto craft their own poem, born from their senses, imagination, and Eto's expertise as a poet. The back matter in this book also has information about haiku, a traditional Japanese poetry form. I love the sensory language in this book, and I love that this story shows kids how accessible poetry can be. For all my poetry-lovers out there, this book is for you!
---
Written & Illustrated by Huy Voun Lee 
Balzer + Bray, 2021

Inspired by Huy Voun Lee's own life story as a Cambodian refugee, Like a Dandelion is a tale of resilience and growth. A child and their caregiver come to the U.S., unfamiliar with the land or the people, and work to establish their own home in the states. The child comes to find their place, and the book ends on a sweet and hopeful note. The immigrant experience is likened to the life cycle of a dandelion, highlighted by Lee's use of bright colors and soft textures in the illustrations. Lee's illustrations also depict people of all kinds of skin and hair colors—a wonderful and visually diverse group of characters to underscore a heartfelt immigrant story!
---
Written by Rajani LaRocca & Illustrated by Archana Sreenivasan 
Harry N. Abrams, 2021

Where Three Oceans Meet is a story about intergenerational relationships spread across continents. Sejal, a young girl, is accompanied by her mother and grandmother on a trip to Kanyakumari, India. The trio all approach this trip with different expectations. Sejal is ready to explore all of these new cities. Mommy is revisiting the place where she grew up. Sejal's grandmother, Pati, is walking through already familiar locations. The family also eats various tasty foods, speaks in multiple languages, and visits neat places like famous Hindu temples. At its core, Where Three Oceans Meet is a story about familial love and return. With expressive and warm illustrations, Rajani LaRocca and Archana Sreenivasan's partnership has resulted in a really beautiful book. I totally recommend checking this one out!
---
Written by Livia Blackburne & Illustrated by Julia Kuo
Roaring Brook Press, 2021

While we have many immigrant stories, I Dream of Popo stands out as being about an emigrant's journey. Our main character is a young child who has moved to San Diego from Taiwan, though continually revisits Popo (the child's grandmother) back in Taiwan throughout the story. We see the family celebrate Chinese New Year with Popo, eating sweet and savory traditional dishes, and we see how the child and Popo stay in touch when they can't be together physically. The text and illustrations are heavily influenced by Livia Blackburne and Julia Kuo's experiences growing up as Taiwanese-Americans, which gives a very tangible soul to the book. This book also resonates a lot with my Taiwanese-American and Chinese-American friends, so if you identify with those (and even if you don't!), I can guarantee you'll love this book too!
---
Written by Shahzia Sikander and Amy Novesky & Illustrated by Hanna Barczyk 
The Museum of Modern Art, 2021
This book is a bit different from the other picture books—it's an autobiography! Shahzia Sikander is a Pakistani-American visual artist who is internationally recognized. Roots and Wings tells the story of Sikander's life growing up in Pakistan, showcasing the music, art, and theatre of the country. Sikander also relays the sensory aspects of Lahor (the city she was born in). Sikander writes of the hibiscus and jasmine flowers, bustling streets and markets, and Muslim practices and culture. I enjoyed not only reading about Sikander's childhood in Lahor, but seeing how the artist's words pair with Barczyk's illustrations. In my opinion, the two work in perfect tandem to create a truly stunning autobiographical picture book!
---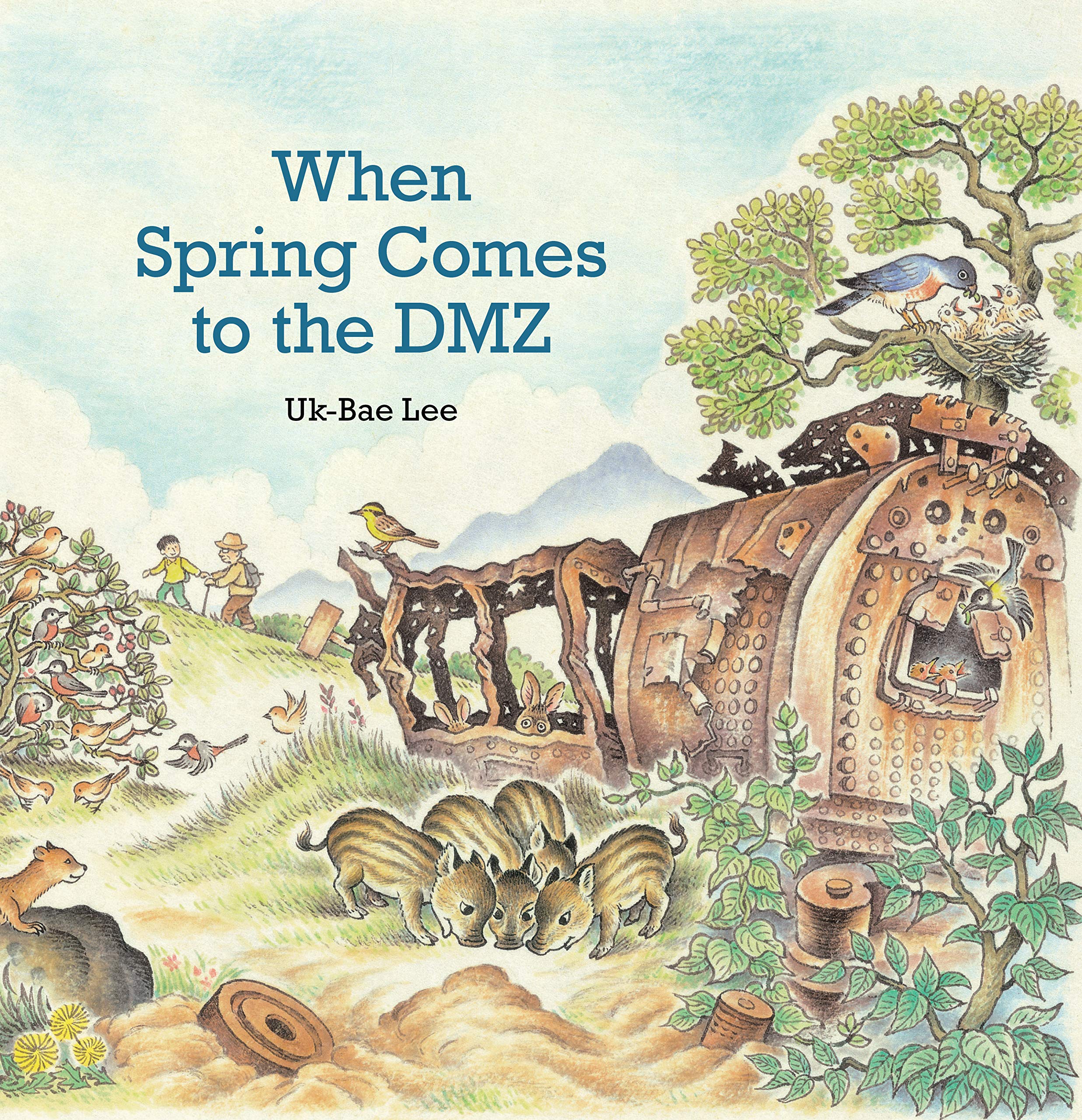 Written & Illustrated by Uk-Bae Lee
 Plough Publishing House, 2019

I am so happy to have come across this last book. When Spring Comes to the DMZ is a really unique story. Unlike the other books on this list, which are focused on people and culture, this book allows nature to take center stage. Set in the demilitarized zone in Korea, Uk-Bae Lee's book juxtaposes the renewal of nature with the destruction of war. The story does have an overall hopeful note, looking to a future where Korea may one day be peacefully reunified. While there are serious themes in this book, they are presented in a way that is very appropriate for kids. The detailed illustrations also have a very nostalgic quality, while maintaining a Korean art influence. I cannot express how much I loved discovering this book. It really is so special, from the setting to the subject matter. You have to read this amazing story!
---
PRR Writer, Erika Brittain