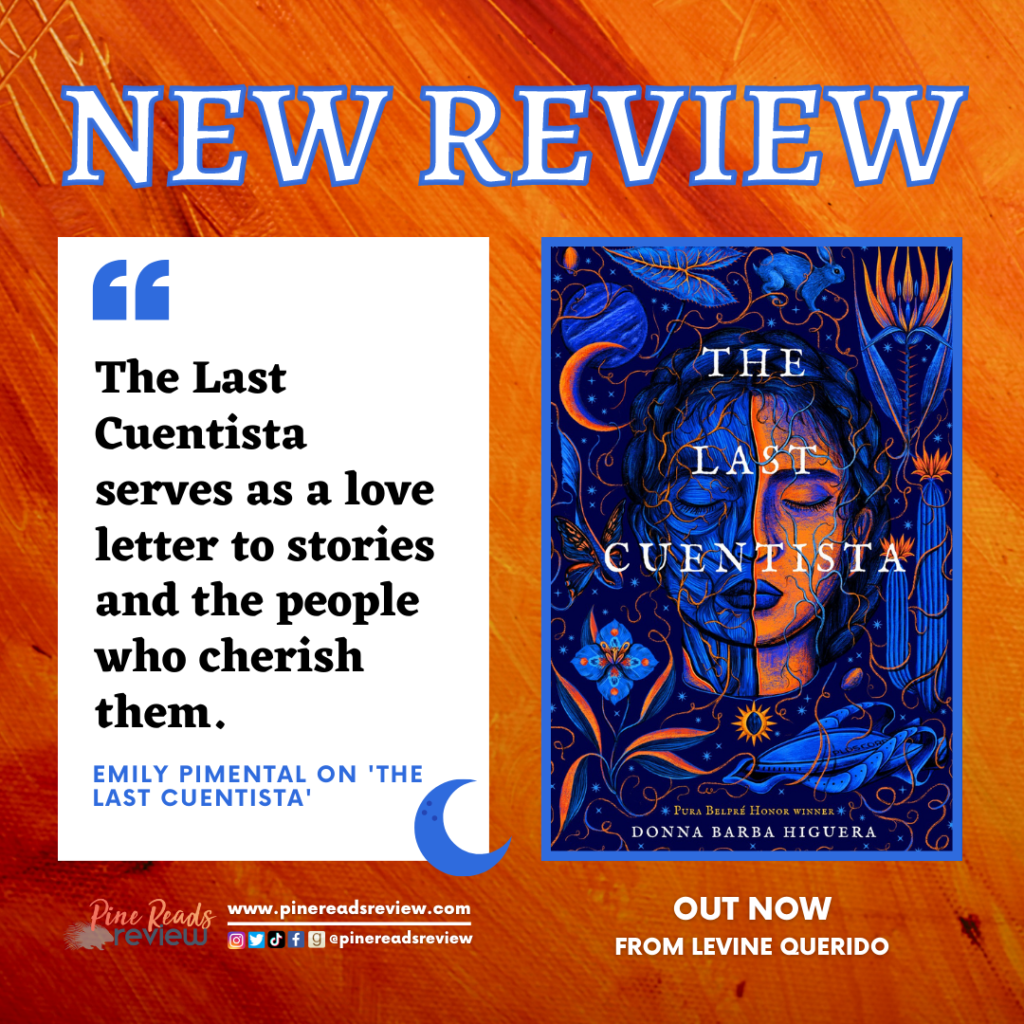 The Last Cuentista by Donna Barba Higuera
Out Now from Levine Querido; 336 pages
Content Warnings: Murder, death of a parent, death of a sibling
About the Author: "Donna grew up in central California surrounded by agricultural and oil fields. As a child, rather than dealing with the regular dust devils, she preferred spending recess squirreled away in the janitor's closet with a good book. Her favorite hobbies were calling dial-a-story over and over again, and sneaking into a restricted cemetery to weave her own spooky tales using the crumbling headstones as inspiration. Donna's Middle Grade and Picture Books are about kids who find themselves in odd or scary situations.​ From language to cultural differences in being biracial life can become…complicated. So like Donna, characters tackle more than just the bizarre things that happen to them in their lives. Donna likes to write about all things funny, but also sad, and creepy, and magical. If you like those things, she hopes you will read her books! Donna lives in Washington State with her family, three dogs and two frogs" (taken from author's website).
Find Donna Barba Higuera on the following platforms:
---
"Suma's eyes are still closed, and I can't tell if she's trying to forget, or to remember. Maybe stories are there to help us do both."
Twelve-year old Petra Peña's whole life is about to change. With a comet on a collision course with Earth, the only hope for human survival is for a select group to make the long journey to another inhabitable planet. Petra, alongside her younger brother and scientist parents, is set to leave everything she knows and loves behind to travel on a spaceship in a sleeplike state. But then, something goes wrong. Petra awakens hundreds of years in the future to find that a group called the Collective has taken control of the ship, and wiped everyone else's memories of life on Earth. Isolated in a strange new world, Petra must find a way to save those she can and escape the Collective's control before it's too late.
The Last Cuentista is an intense and, at times, terrifying story. My heart was pounding almost constantly while reading, which made this book impossible to put down. Reminiscent of The Giver, Higuera's novel explores the idea of what makes an ideal society and what people are willing to sacrifice to achieve it. There's so much to examine and discuss in this book, and I think it would make an excellent novel to read in a classroom setting. I loved that a central theme of the novel is the importance of stories, folklore, and culture. Spanish words and phrases are woven into the story, highlighting Petra's connection to her Latin American culture. This was especially powerful in contrast with the Collective's attempts to erase all diversity. Throughout the novel, Petra uses the stories her Lita told her as a tool and guide to navigate a dangerous new world she doesn't understand, as well as a source of comfort and strength. In this way, The Last Cuentista serves as a love letter to stories and the people who cherish them.
---
PRR Writer, Emily Pimental